Local business owners plead with Assembly to stop city emergency declaration
Audience members read of the names of 79 businesses who have closed for good due to pandemic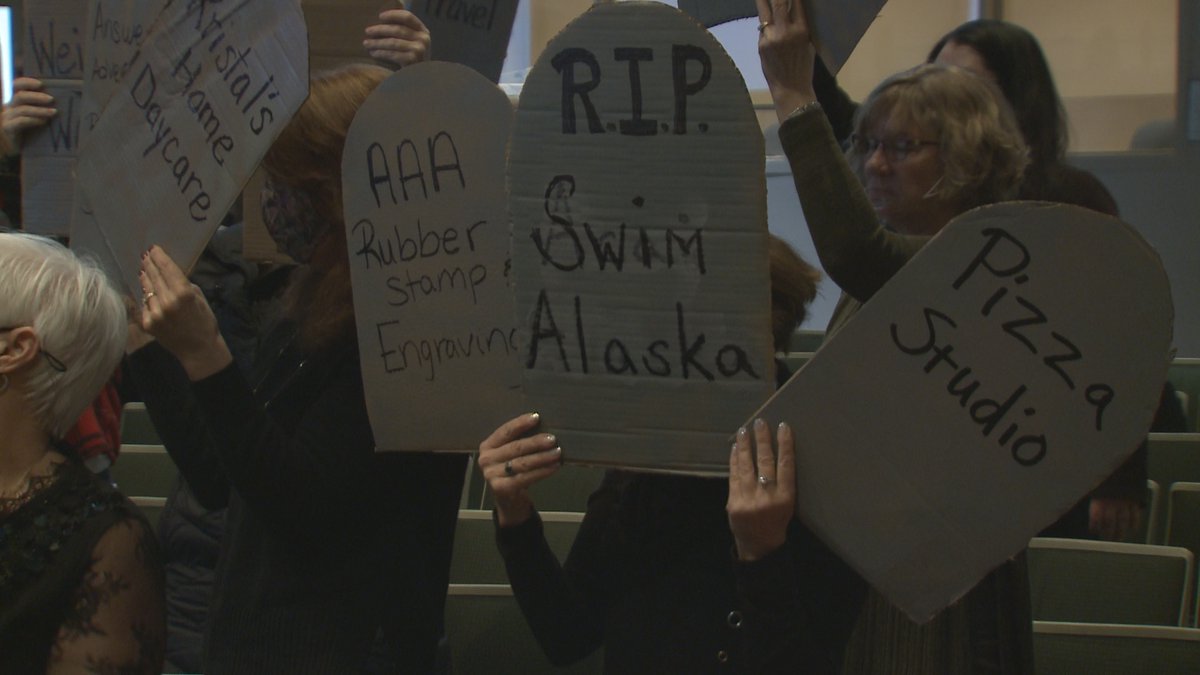 Published: Jan. 12, 2021 at 9:59 PM AKST
|
Updated: Jan. 13, 2021 at 6:25 AM AKST
ANCHORAGE, Alaska (KTUU) - Tuesday night's Anchorage Assembly meeting started off with a hot button topic on the agenda which was ignited by local business owners during public testimony.
"I'm here as a voice for all the small businesses that are closed forever because of the decisions made by the former mayor, the acting mayor and you, the Anchorage Assembly," Anchorage business owner Julie Brophy told the Assembly. "We call them small businesses because these businesses collectively were a large part of Anchorage's once-booming economy. Now, they are dead because of you."
Near the end of Brophy's allotted time of three minutes for public testimony, she started to read the names of 79 local businesses who have been forced to close their doors for good because of the pandemic.
"There are a lot more businesses than just those," Brophy said. "There is a lot more going on that people don't know about."
Behind Brophy, dozens of people in the audience stood on their feet as the business names were read off. Each audience member held tombstones with the names of fallen businesses on them.
"There are risks to every decision you make, there's benefits to some" East Hillside resident James Wojciehowski said. "These mandates, if you've looked at the cardboard tombstones, they showed you very simply, an optic about risks of your mandates. I know that Table 6 employed 55 people."
Table 6 is just one of the many local businesses to throw in the towel and succumb to the pandemic. Acting Mayor Austin Quinn-Davidson addressed the audience during her mayor's report on how the city and state are improving.
"We've all been affected by this pandemic in different ways and the burden has not been shared equally," Quinn-Davidson said. "But we've all shared the responsibility for protecting one another and we've been successful."
Quinn-Davidson pointed to Alaska's falling COVID-19 numbers that currently resemble what Anchorage and the state saw in October 2020.
"As we expected after the holiday season, the steady decrease in cases over the past few weeks has flattened out," Quinn-Davidson said. "Our goal now is to honor those sacrifices that so many in our community have made to get us here."
Quinn-Davidson says that although the numbers are decreasing, the risk factors could be higher because of new strains of the virus. The fear is that the new strain will spread faster than people can be vaccinated. For that reason, Quinn-Davidson says Anchorage needs to stay vigilant and cautious moving forward.
After two lengthy segments of public testimony, the assembly twice extended Tuesday night meeting and finally voted 8-2 to extend the emergency declaration, for the seventh time, to April 16th, 2021. The assembly can end the order at any time under municipal code. The assembly will meet again on Thursday at 6:00 p.m.
Copyright 2021 KTUU. All rights reserved.