8.2 magnitude quake in Southwest Alaska generates small tsunami
Several Gulf of Alaska coast communities evacuated to higher ground before tsunami warning was canceled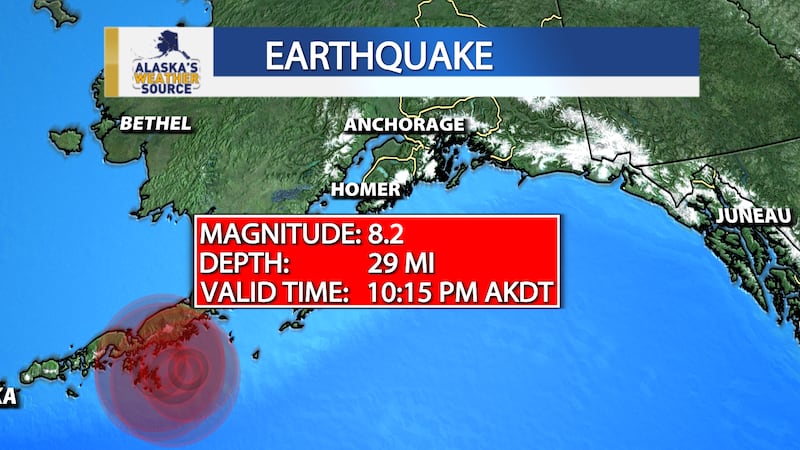 Published: Jul. 28, 2021 at 10:37 PM AKDT
|
Updated: Jul. 29, 2021 at 2:19 PM AKDT
ANCHORAGE, Alaska (KTUU) - A preliminary magnitude 8.2 earthquake struck off the coast of the Alaska Peninsula late Wednesday night, generating a small tsunami and prompting a tsunami warning and evacuations for several communities along the Gulf of Alaska coast.
The tsunami warning was first downgraded to an advisory, and then canceled altogether by early Thursday morning.
The Alaska Earthquake Center originally reported an earthquake struck 66 miles Southeast of Perryville in the Aleutian Chain at 10:15 p.m. Wednesday night, with a preliminary magnitude of 7.3. The U.S. Geological Survey has reviewed the quake and released a revised report of a preliminary 8.2 magnitude earthquake 91 kilometers, or about 56 miles, Southeast of Perryville.
The USGS reports a depth of about 20 miles.
The quake is the largest in the US and Alaska since 1965, and the largest in the world since the Fiji earthquake of 2018, according to USGS earthquake records.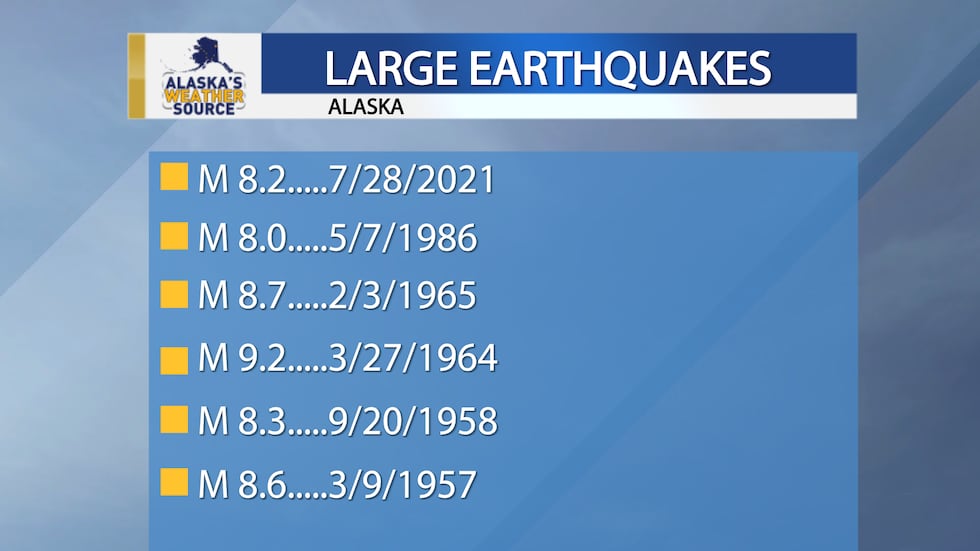 An initial tsunami warning was issued for the Alaska Peninsula and the Aleutian Islands, according to the U.S. Tsunami Warning System. The warning included the Pacific coasts from Hinchinbrook Entrance to Unimak Pass, and from Unimak Pass to Samalga Pass.
It was downgraded to an advisory by 12:40 a.m. Thursday.
According to the Tsunami Warning System, a tsunami was generated by the earthquake, but the forecasted maximum tsunami height was less than a foot.
Jeremy Zidek, a spokesperson for the Alaska Department of Homeland Security and Emergency Management, said the state's emergency operation center was activated and that staff have been called in.
"We contacted Perryville, the community that's closest to the epicenter," he said. "Pretty sparsely populated out there. The folks in Perryville said that the shaking was very violent, and that they started their evacuations."
Potential tsunami activity was originally forecasted to begin first in Sand Point at 10:55 p.m. Potential tsunami activity was projected to reach Seward around 12:20 a.m. and Homer around 1:15 a.m.
In Sand Point, where potential tsunami activity was estimated to begin first, Denise Mobeck sounded the alarm herself. The community's tsunami warning system is not automatic, she said, so when the quake happened, she had to go to where the alarm is located and activate it.
Mobeck is the administrator for the Sand Point Police Department. She said officers were also on the ground working on moving people to higher ground.
The earthquake seemed to last around 2 minutes, Mobeck said.
"It started getting stronger and stronger," she said. "And I ended up going out into the living room because I started hearing glass break."
Those in a tsunami warning, and later advisory, area were asked to be alert and follow instructions from local emergency authorities.
"Move out of the water, off the beach, and away from harbors, marinas, breakwaters, bays and inlets," the advisory stated.
Several coastal communities had their residents evacuate to higher ground. The Homer Police Department advised those below the inundation zone in the city to move to higher ground. Shelters were opened at the Homer High School and West Homer Elementary School.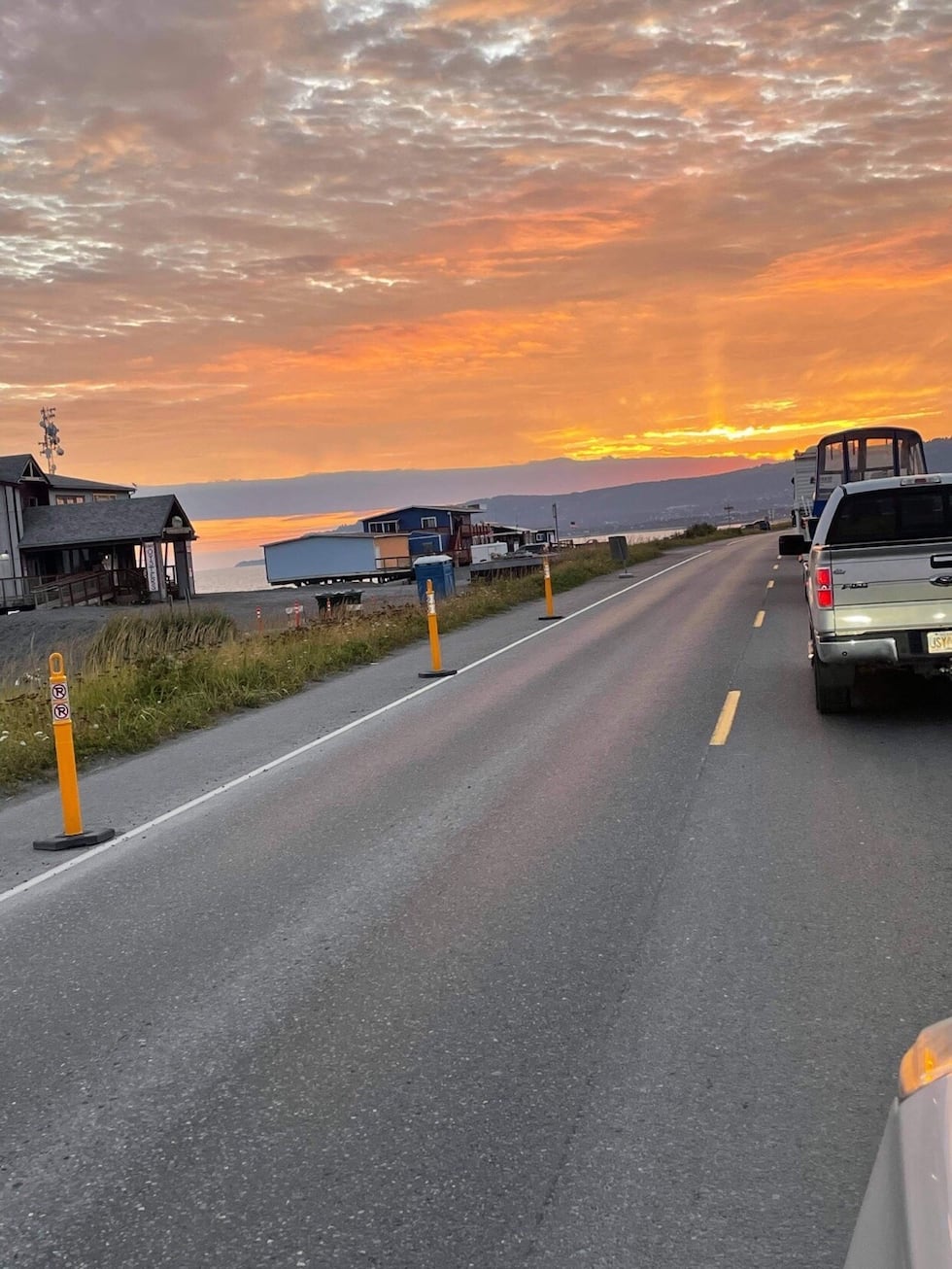 The Kenai Peninsula Borough sent out a warning for its coastal communities to evacuate to higher ground. It specified that the tsunami warning did not include Anchor Point or any inland peninsula communities.
The city of Kodiak was also included in the initial tsunami warning. Residents there were asked to get to higher ground. Kodiak High School and North Star Elementary were opened as shelters there.
Seward, too, alerted its residents to take to higher ground. According to the Seward City Clerk's office, a shelter was open at Seward High School. Lowell Point residents were asked to head to Seward or to the Tonsina Trailhead.
Zidek said the Department of Homeland Security and Emergency Management would be checking in on Perryville again to see if they need any assistance.
The emergency operation center contacted every community covered under the tsunami warning to make sure they received it, Zidek said, and to make sure they took action.
Initially, after the quake, Zidek said it's not known what type of tectonic fault movement triggered the earthquake.
A Thursday morning update from the Alaska Earthquake Center said Wednesday night's earthquake looks to be related to the 7.6 magnitude earthquake, which struck near Simeonof Island in July 2020. The center states that both earthquakes occurred where the Pacific Plate subducts under the North America Plates.
"Back a couple years ago, we had a 7.9 (magnitude earthquake) near Kodiak, and that was a slip strike fault, so the faults are moving past one another," Zidek said. "And that doesn't really create a tsunami wave."
The movement that generates larger and more dangerous tsunamis is when one edge of a fault drops and the other gains elevation, he said. What the Tsunami Warning Center can do with the types of sensors that they have is estimate potential wave arrival times, not what type of fault movement caused a quake.
"We have to wait until that first estimated arrival time comes and goes before we know if a wave has been generated," Zidek said.
In Sand Point, Mobeck said she got reports of the dock and boats moving in the harbor. She and a neighbor watched the water move a few feet.
"We have a little island called Range Island, that's ... kind of in the middle of where Sand Point is," she said. "And the water was rising a couple feet."
According to the National Tsunami Warning Center, a half-foot wave was detected in Sand Point, a 0.7-foot wave was detected in Old Harbor, Alaska, a 0.4-foot wave was recorded in King Cove, and another half-foot wave was recorded in Kodiak.
Since the initial earthquake struck, there have been subsequent earthquakes in the area, with the next year expected to generate hundreds, if not thousands of aftershocks.
The forecast modeling below is provided by the USGS and gives an estimated chance of aftershock potential. In the modeling scenario there is a more than 99% chance that at least 7 magnitude 5.0 earthquakes or greater will occur within the next year.
| Magnitude | 1 Day | 1 Week | 1 Month | 1 Year |
| --- | --- | --- | --- | --- |
| M ≥ 4 | 9 to 45 | 26 to 120 | 45 to 190 | 93 to 370 |
| M ≥ 5 | 0 to 6 | 1 to 13 | 3 to 21 | 7 to 39 |
| M ≥ 6 | 0 to 2 | 0 to 3 | 0 to 4 | 0 to 6 |
| M ≥ 7 | - | 0 to 1 | 0 to 1 | 0 to 1 |
The Alaska Earthquake Center stated that the 9.2 magnitude earthquake in 1964 was 30 times more energetic than Wednesday night's 8.2 magnitude quake.
Although the earthquake occurred near Alaska, its reach was felt far. As the waves move far enough away from the epicenter it's no longer felt by people, but still detected by seismic equipment as it ripples through Earth.
Editor's note: This article has been updated with additional information.
Copyright 2021 KTUU. All rights reserved.