Sinaloa Cartel 'drug kingpin' accused of trafficking narcotics from Mexico to Alaska arrested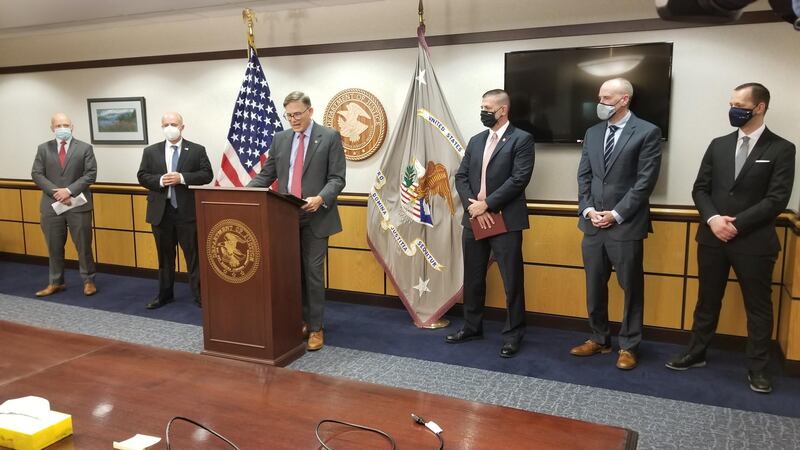 Published: Sep. 15, 2021 at 1:44 PM AKDT
|
Updated: Sep. 15, 2021 at 2:55 PM AKDT
ANCHORAGE, Alaska (KTUU) - Federal officials in Alaska announced Wednesday the results of investigation into a transnational organization that resulted in a lengthy indictment and the arrest of an alleged "drug kingpin" associated with a drug cartel from Mexico.
On Friday, Sept. 10, Mexican immigration authorities arrested and deported a U.S. citizen named Miguel Guevara back to America, officials said in a Wednesday press conference in Anchorage. U.S. authorities arrested him on charges related to his leading role in trafficking narcotics from Mexico to Alaska.
Bryan Wilson, acting U.S. attorney for the District of Alaska, said Guevara, 38, pleaded not guilty on Tuesday in federal court in Arizona. Guevara had been living in Mexico and is associated with the Sinaloa Cartel that operates out of Sonora, Mexico.
The charges in the recently unsealed indictment against Guevara include engaging in a continuing criminal enterprise, drug conspiracy, possession with intent to distribute methamphetamine, heroine and cocaine, and three firearms counts.
The indictment and arrest are both part of an "ongoing, largescale drug trafficking investigation," Wilson said, which resulted in the arrest and indictment of 23 people since 2016. The investigation into Guevara and the trafficking of drugs into Alaska was tackled by multiple agencies, including the U.S. Attorney's Office, the Federal Bureau of Investigation, the U.S. Coast Guard Investigative Service and the Drug Enforcement Administration.
According to a press release from the U.S. Attorney's office, the drug network Guevara was associated with "specifically targeted Alaska because they received higher profits for the illegal drugs due to Alaska's significant distance from the Mexican sources of supply."
Tony Jung, the special agent in charge of the FBI office in Anchorage, said one of the FBI's goals is to target and dismantle transnational criminal organizations like the Sinaloa Cartel, including their leadership.
"The arrest of Guevara stands as an outstanding example of what happens when federal, state and local law enforcement, and our international partners, come together to target and dismantle these organizations," he said.
Jung said this investigation and the indictments since 2016 will will have a "significant" impact on the drug network's ability to operate in Alaska.
Paul Schultz, special agent in charge of the Coast Guard Investigative Service, said that agency's investigation began in May 2016 with "what could be considered a relatively small seizure and arrest" involving methamphetamine on Alaska Marine Highway System ferries.
"In this case, by pulling strings, pulling threads, and through comprehensive investigation, we were led to Miguel Guevara," Schultz said.
Assistant U.S. Attorney William Taylor said during Wednesday's press conference that this particular transnational drug organization was recruiting people from Alaska who would go down to Mexico.
"They would provide them with narcotics, which they would then bring back to Alaska," Taylor said. "So that was one of the methods that's at least public record, how drugs were transported back to Alaska for distribution."
According to the press release, the drug network used social media and encrypted messaging applications to recruit people who lived in Alaska.
"The couriers were promised money or drugs in exchange for traveling to Mexico to collect the narcotics for transport back to Alaska," the release states. "Couriers were required to submit photos of their driver's license and other personal information."
"The couriers often traveled in small groups with an assigned team leader," the release continues. "Couriers typically carried about 250 grams of narcotics on each trip. Once the couriers arrived in Alaska a member of Guevara's network, who was stationed in Alaska, paid them and collected the narcotics. Street level dealers in Alaska contacted Guevara who coordinated the sale between his Alaska workers and the local dealer."
According to the release, Guevara himself did not enter the U.S. due to the fact that he had outstanding federal and state warrants for his arrest. He conducted operations from Mexico.
Of the 23 people other than Guevara who have been charged in the investigation, six of them were charged in and pleaded guilty in the District of Arizona. Guevara is charged only in the District of Alaska, officials confirmed Wednesday.
Editor's note: This story has been updated with the latest information from the indictment and press conference.
Copyright 2021 KTUU. All rights reserved.