Stranded hunters rescued by Coast Guard after week at Yukon River fish camp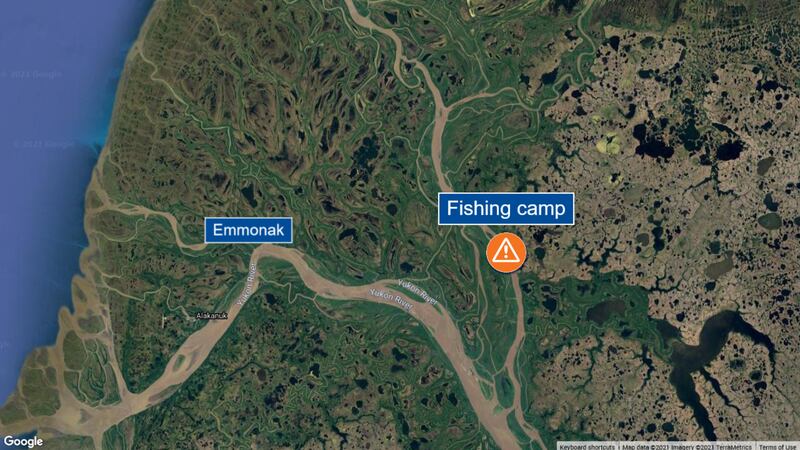 Published: Nov. 4, 2021 at 8:59 AM AKDT
|
Updated: Nov. 5, 2021 at 7:55 AM AKDT
ANCHORAGE, Alaska (KTUU) - Seven people who were stranded for a week at a fishing camp on the Yukon River near Emmonak have been rescued.
According to authorities, the river froze last week and trapped the group of hunters there. In an email to Alaska's News Source, the U.S. Coast Guard said a rescue team has been in Nome waiting to helicopter out to the stranded hunters, but freezing fog conditions have kept the crew grounded for several days.
A Coast Guard spokesperson said the team would try to reach the hunters Thursday, weather permitting, but Alaska State Troopers said in an updated online dispatch report Thursday that the Coast Guard's helicopter wasn't able to launch "due to mechanical issues." Troopers wrote that two helicopters from Fort Wainwright were traveling to the area and the plan was to extract the group on Friday morning.
The rescue was completed early, as a Coast Guard spokesperson confirmed the hunters were taken out around 8:15 p.m. Thursday.
On Monday, Alaska State Troopers wrote in an online dispatch report that troopers were alerted on Oct. 29 that the group was stuck at the fish camp, about 20 miles east of Emmonak. At the time, the group had shelter, supplies and heat and were communicating via an InReach device.
Trina Paul is the wife of one of the men on the hunting trip. The group is from Pilot Station, she said on Thursday, and left on the trip last Monday, Oct. 25.
According to troopers, the seven people were trapped when the Yukon River froze, making it impossible for them to leave "due to the ice conditions." Search and rescue efforts up to Monday had not been successful, troopers wrote, because of poor weather conditions.
Troopers made a supply drop for the group on Sunday, Oct. 31 with food and medications, with assistance from Grant Air. Troopers have remained in contact with the group "and they are reported to be staying warm but are still unable to self-rescue due to ice buildup on the Yukon River," according to the report.
Troopers spokesperson Tim Despain said on Wednesday that the mission to rescue them had been transferred to the U.S. Coast Guard. On Thursday, troopers wrote that the U.S. Army has gotten involved in the rescue effort.
Paul, who spoke with Alaska's News Source on Thursday from Oregon, said the families of the hunters are becoming more concerned the longer they remain stranded, and expressed frustration with the rescue efforts so far. She said the group, which includes one teenager, had set out on a whale hunt last Monday to procure food for other people in Pilot Station and another village.
"On Tuesday my husband called and said it was going to be slow because there was lots of ice," Paul said. "On Wednesday I got a short message saying there were going to try to make it home slowly. By Thursday, they had called for help — which, this is not something that they would typically do. And we've been trying to get them out of there for a week now."
She said families of the hunting party had tried to arrange a rescue effort using a chartered helicopter service out of Wasilla, but said they were told the Coast Guard would not utilize the private company and it would come at personal cost.
Paul said the group has taken shelter in a fish camp at the edge of the Yukon River that is meant to be used during the summer fishing season. It's more of a shack, she said, and is not meant for winter shelter.
Paul said Nome, the location the Coast Guard has been trying to fly out of, is "typically weathered in" at this time of year.
"All of them have families at home," she said. "All with the exception of the 14-year-old, you know, have kids and wives that they need to be home taking care of. These guys are their families' main support."
"We were kind of playing it easy there for a while, but now we're getting kind of desperate," Paul added.
Troopers on Thursday reported that there were no injuries among the group, and they were "adequately supplied with food, water, shelter, and necessary supplies at this time."
Editor's note: This article has been updated with additional information.
Copyright 2021 KTUU. All rights reserved.