Anchorage Fire Department brings fire at condominium building near South Anchorage under control
No injuries have been reported
Published: Apr. 29, 2022 at 8:32 PM AKDT
|
Updated: Apr. 29, 2022 at 10:05 PM AKDT
ANCHORAGE, Alaska (KTUU) - Anchorage firefighters responded to a fire in a building of a condominium complex close to Taku Lake on Friday evening near South Anchorage. No injuries have been reported.
Anchorage Fire Department Assistant Chief Alex Boyd said firefighters responded to a building in the Foxwood Condominium complex at 7:40 p.m. Friday. The complex is on Foxridge Way, off of C Street. According to Boyd and a member of the department on the scene, at least two units on the second and third floors of one of the buildings were "heavily involved."
Boyd said around 9:30 p.m. that no injuries had been reported. He said firefighters "encountered a whole lot" of heavy fire and smoke upon their initial response, and crews worked to extinguish it. Boyd said the fire was brought under control by 9:10 p.m.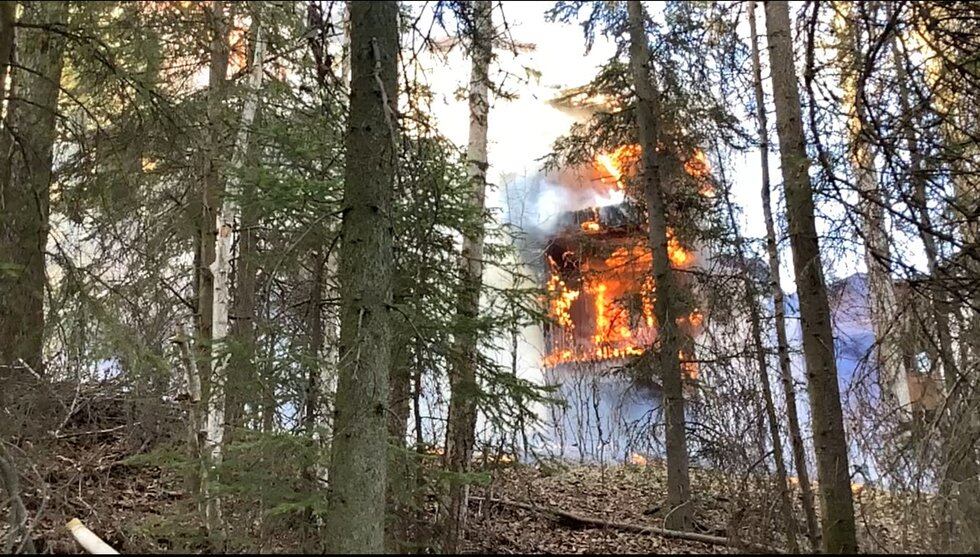 Capt. Tyler Greensfelder told Alaska's News Source on the scene that no one was inside the units at the time of the fire. He said the blaze affected two units directly, but that the entire building, which is a 12-plex, seemed to be involved in some capacity with varying levels of fire or water damage.
"The roof has some substantial damage to it," Greensfelder said.
The department asked people to stay clear of the complex, and the Anchorage Police Department said in a release that Foxridge Way would be closed while firefighters worked in the area.
More than a dozen units were called to the scene, Boyd said, and personnel were expected to remain there to monitor the situation for several hours.
He said that over the course of his career, there have been four fires at this particular condominium complex.
Jessica Carey, a resident of a different unit in the Foxwood Condominiums, said she was living in the complex the last time there was a fire. Carey said she came home Friday and heard sirens shortly afterward. She walked over from the unit she lives in to see if anyone needed help.
"Everybody's pretty concerned," Carey said. "Most of us as neighbors are now thinking like, is there anything that we can do to help our units not do this? Because this is the second fire in almost three years."
Boyd said the cause of the fire will be under investigation, and that with a fire of this size, that usually takes a few days.
The American Red Cross was at the scene of the fire as well. American Red Cross Alaska CEO Tanguy Libbrecht said in an interview on Saturday that the Red Cross assisted eight displaced individuals with financial assistance, blankets, water, snacks, and local resource information.
Editor's note: This article has been updated with additional information.
Copyright 2022 KTUU. All rights reserved.