Woman sentenced for pretending to be dead mother, receiving VA benefits for nearly 50 years
Published: Jan. 20, 2023 at 7:48 AM AKST
CINCINNATI (WXIX/Gray News) - A Cincinnati woman impersonated her own mother for nearly half a century in a successful effort to steal nearly half a million dollars from the federal government, according to the U.S. Department of Justice.
U.S. District Court Judge Douglas Cole on Thursday sentenced 76-year-old Irene Ferrin to five years of probation, including one year of home detention. Ferrin must also repay the U.S. Department of Veterans Affairs what she stole, currently valued at $461,780.
Ferrin impersonated her dead mother on several occasions and once lied to a U.S. Bankruptcy Court to help hide her scheme, according Special Assistant U.S. Attorney Timothy Landry.
She pleaded guilty on Aug. 11, 2022.
Arguing for a prison sentence even at her late stage in life, Landry said Ferrin's age "is more like an aggravating factor than a mitigating factor" considering the duration of the crime.
He also equated stealing from the VA to stealing from veterans, saying she "callously exploited her own mother's death" to steal from a government program "designed to help those who have served their country."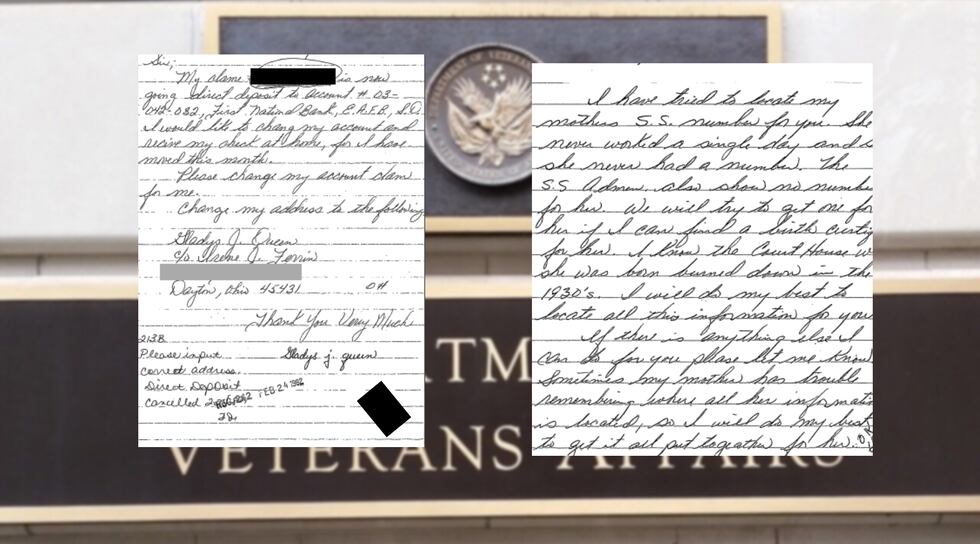 Ferrin's mother was receiving widow's and dependency benefits from the VA when she died in 1973, according to the DOJ. The benefits should have ceased upon her death, but no one—including Ferrin, who was 26 years old at the time—notified the VA. The paper checks kept coming, and Ferrin endorsed them by forging her mother's signature.
The government's sentencing memorandum begins: "In 1973, a gallon of gas was 39 cents, 'The Godfather' won an Oscar, fax machines were an emerging form of technology, and the defendant, Irene Ferrin, was beginning an ongoing theft from the military veterans of this country that would last nearly half a century."
The monthly checks started at $250 in 1974. The last check she received before the VA caught her was for $1,357.60.
Ferrin received more than 500 checks in total and several times submitted fraudulent paperwork to the VA to keep the scheme alive.
"Clearly this was not a one-time lapse in judgement," Landry said. "[...]She could have stopped any time, but each month she decided to continue stealing the money. Similarly, each time the defendant submitted forged paperwork to the VA, she reaffirmed her decision to continue stealing."
The memo acknowledges when the scheme began, Ferrin's parents were dead and she had several adolescent siblings to support as well as her own children, two with her first husband and one with her second.
"Although this may explain (though not excuse) her decision to take the VA benefits for a short time in the early 1970′s, it does not remotely begin to justify her subsequent theft from the VA for the ensuing four decades," Landry said.
A forged letter she sent the VA in 1982 claimed her mother had recently moved and sought a change of address.
In a 1984 letter sent to the VA, Ferrin, writing now on her own behalf, said, "Sometimes my mother has trouble remembering where all her information is located, so I will do my best to get it all put together for her."
In 2017, Ferrin forged her mother's signature on a form directing the VA to deposit the benefits into a bank account she controlled.
Ferrin filed for bankruptcy in 2019, claiming falsely she had no income.
Ultimately, Ferrin received the five years of probation her defense requested. The sentencing memorandum on her behalf notes she has no criminal history and "provides around-the-clock care for her 80-year-old husband," who has a degenerative neuromuscular condition.
The defense also noted Ferrin in 1971 married a man, whom she later divorced, but who would become abusive during their marriage. She had six children to raise, including her siblings, whom the rest of her family allegedly wanted to place into foster care. Moreover, she said it was her then-husband who told her to continue to cash the VA checks.
"Irene, overwhelmed beyond measure and with no one safe or trustworthy to turn to for support or advice, did just that. She knew that she should have informed the VA of her mother's death, but she did not understand that the payments were not also for her three minor siblings, she needed the money to keep all of her now-six kids fed and housed and together, and [her husband] had been controlling her since their relationship started," the memorandum reads, later adding that she "spent nearly an entire decade being abused and controlled by men who had promised to love and protect her[...]"
The man to whom Irene is currently married was Ferrin's first husband, whom she married at 18 and divorced at 23 after producing two children. They rekindled their relationship following Ferrin's second divorce and have been married ever since — 45 years.
She says she never told him of the VA theft scheme out of fear and shame.
When federal agents showed up at Ferrin's door, per the memo, "Irene was truthful, cooperative and immediately took responsibility for her crime."
Copyright 2023 WXIX via Gray Media Group, Inc. All rights reserved.