Valley school bus workers' contract dispute remains unsettled
Next two days of negotiations are scheduled for the end of January
Published: Jan. 20, 2023 at 7:03 PM AKST
PALMER, Alaska (KTUU) - Lines have been drawn in the snow outside Durham School Services bus yard. It's a hot pink warning, of sorts, from valley bus drivers, monitors, and attendants that they are serious about striking if contract negotiations aren't settled.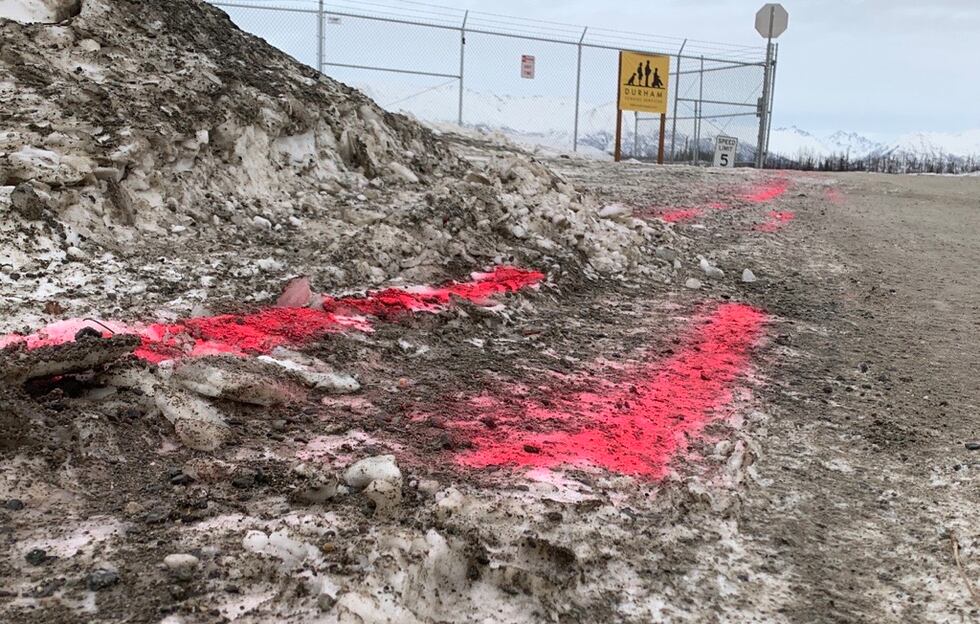 Last week, Alaska Teamsters Union - Local 959 voted in favor to authorize a strike that would disrupt school bus services across the Matanuska-Susitna Borough district. The dispute stems from issues surrounding safety, equipment, and monitoring, according to union organizer Derek Musto. After a handful of negotiation meetings, however, an agreement has yet to be reached.
At Wednesday's regular school board meeting, around 30 Durham employees sat in solidarity as a spokesperson for the union gave an update to board members.
"We met yesterday, we also met today; an agreement has not yet been reached," the spokesperson said during the public hearing portion of the meeting.
Among the Durham employees in attendance was Debbie Mullin, who is in her fifth year as a bus driver for the district. She wants the school board to tour the bus yard to see for themselves what drivers are dealing with.
"We have no lights in our yard, we have no electricity to our buses, the buses are parked randomly," Mullin stated.
"I want them to be aware of what's going on," she added.
Mullin has been a member of the union since she started driving under First Student four years ago. She said the transition to Durham has been rough, but she enjoys her job.
"I want this to work out. I love driving buses, I love helping the kids, and I want this to work out," Mullin admitted. "I want Durham to be successful, but it's difficult right now."
In an updated statement from National Express Friday afternoon, the public transport company maintained its commitment to transporting borough students safely, and that changes have been offered in its proposals to the union.
"The Company has made significant wage increases and other improvements for our employees," the statement read. "We will continue to bargain in good faith toward a new labor agreement that will be good for all parties involved in this process."
Two more days of negotiations are scheduled for Jan. 30 and Jan. 31. Until then, visible signs will remain on the ground outside of the yard, making it clear that union workers aren't backing down.
Copyright 2023 KTUU. All rights reserved.