McCarthy says he'll block Schiff, Swalwell from Intel panel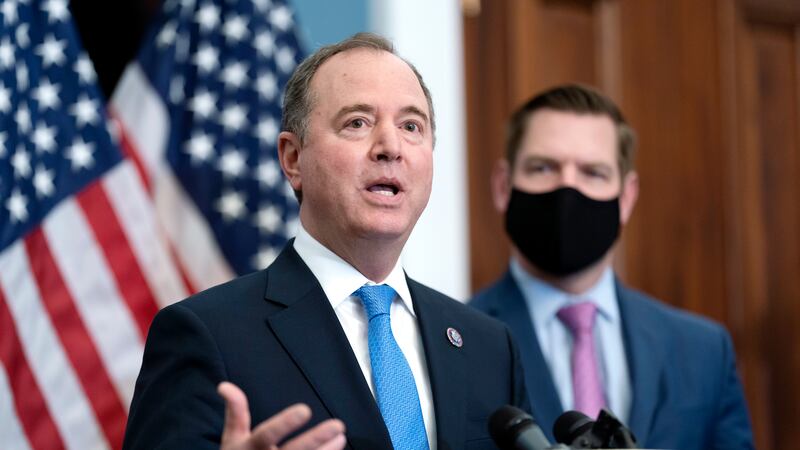 Published: Jan. 24, 2023 at 5:11 PM AKST
|
Updated: Jan. 24, 2023 at 6:34 PM AKST
WASHINGTON (AP) — Speaker Kevin McCarthy reiterated Tuesday that he will block Democratic Reps. Adam Schiff and Eric Swalwell of California from serving on the House committee that oversees national intelligence, saying the decision was not based on political payback but because "integrity matters, and they have failed in that place."
In the previous Congress, Democrats booted Reps. Marjorie Taylor Greene of Georgia and Paul Gosar of Arizona from their committee assignments for incendiary commentary that they said incited potential violence against colleagues.
Minority Leader Hakeem Jeffries, in a letter sent to McCarthy over the weekend, asked that Schiff and Swalwell be reappointed to the House Permanent Select Committee on Intelligence, a prestigious panel with access to sensitive, classified information. There is no "precedent or justification" for rejecting them, Jeffries said.
Unlike most committees, appointments to the Intelligence panel are the prerogative of the speaker, with input from the minority leader.
McCarthy insisted that "this is not similar to what the Democrats did. Those members will have other committees, but the Intel Committee is different. The Intel committee's responsibility is the national security to America."
"Hakeem Jeffries has 200 other people who can serve on that committee," he added.
He sent his formal response to Jeffries in a letter he posted Tuesday night on Twitter.
McCarthy was critical of Schiff's actions as chairman of the panel during the first impeachment investigation of President Donald Trump, asserting he used his position to "lie to the American public again and again." He also asserted Swalwell couldn't get a security clearance in the private sector, so "we're not going to provide him with the secrets to America."
McCarthy tried to have Swalwell removed from the Intelligence panel in March 2021 based on his contact with a suspected Chinese spy. His resolution against Swalwell, which was voted down in the Democratic-led House, cited information that the suspected spy, Christine Fang, came into contact with Swalwell's campaign as he was first running for Congress in 2012 and participated in fundraising for his 2014 campaign.
Federal investigators alerted Swalwell to their concerns and briefed Congress about Fang in 2015, at which point Swalwell says he cut off contact with her.
Schiff told colleagues in 2021 that Republican leaders in 2015, including then-House Speaker John Boehner and the then-chairman of the intelligence panel, Republican Rep. Devin Nunes, were briefed on the situation with Swalwell and "expressed no opposition to his continued service" on the Intelligence committee.
McCarthy insisted he was putting national security over partisan politics.
"We're going to make the Intel Committee back to what it was supposed to be. No longer will we miss what happened in Afghanistan. No longer will we miss what's happening in China, Russia, Iran and others. That's what this country believes should happen," McCarthy said.
McCarthy has also vowed to remove Rep. Ilhan Omar, D-Minn., from the Foreign Affairs Committee. In a joint statement the three Democrats being targeted for removal from committees said "it's disappointing but not surprising that Kevin McCarthy has capitulated to the right wing of his caucus, undermining the integrity of the Congress, and harming our national security in the process."
They called their removal part of a bargain McCarthy made with GOP hardliners to become speaker "that required political vengeance against the three of us."
Copyright 2023 The Associated Press. All rights reserved.