Shiffrin wins slalom, moves within 1 win of World Cup record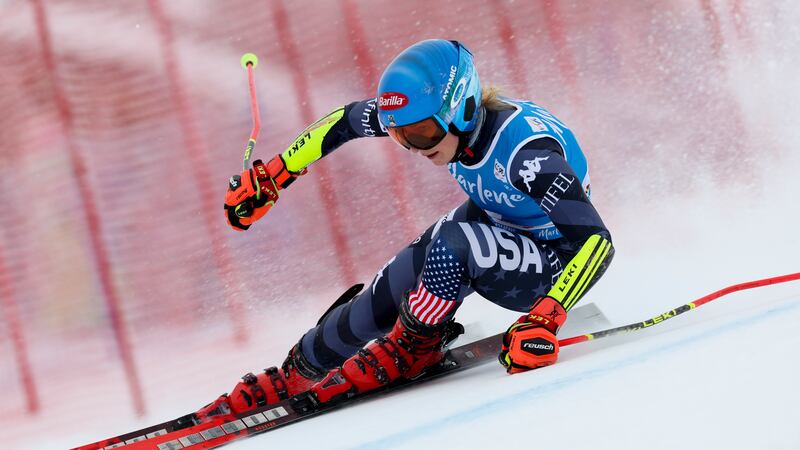 Published: Jan. 28, 2023 at 5:05 AM AKST
|
Updated: Jan. 28, 2023 at 6:05 AM AKST
SPINDLERUV MLYN, Czech Republic (AP) — Mikaela Shiffrin celebrated with a shoulder wiggle and a bright smile Saturday after dominating a slalom and moving within one victory of the 34-year-old World Cup record of 86 wins.
The American showed no signs of pressure, a day before another slalom in which she could match the best mark set by Swedish great Ingemar Stenmark in the 1980s.
"I don't feel a lot of pressure to get this record. Now, I am so close that it's like just take a breath and enjoy the moments we are in now," Shiffrin said.
She had shared the women's record of 82 wins with former teammate Lindsey Vonn before triumphing at back-to-back giant slaloms in Italy this week and adding career win 85 on Saturday.
"I'm always trying to think about everything else except these numbers, because they just make me nervous. And I don't have a reason to be nervous if I achieve 86 or 87," Shiffrin said. "But, for sure, if everybody asks, then I feel pressure to do it and then I don't enjoy the races as much."
Shiffrin certainly enjoyed the race Saturday, which marked her third win within five days.
"Today, it was just an amazing day. From the moment I woke up, I felt good and ready to go. And I was so happy with how I skied," said the American, adding she had to overcome signs of fatigue.
"Sometimes when you're tired, it takes away the nerves because you just don't have the energy to be nervous," she said. "Maybe it's an advantage for me today, but I'm barely making it through tomorrow before I need a couple of days off."
The American held a lead of 0.29 seconds after the opening run, but lost one-tenth of the advantage after going wide on a few turns early in the second before speeding up and posting the fastest run time again, this time shared with Croatian skier Leona Popovic, to beat Germany's Lena Dürr by 0.60 seconds.
Shortly after Shiffrin finished the race, third-place Wendy Holdener of Switzerland and runner-up Dürr came over to hug her.
"I knew it would take some risk and there's a chance that I don't finish at all, but I have to do my best turns to have a chance because these women are so strong," Shiffrin said.
Holdener was 1.31 behind in third, followed by Olympic slalom champion Petra Vlhová of Slovakia in fourth and Shiffrin's American teammate Paula Moltzan in fifth.
The race took place at the resort near the Czech-Polish border where she had her World Cup debut as a 15-year-old almost 12 years ago. Shiffrin also won when the venue last hosted a World Cup race, in 2019.
"Wow, I can you hear you all so loud. Thank you for cheering, it's amazing to race for this crowd," she said to the spectators during a post-race interview.
Shiffrin laid the foundation for her victory with a clean opening run, in which she had a fast start and already led her competitors by at least a quarter of a second at the first intermediate time.
She also gained time on most racers in a tricky passage halfway through her run, where the course set allowed various ways to pass the gates.
"You could ski it either way," Shiffrin said. "I was able to really carry a lot of speed on the end of the course. In the end, I felt very good on my run."
Shiffrin has won five of the eight slaloms this season and extended her lead in the discipline standings over Holdener to 175 points. She could wrap up the title if she leads by at least 200 points after Sunday's race.
Overall, the American has won 11 races this season. Only twice in her career has she won more races in a single season: 12 in 2017-18 and a record 17 in 2018-19.
Sunday's slalom is the last women's World Cup race before the Feb. 6-19 world championships in France.
___
More AP skiing: https://apnews.com/hub/skiing and https://twitter.com/AP_Sports
Copyright 2023 The Associated Press. All rights reserved.