Family of 6 recounts harrowing scene in deadly Mountain View apartment fire
Published: Mar. 10, 2023 at 6:07 AM AKST
ANCHORAGE, Alaska (KTUU) - A day after a fatal fire in a Mountain View neighborhood, investigators are sifting through debris for answers.
As they try to find out what caused the fire that left one person dead, residents that lived there are trying to piece their lives back together.
One of the families that escaped with three children is now dealing with the aftermath. One of the apartments included two parents, three kids, and a cousin. The three children are ages four, one, and one month old.
They were rushed out of their apartment to safety so fast that the cousin of the mother, Nasuk Tuzroyluk, suffered a broken leg after not having enough time to grab her crutches.
"I was like, 'Let's just go!' I couldn't even grab my crutches, I couldn't even — it was just so terrifying," Tuzroyluk recalled.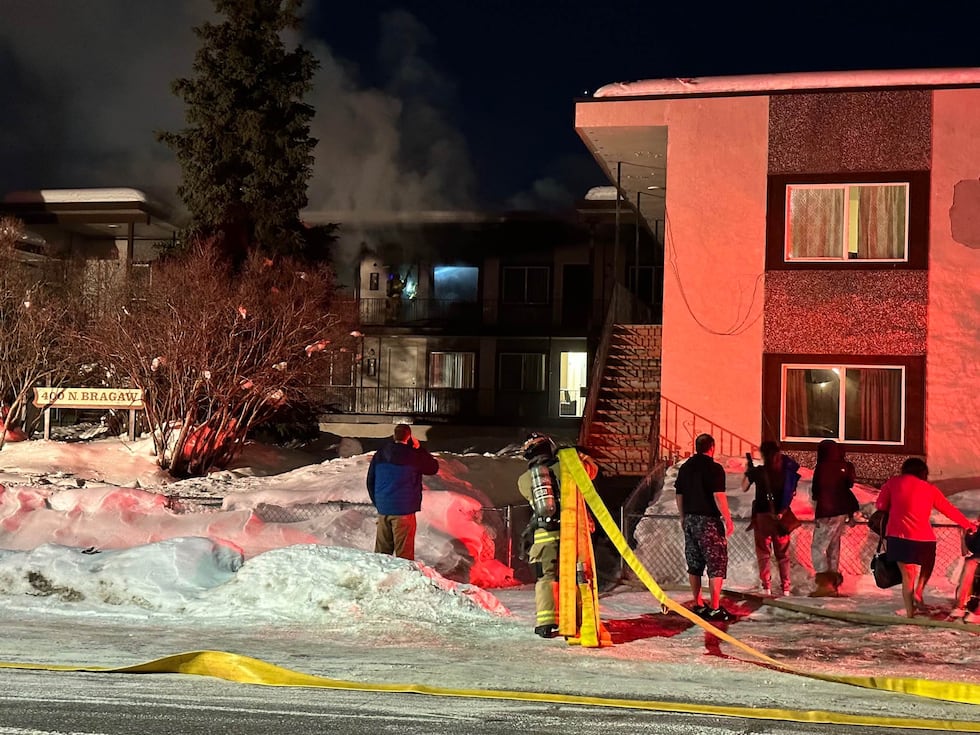 They were able to grab only a couple of items before leaving, but only necessities.
"The fire was on the third floor and we were on the basement floor, and It was terrifying, you know," said Donna Driggs, the mom of the three kids.
"It just didn't feel real at first," added Mitchel Driggs, the father. "The first thought was to start getting the kids ready."
The Anchorage Fire Department initially deployed 13 units and found one apartment unit engulfed in flames. Fire crews were able to quickly control the fire.
The family was alerted that the fire was fatal, but they did not know the person who died. Besides the one fatality, officials said there were no other injuries.
The family said they are thankful to the fire department for the quick action.
"They acted very quickly, they got it under control very quickly and we're so thankful, we're so thankful that it didn't spread to our apartment, we didn't have to go out the window or something," Donna said.
Although they all made it out safely, the family says are still working on getting to a place of normalcy. They are temporarily staying with Donna's grandmother while they look for a place to stay.
The fire department says that this is Anchorage's fifth fatal fire event of 2023. As a precaution, firefighters continue to urge residents to make sure their smoke and carbon monoxide alarms are functioning properly and to change the batteries regularly. They say to always have a home escape plan and to remember the importance of early detection as well as early escape.
Copyright 2023 KTUU. All rights reserved.