Kentucky governor vetoes sweeping GOP transgender measure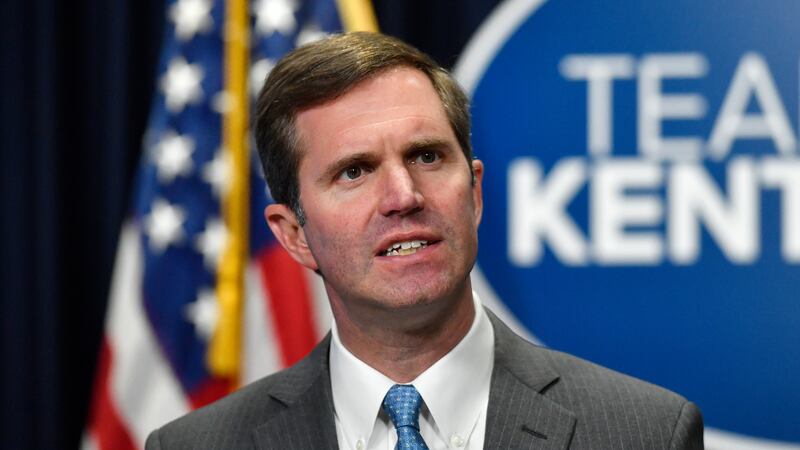 Published: Mar. 24, 2023 at 7:12 AM AKDT
|
Updated: Mar. 24, 2023 at 11:43 AM AKDT
FRANKFORT, Ky. (AP) — Kentucky's Democratic governor issued an election-year veto Friday of a sweeping Republican bill aimed at regulating the lives of transgender youths that includes banning access to gender-affirming health care and restricting the bathrooms they can use.
The bill also bans discussion of sexual orientation and gender identity in schools and allows teachers to refuse to refer to transgender students by the pronouns they use. It easily passed the GOP-dominated legislature with veto-proof margins, and lawmakers will reconvene next week for the final two days of this year's session, when they could vote to override the veto.
Gov. Andy Beshear said in a written veto message that the bill allows "too much government interference in personal healthcare issues and rips away the freedom of parents to make medical decisions for their children."
In his one-page message, he warned that the bill's repercussions would include an increase in youth suicides. The governor said, "My faith teaches me that all children are children of God and Senate Bill 150 will endanger the children of Kentucky."
Beshear told reporters later Friday that transgender children and their parents were among the Kentuckians who contacted his office as he reviewed the legislation.
"I heard from children that believe this bill is picking on them, and asking — in many ways — why?" the governor said. "I told them that I was going to show them that there is at least one person in Frankfort that cares for all of our children in the commonwealth, no matter what."
Beshear's veto comes as he seeks reelection to a second term this year in Republican-trending Kentucky, and his veto could reverberate through the November election.
Republicans quickly pounced on the governor's veto to try to portray him as out of touch with most Kentuckians on the issue.
"Andy Beshear thinks it's okay for children to have access to life-altering sex change surgery and drugs before they turn 18," state Republican Party spokesperson Sean Southard said in a statement. "Today, he revealed how radical he truly is."
The legislation in Kentucky is part of a national movement, with state lawmakers approving extensive measures that restrict the rights of LGBTQ+ people this year, from bills targeting trans athletes and drag performers to measures limiting gender-affirming care.
In Kentucky, the expanded version that reached Beshear's desk was rushed through both legislative chambers in a matter of hours on March 16 before lawmakers began an extended break. The fast-track work enabled lawmakers to retain their ability to override the governor's veto. The action triggered outrage and tears among opponents unable to stop the legislation.
Chris Hartman, executive director of the Kentucky-based Fairness Campaign, praised the veto, saying the bill would cause "disaster and despair for transgender Kentucky kids and their families."
The bill's supporters say they are trying to protect children from undertaking gender-affirming treatments that they might regret as adults. Research shows such regret is rare.
The repackaged measure would ban gender-affirming care for transgender minors. It would outlaw gender reassignment surgery for anyone under 18, as well as the use of puberty blockers and hormones, and inpatient and outpatient gender-affirming hospital services.
Doctors would have to set a timeline to "detransition" children already taking puberty blockers or undergoing hormone therapy. They could continue offering care as they taper a youngster's treatments, if removing them from the treatment immediately could harm the child.
Transgender medical treatments have long been available in the United States and are endorsed by major medical associations.
"The American Medical Association reports that receipt of care dramatically reduces the rates of suicide attempts, decreases feelings of depression and anxiety and reduces substance abuse," Beshear said in his veto message.
The bill would not allow schools to discuss sexual orientation or gender identity with students of any age.
Another key provision would require school districts to devise bathroom policies that, "at a minimum," would not allow transgender children to use the bathroom aligned with their gender identities.
It also would allow teachers to refuse to refer to transgender students by the pronouns they use and would require schools to notify parents when lessons related to human sexuality are going to be taught.
Beshear said in his veto message that the bill would turn educators and administrators into "investigators that must listen in on student conversations and then knock on doors to confront and question parents and families about how students behave and/or refer to themselves or others."
David Walls, executive director of The Family Foundation, condemned the veto, saying the bill seeks to protect children and their parents from "radical, politicized ideologies."
After the bill passed the legislature, the American Civil Liberties Union of Kentucky warned that it "stands ready" to challenge the measure in court if it becomes law.
Copyright 2023 The Associated Press. All rights reserved.