Nenana Ice Classic: Alaska's greatest guessing game
Published: Apr. 3, 2023 at 6:35 PM AKDT
|
Updated: Apr. 3, 2023 at 7:50 PM AKDT
NENANA, Alaska (KTUU) - Just like it says on the website, the Nenana Ice Classic is Alaska's greatest guessing game.
Every year, people talk about when the tripod will tip on the Tanana River, but how long has this tradition actually been around?
It all started out over 100 years ago as a little wager between some railroad engineers who wanted to make life interesting back in 1917.
"It was a dollar a guess that year," explained Ice Classic Director Megan Baker. "The total jackpot was $800, and everybody put in their guesses of when the ice was gonna go out."
From there, a small tripod was built made out of spruce poles and the Nenana Ice Classic was born.
Baker said it's one of the most iconic events for the state of Alaska. There's even a weekend scheduled around putting up the famed tripod called Tripod Days.
Baker said the tripod is made out of wood and built by a resident each year with the exact same measurements, and it takes multiple Nenana residents to lift it into position.
"So you've got people on one end, helping raise it up and people on the other end, helping to make sure it doesn't fall," she explained.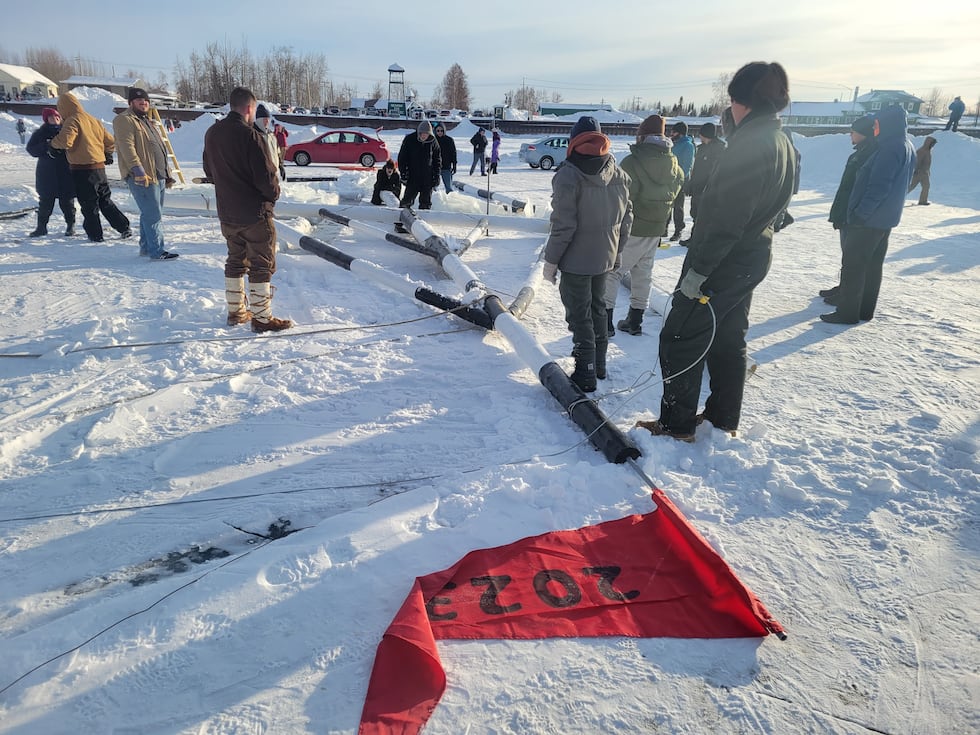 After being planted in the river ice about 300 feet from shore, ropes and a cable connect it to the tower, which connects the tripod to two clocks.
Then, it's a waiting game for the ice to break and the tripod to fall.
"There's a huge misconception. They think that the tripod — when it tips over — that that's their winning time. That's not true," Baker said. "It's all about when that tripod moves 100 feet downriver and stops the clock."
Once that happens, a siren goes off and people swarm to the riverfront. As for the hundreds of thousands of tickets sold, they're all hand-sorted using a system that's been in place for decades.
"Generally, we have anywhere between 80 to 100 employees that come to our community civic center, and hand sort all of those tickets and type them up and check them and triple check," Baker said.
The winning ticket walks away with the prize money that's decided on by the board.
While Baker said winning is fun and exciting, it's so much more than just hitting the jackpot.
"Nenana Ice Classic is so community friendly, community-minded," she said. "We are all about supporting businesses, supporting individuals, supporting students in every way."
Historically, people are usually able to guess right on the minute, but if it's not exact, Baker said it goes to the closest minute on either side. Since the beginning of the event over a century ago, more than 10 million dollars in prize money has been given away.
Tickets for this year's Classic are on sale through April 5 and cost $3 per ticket.
Copyright 2023 KTUU. All rights reserved.