Coldest stretch of air in nearly 40 years for Easter
Highs will struggle to break out of the 20s across Southcentral
Published: Apr. 7, 2023 at 10:24 AM AKDT
ANCHORAGE, Alaska (KTUU) - As Peter Cottontail hops through Southcentral Alaska, not only will he be dealing with hare high snow depth, but potentially one of the coldest Easters Anchorage has seen on record.
Cold air continues to spill into the region, ahead of a polar low over the Northwest Arctic Borough. That area of low pressure lacks any upper-level support that will kick it out of the region: as a result, colder air will stay with us in the coming days.
This Easter isn't the only cold one seen, as previous years have also featured icy cold Easter snaps. However, only three years have seen highs in the 20s since record-keeping began in late 1953 at Ted Stevens Anchorage International Airport.
It's important to point out that Easter falls on different days throughout the years — the holiday falls on the first Sunday following the full moon on or after the Vernal Equinox. This year Easter falls on April 9 and the cold that will greet us all will be a winter chill. While April is no stranger to seeing highs in the 20s, we are at the time of the year when it becomes increasingly harder for Arctic air to settle into the region. For the point of this article, we're simply looking at the dates that Easter fell on and how it compares to previous Easter dates.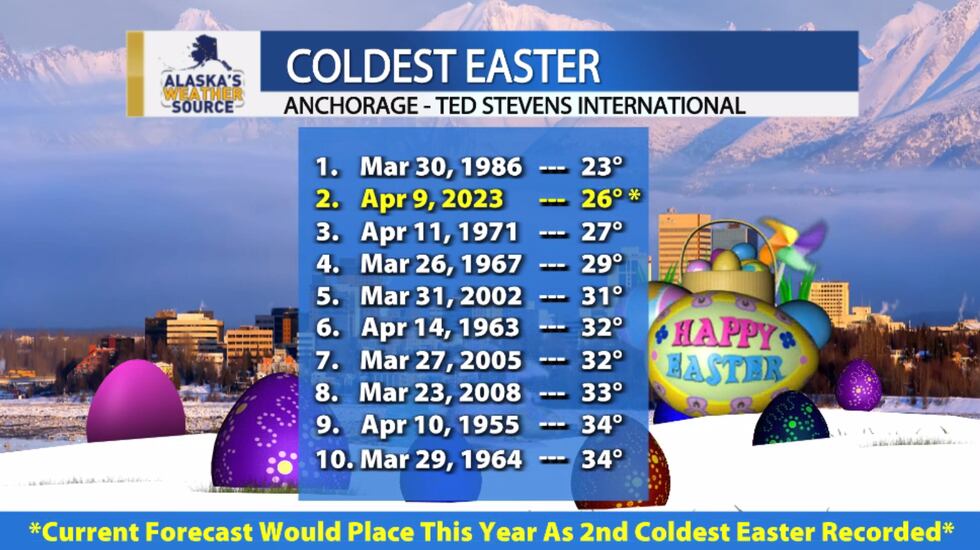 It's possible this year could be thrown into the mix, as the combination of cold air and cloud coverage will keep many locations in Southcentral in the mid 20s. Not only will Peter Cottontail hope for an extra layer of fur to stay warm, but he'll be delivering Easter treats in what could also be one of the snowiest on record.
Looking at past years, it's not often we see snow during the Easter holiday. While having light snow still covering the ground is not unusual, the amount of snow that still has to melt in Southcentral, combined with the incoming snow, will likely make this an Easter to remember.
Climatologically speaking, the average high for Easter is around 41° and with the cold air surging into Southcentral, many spots will be 10 to 15 degrees below average. Some isolated areas could even see temperatures roughly 20 degrees below average.
While the cold weather is almost certain this weekend, the incoming snow will be what needs to be watched. Currently, the snow depth in Anchorage is at 25 inches, which will likely hold through Easter. In fact, it's possible we could see our snow depth climb back above 30 inches in some spots, as moisture returns to the region. Should this occur, we'll see the greatest snow depth the holiday has ever recorded.
| Date of Easter | Snow Depth |
| --- | --- |
| April 4, 2021 | 25″ Snow Depth |
| March 31, 2002 | 25″ Snow Depth |
| April 8, 2012 | 23″ Snow Depth |
| March 29, 1959 | 21″ Snow Depth |
| March 31, 2013 | 20″ Snow Depth |
| April 4, 1999 | 20″ Snow Depth |
| April 11, 2004 | 18″ Snow Depth |
| April 12, 2020 | 15″ Snow Depth |
| March 30, 1975 | 14″ Snow Depth |
| March 30, 1986 | 14″ Snow Depth |
While snow will occur this weekend, the tricky part is how much we'll see. A lot will factor into the amount of snow we'll see, but nothing more than how long it'll take to overcome the dry air. Dewpoints are currently hovering near zero, meaning we'll have to see at least a 15- to 20-degree rise in our dewpoint before we really begin to see snow accumulating across the region.
The other factor that will determine our snow totals will be where the heavier snow bands set up shop. With the trough of colder air digging through the state and the low to our south, the two will provide the perfect setup for a deformation band. It's within this band that we'll likely see the heaviest snowfall totals. Current consensus shows that within that band, 4+ inches of snowfall could occur, with the heaviest snow falling across the eastern Kenai Peninsula. It certainly bears watching.
Why?
Well not only because it'll cause travel concerns across Southcentral, but we could also be dealing with the snowiest Easter recorded. The current record goes to Easter 2005, when 2.3 inches of snow blanketed Anchorage. Should the incoming snow continue to trend towards the band of heavier snow stretching from Talkeetna down through parts of the Kenai, we'll likely smash that record.
It'll be a 1-2-3 punch, as we'll close Easter as potentially:
The 2nd coldest on record

Top snow depth for Easter

Snowiest Easter
Let's hope as Peter Cottontail hops on out of Southcentral, the colder air follows. While that would be nice, it still looks like next week will be chilly, although temperatures will warm back into the 30s.
Copyright 2023 KTUU. All rights reserved.