Anchorage reaches 100″ of snow for season, experiences coldest Easter on record
Cold and snowy weather to continue much of the week
Published: Apr. 7, 2023 at 10:50 PM AKDT
|
Updated: Apr. 10, 2023 at 6:05 AM AKDT
ANCHORAGE, Alaska (KTUU) - The National Weather Service at Ted Stevens Anchorage International Airport measured two inches of snow on Sunday, putting the city at 100.4″ for the 2022-2023 season.
It's the ninth time since records began in the early 1950s that the city has seen over 100 inches of snow in a single season.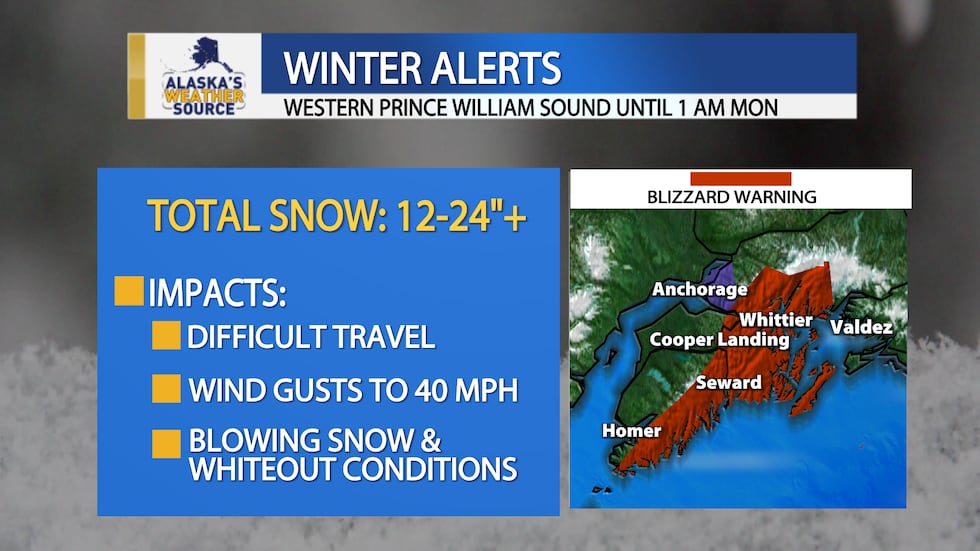 A blizzard warning remained in effect for western Prince William Sound through 1 a.m. Sunday, which covers the Chugach Mountains of western Prince William Sound, including the towns of Girdwood, Whittier, and Seward, as well as Turnagain Pass and Moose Pass.
By Monday morning, snow will have accumulated one to two feet.
Winds gusting as high as 40 mph have created blowing and drifting snow as well as reduced visibilities down to a half mile with both Portage and Whittier reporting near zero visibility at times Sunday afternoon and evening. Travel, especially through the passes, will be difficult. If you must travel, be sure to allow for plenty of travel time to safely reach your destination, and have a winter weather survival kit in your care in case you get stranded.
Even though the winter weather advisory for Anchorage was allowed to expire at 10 p.m. Sunday, scattered snow showers will continue through the overnight and into much of Monday. Roads, especially neighborhood and secondary, will remain slick, slippery, and snow-covered as temperatures remain in the teens overnight. Winter driving skills will still need to be practiced. Please allow extra driving time and braking distance when traveling back to work and school all across Southcentral Alaska on Monday.
With this latest round of heavy snow and gusty winds occurring on top of an already very deep snowpack across the backcountry, recreational areas of the Chugach Range, especially through Turnagain Pass, the risk for both natural and human-induced avalanches has increased. The Chugach National Forest Avalanche Information Center has placed a "considerable" risk of avalanches for alpine areas above 2,500 feet, with a "moderate" risk for elevations below 2,500 feet.
The elevated risk for these avalanches will remain through the early part of the week as there are more disturbances that will bring additional rounds of snow, as well as the new snow needing some time to settle and bond with the existing snowpack.
Please stay up-to-date on the latest forecasts for work and school plans right here with Alaska's Weather Source team!
Copyright 2023 KTUU. All rights reserved.