Aurora set to give a big show late Sunday night into early Monday morning
Level 3 to Level 4 geomagnetic storm warning remains in effect until 4 a.m. Alaska time
Published: Apr. 23, 2023 at 8:54 PM AKDT
ANCHORAGE, Alaska (KTUU) - A severe geomagnetic storm is occurring in the Earth's upper atmosphere Sunday night.
NOAA's Space Weather Prediction Center issued a geomagnetic storm warning early Sunday afternoon resulting from a moderate solar flare, or coronal mass ejection, coming off the sun 2 days ago. Late Sunday night, the warning was extended until 8 a.m. Eastern, or 4 a.m. Alaska time.
This mean there is a very high probability of seeing widespread aurora beginning after midnight and continuing into the first part of the overnight hours.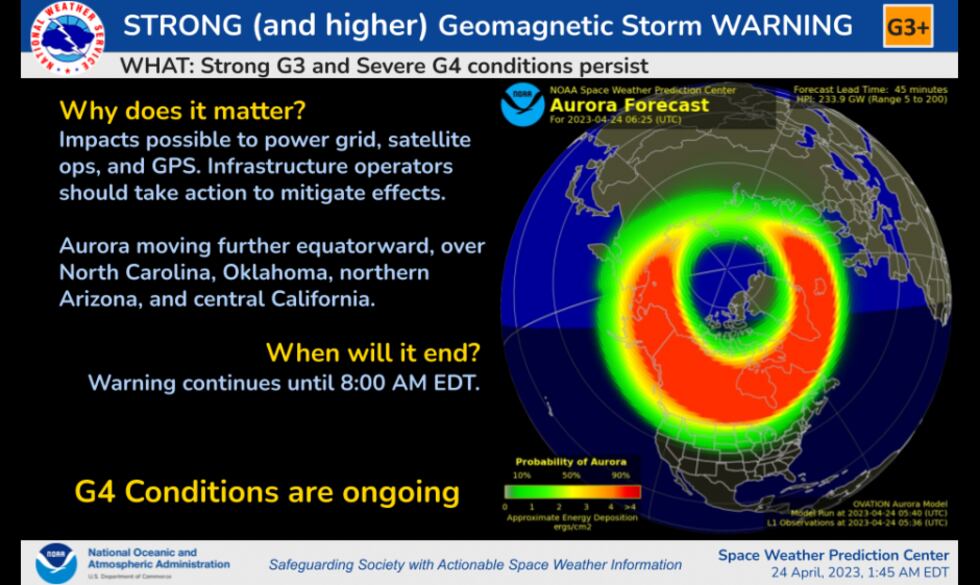 Scientists with NOAA's Space Weather Prediction Center who classify this storm as severe — or a level 4 on a one to five scale — have been working closely with those in the energy and technology sectors to minimize any disruptions to anything electronic here on the ground.
"People who rely on global positioning systems or Global Navigation Satellite Services may experience difficulties with positioning and navigation, particularly in the rural zones," the lead forecaster Robert Steenburgh said.
Steenburgh also noted that those using radio communications from three to 30 megahertz will be experiencing some interference where aurora are present.
The level of activity may rival that of March 24, as the northern two-thirds of the Lower 48 from New England to the Northern plains to the Pacific Northwest stand more than a 10% chance of aurora activity tonight.
For us here in Alaska, the current KP index is very high at 7. Usually we stand a good chance to see the lights with a KP of 3 to a 4, so like one month ago, aurora over the state should be lighting up the night sky.
With arctic high pressure dominating much of the state, it should be providing a mostly clear sky to see this cosmic spectacle.
Copyright 2023 KTUU. All rights reserved.