Veteran-owned business offers single-ingredient treats for man's best friend
Outside The Gates
Published: May. 4, 2023 at 7:01 PM AKDT
PALMER, Alaska (KTUU) - People will do just about anything for their pets, including carefully reading the ingredients list printed on the back of food bags.
A young company based in Palmer is simplifying the way we reward our dogs, by locally producing commercially packaged dog treats with one simple ingredient — salmon.
Founder of Mountain Dog, LLC, Kevin Thompson, said people have a hard time believing it.
"We use salmon bellies, and that's all we use. All of these other companies are using binders," Thompson said. "It's an innovative way of feeding your dog the best thing that you can possibly feed them."
Though Thompson won't tell you exactly how he does it, the freeze-dried treats are made of 100% wild Alaska salmon, and contain just 10 calories per treat.
Thompson, an Air Force and Army veteran, started the small company after his career as a helicopter pilot came to a standstill. He contracted COVID-19, which led to a 32-day hospitalization — eight of them spent on a ventilator. His wife Hannah didn't know if he would survive.
"It was definitely terrifying at times, but there are lots of times where I had no control and I just had to pray and surrender it," Hannah said.
With faith and fortitude, Thompson was able to recover, but his piloting career hung in the balance.
"The FAA was not going to clear me to fly with the lung damage that I've had," Thompson said. "We're still working through that."
It was around this time Thompson's wife bought a Harvest Right freeze dryer. After freeze-drying some raw foods for people to feed to their dogs, one of them suggested he turn it into a business — a notion he ran with.
"One freeze dryer led to another, led to another, led to another — and then a freeze drying company," Thompson said.
As the company began to expand to store shelves, Thompson brought on Michael Kaylor as a business partner to run the operation side of things. Kaylor, a Marine Corp veteran, believed in the product Thompson produced and appreciated the renewable and sustainable aspect of using parts of a salmon that oftentimes get thrown out.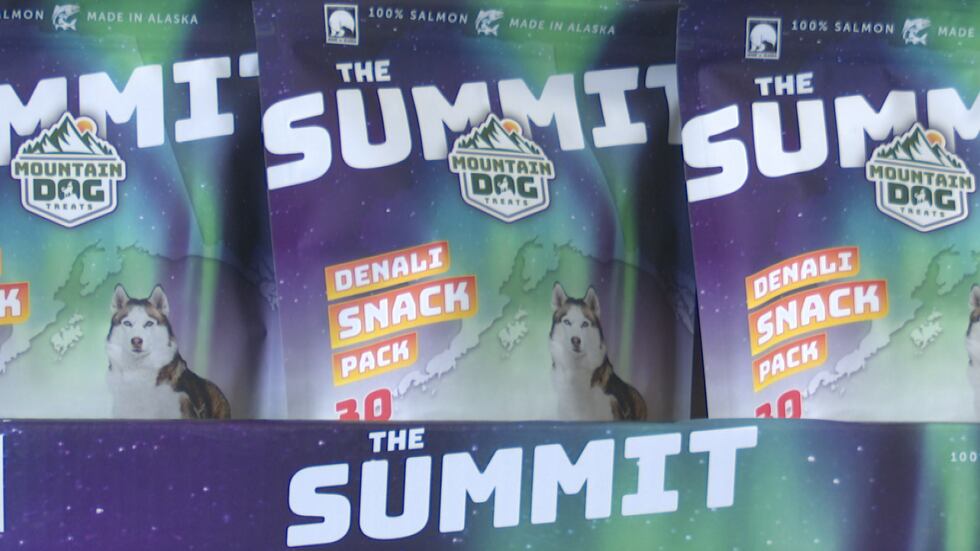 "We can, you know, take care of our pets in an efficient, affordable manner that takes care of the fisheries," Kaylor said.
Thompson and Kaylor recently just moved into a new warehouse in Palmer. While not yet big enough to employ full-time workers, Thompson does have a few other veterans that help process, mold, freeze dry, and package the salmon-shaped treats.
For him, it was important to create a space where other veterans feel they belonged.
"We've got a different sense of humor, we got a different way of talking, we got a different way of interacting with one another," Thompson said. "We don't always fit in."
Thompson hopes that one day the company will grow to offer full-time employment for veterans and their spouses, but for now, he's proud to put out a product stamped with "Disabled Veteran Owned" on the bag.
"I want to set an example for other veterans who are out there [that] it's always too soon to quit," Thompson said. "I don't care what branch of service you served in. Every single military person learned how to get up in the morning, make your bed, brush your teeth, and show up to a place on time. And if you just hold on to that discipline and that discipline alone, you will be successful in this world."
Mountain Dog treats are available at Fred Meyer, Pet Zoo, AK Bark, and other large retailers in Alaska, as well as online ordering through their website.
Copyright 2023 KTUU. All rights reserved.