One Baffert horse euthanized on track on undercard before another Baffert entry wins Preakness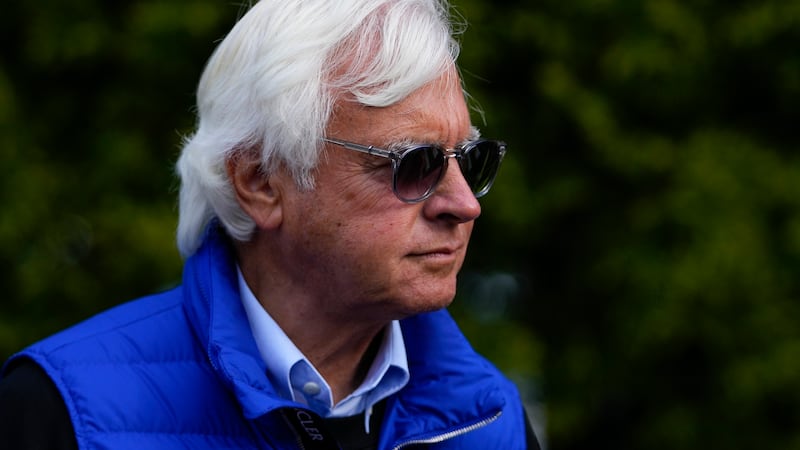 Published: May. 20, 2023 at 10:37 AM AKDT
|
Updated: May. 20, 2023 at 3:59 PM AKDT
BALTIMORE (AP) — A horse trained by Bob Baffert was euthanized on the track because of a leg injury during the undercard at Pimlico Race Course on Saturday, several hours before another one of the Hall of Famer's 3-year-old colts, National Treasure, won the Preakness Stakes.
On the same dirt course that staged the second leg of the Triple Crown, favorite Havnameltdown buckled forward and threw jockey Luis Saez off his back during the day's sixth race, then continued running around the final turn in some distress.
Havnameltdown was looked at by chief veterinary officer Dr. Dionne Benson and others, who determined the injury to his left front leg was inoperable so the horse should be put down, according to a statement from 1/ST Racing, which owns and operates the track.
Saez was conscious and taken to Sinai Hospital for evaluation, complaining of leg pain, track officials announced. He was attended to by medical personnel on the track for several minutes before being put on a stretcher and into an ambulance.
Havnameltdown's death comes on another major race day, in the aftermath of the Kentucky Derby being overshadowed by seven fatalities at Churchill Downs over a span of 10 days.
"It's the worst feeling. And we grieve. We do grieve when these things happen. There is nothing worse than coming back and the stall is empty," Baffert said. "He is a nice horse. He could not have been doing any better. It's sickening. I am in shock."
Later in the day, Baffert's voice cracked as he spoke about "the emotions of this game" after seeing National Treasure edge Blazing Sevens by a head in the Preakness to end Derby champion Mage's bid for a Triple Crown. Mage was third Saturday.
National Treasure gave Baffert his record eighth victory in the Preakness and 17th Triple Crown win overall, another mark.
Havnameltdown was the favorite at 4-5 for the $200,000 dirt race. Breaking from the inside No. 1 post, he was bumped out of the gate by No. 2 Ryvit but continued running in the 6-furlong race. Havnameltdown and Ryvit, the eventual race winner, were out in front of the pack coming around the second turn.
Fans in the crowd at Pimlico Race Course gasped when the horse stumbled before the final turn and tossed Saez. While the jockey was being checked by medical personnel as he remained on the dirt, the horse was brought under control by track staff on the homestretch, then led behind some black barriers.
In an incongruous scene, 2Pac's "California Love" continued blaring from infield speakers set up right near where it all happened.
"Very unfortunate," said Tyler Gaffalione, Ryvit's jockey. "Hopefully Luis is OK. We were kind of heads-up, and he just kind of disappeared. I looked back and saw Luis coming off the side."
Baffert pointed out that his horse "was obviously hit pretty hard coming out of the gate."
"We don't know if that contributed to the injury, but we will be fully transparent with those reviewing this terrible accident," he posted on Twitter.
Baffert had horses running on Preakness weekend for the first time in two years after returning from a suspension stemming from 2021 Kentucky Derby winner Medina Spirit's failed drug test. He was not able to enter horses in the Derby either of the past two years as part of a decision by Churchill Downs. And he could not have any in the 2022 Preakness or Belmont because of a 90-day ban in Kentucky respected by Maryland and New York.
Yet another one of his horses, Arabian Lion, won an earlier race Saturday.
Saez, a Panamanian who turned 31 on Friday, originally was supposed to ride top contender First Mission in the Preakness. But that horse was scratched on the advice of veterinarians because of an issue with his left hind ankle.
At the 2019 Kentucky Derby, Saez rode Maximum Security across the line first, but stewards revoked the victory and dropped the colt to 17th for impeding the paths of several horses. Saez then was suspended, accused of causing the interference.
Earlier this year, he was aboard Kentucky Derby champion Mage for a runner-up finish at the Florida Derby. At Churchill Downs two weeks ago, Saez's horse, Tapit Trice, came in seventh in the Derby.
Havnameltdown, owned by Michael Pegram, Karl Watson and Paul Weitman, had won four of his six career starts prior to this race. He had most recently finished second in the Saudi Derby in February.
"We never had an issue with him," Baffert said. "We are so careful with all these horses, and it still happens. It is something that is disheartening. I feel so bad for that horse. And I just hope that Luis is OK."
___
AP National Writer Howard Fendrich and AP Sports Writer Noah Trister contributed.
___
AP sports: https://apnews.com/hub/sports and https://twitter.com/AP_Sports
Copyright 2023 The Associated Press. All rights reserved.