Carmelo Anthony retires from NBA, after 19-year career, NCAA title, 3 Olympic gold medals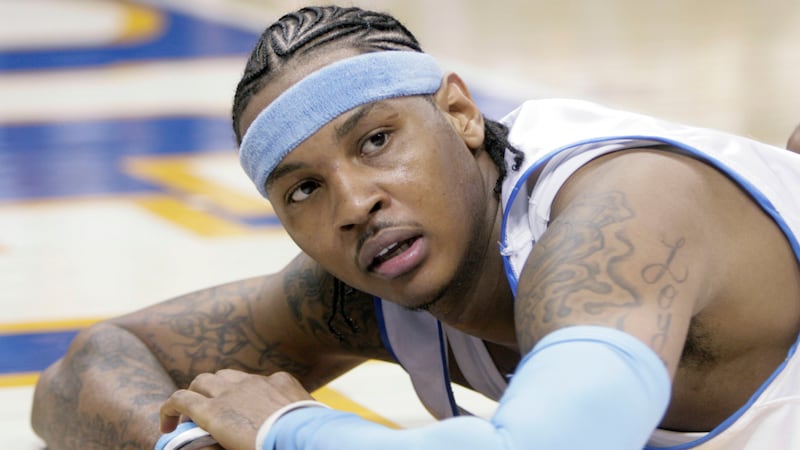 Published: May. 22, 2023 at 6:29 AM AKDT
|
Updated: May. 22, 2023 at 3:55 PM AKDT
(AP) - Carmelo Anthony, the star forward who led Syracuse to an NCAA championship in his lone college season and went on to spend 19 years in the NBA, announced his retirement on Monday.
Anthony, who was not in the NBA this season, retires as the No. 9 scorer in league history.
Only LeBron James, Kareem Abdul-Jabbar, Karl Malone, Kobe Bryant, Michael Jordan, Dirk Nowitzki, Wilt Chamberlain and Shaquille O'Neal scored more than Anthony, who finishes his career with 28,289 points.
"Now the time has come for me to say good-bye ... to the game that gave me purpose and pride," Anthony said in a videotaped message announcing his decision — one he called "bittersweet."
Anthony's legacy has long been secure: He ends his playing days after being selected as one of the 75 greatest players in NBA history, a 10-time All-Star, a past scoring champion and a six-time All-NBA selection.
And while he never got to the NBA Finals — he only played in the conference finals once, with Denver against the eventual champion Los Angeles Lakers in 2009 — Anthony also knew what it was like to be a champion.
He was the Most Outstanding Player of the 2003 Final Four when he led Syracuse to the national championship, and he helped the U.S. win Olympic gold three times — at Beijing in 2008, at London in 2012 and at Rio de Janeiro in 2016.
His college coach at Syracuse, the now-retired Jim Boeheim, tweeted a "welcome to retirement" message to his former star.
"I am honored to have been a part of your legendary career, and I can't wait to see what's next for you," Boeheim wrote.
Anthony played in 31 games in four appearances at the Olympics, the most of any U.S. men's player ever. Anthony's 37 points against Nigeria in the 2012 games is a USA Basketball men's record at an Olympics, as are his 10 3-pointers from that game and his 13-for-13 effort from the foul line against Argentina in 2008.
"Carmelo Anthony is one of the NBA's all-time great players and ambassadors," NBA Commissioner Adam Silver said. "We congratulate him on a remarkable 19-year career and look forward to seeing him in the Hall of Fame."
Anthony will remain part of international basketball for at least a few more months; Anthony is one of the ambassadors to the Basketball World Cup, FIBA's biggest event, which will be held this summer in the Philippines, Japan and Indonesia.
"I remember the days when I had nothing, just a ball on the court and a dream of something more," Anthony said. "But basketball was my outlet. My purpose was strong, my communities, the cities I represented with pride and the fans that supported me along the way. I am forever grateful for those people and places because they made me Carmelo Anthony."
Anthony was drafted No. 3 overall by Denver in 2003, part of the star-studded class that included James at No. 1, Hall of Famer Chris Bosh at No. 4, and soon-to-be Hall of Famer Dwyane Wade — he gets officially enshrined this summer — at No. 5.
Anthony will join them at the Hall of Fame before long — the Hall of Fame said he will be eligible for the 2026 class. He averaged 22.5 points in his 19 seasons, spending the bulk of those years with Denver and the New York Knicks. Anthony has long raved about his time with the Knicks, and what it was like playing at Madison Square Garden, especially as a kid who was born in Brooklyn.
He was the NBA's leading scorer with 28.7 points per game in 2012-13, when the Knicks won 54 games and the Atlantic Division title.
"The Garden," Anthony said in 2014. "They call it The Mecca for a reason."
Anthony spent his first 7 1/2 NBA seasons in Denver, becoming the third-leading scorer in franchise history. His Nuggets teams had seven consecutive winning seasons and earned seven playoff berths, but they advanced in the postseason just once, ending in that six-game conference finals loss to the Lakers in 2009.
"He wore that Nuggets jersey with pride and did a lot of great things while in a Denver Nuggets uniform, as well as all the other uniforms he wore in an illustrious career," Nuggets coach Michael Malone said Monday before Denver faced the Lakers in Game 4 of the Western Conference finals, hoping to clinch the franchise's first NBA Finals appearance. "When you think of Carmelo, you think of one of the more elite scorers in NBA history, a guy that from the D.C. metro area goes to Syracuse and wins a championship and comes into the NBA and was just a bucket-getter from Day One."
Anthony also played for Portland, Oklahoma City, Houston and ended his career with the Lakers last season. He went unsigned this year, and now his retirement is official.
He said in his retirement address that he's looking forward to watching the development of his son Kiyan, a highly rated high school shooting guard.
"People ask what I believe my legacy is," Anthony said. "It's not my feats on the court that come to mind, all the awards or praise. Because my story has always been more than basketball. My legacy, my son ... I will forever continue through you. The time has come for you to carry this torch."
___
AP Sports Writer Greg Beacham in Los Angeles contributed.
___
AP NBA: https://apnews.com/hub/NBA and https://twitter.com/AP_Sports
Copyright 2023 The Associated Press. All rights reserved.