Nebraska governor signs 12-week abortion ban, limits on gender-affirming care for minors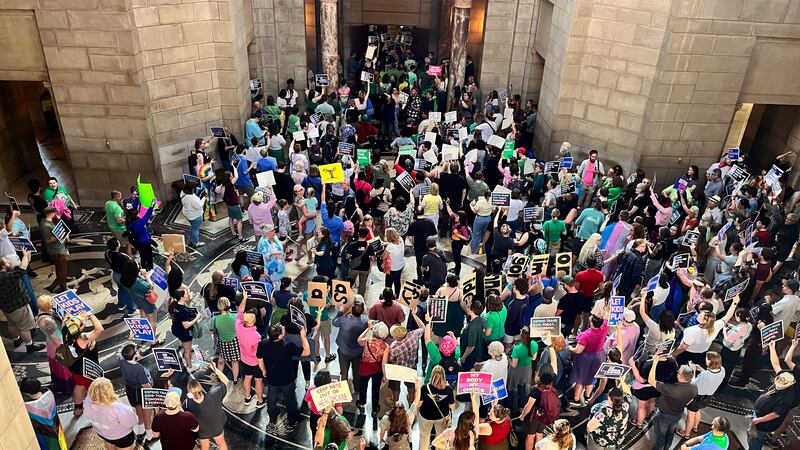 Published: May. 22, 2023 at 9:13 AM AKDT
|
Updated: May. 22, 2023 at 2:48 PM AKDT
LINCOLN, Neb. (AP) — Republican Nebraska Gov. Jim Pillen signed a bill Monday that bans abortion at 12 weeks of pregnancy and restricts gender-affirming medical care for people younger than 19.
The abortion ban takes effect immediately, while the ban on gender-affirming care takes effect on Oct. 1. The hybrid measure ties together restrictions that Republicans have pursued across the U.S.
Pillen called the law "the most significant win for social conservative agenda in over a generation of Nebraska" before he signed the law while holding the 5-day-old daughter of some friends as his two oldest granddaughters stood next to him.
"It's about protecting our kids and saving babies. Pure and simple," Pillen said.
Opponents have promised to sue to try and block the law. The head of the American Civil Liberties Union of Nebraska, Mindy Rush Chipman, said in a statement that "every option is on the table to undo these regressive measures."
"The governor's decision to sign these sweeping restrictions into law betrays a total disregard for Nebraskans' freedom, health and well-being," Rush Chipman said. "Just as we have seen in other states, these bans will result in significant harm, most intensely hurting already vulnerable communities."
Nebraska had not passed a new abortion ban since 2010, when it became the first state to limit the procedure at around 20 weeks of pregnancy. The 12-week ban includes exceptions for rape, incest and to save the life of the mother.
State Sen. Joni Albrecht of Thurston, who pursued even tougher abortion restrictions during the session, wiped away tears as she said she hopes to eventually enact a ban at all stages of pregnancy.
Planned Parenthood, which operates two of Nebraska's three abortion clinics, said the new law increases the burden on women who need abortions, forcing more of them to travel out of state.
"It's heartbreaking that we have to tell patients that they cannot receive their health care here in Nebraska anymore," said Andi Curry Grubb, Nebraska executive director for Planned Parenthood North Central States.
The law forced Planned Parenthood to reschedule three patients this week, and Curry Grubb said that within her five-state region, there has been a 40% increase in second-trimester abortions since Roe v. Wade was overturned last summer. More women are being forced to push abortions later into pregnancy because of hurdles involved with seeking care out of state.
She said it's troubling that the new law doesn't include any exception for fetal anomalies, which may not be diagnosed until after the 12th week of pregnancy.
North Carolina also recently passed a 12-week abortion ban, among a slew of restrictions enacted in states after the U.S. Supreme Court last year struck down the 1973 Roe v. Wade ruling that established a nationwide right to abortion. Fourteen states have approved an abortion ban throughout pregnancy.
Nebraska's law also will prevent transgender people under 19 from receiving any gender-confirming surgery. It restricts the use of hormone treatments and puberty blockers in minors, putting the state's chief medical officer — a political appointee who is an ear, nose and throat doctor — in charge of setting the rules for those therapies. In Nebraska, people younger than 19 are considered minors.
The state's unicameral Legislature passed the bill with the two contentious issues on Friday after hours of heated debate. Conservative lawmakers wrangled just enough votes to end a filibuster before approving the bill.
The proposal restricting gender-affirming care was the flashpoint of an epic filibuster led by Omaha Sen. Machaela Cavanaugh. She and a handful of progressive allies slowed the business of passing laws to a crawl by introducing amendment after amendment to every bill that made it to the Senate floor. That sent leadership scrambling to prioritize which bills to push through.
Omaha Sen. Kathleen Kauth, who introduced the proposal restricting gender-affirming care, said Monday that the filibuster actually gave senators more time to discuss and research the issue.
"The filibuster actually is what made this happen," Kauth said. "And so I doubt it was their intention, but that gave us the time to make this work."
Nebraska is now among at least 18 states that have enacted laws restricting or banning gender-affirming medical care for minors. Proposals are pending before the governors of Texas and Missouri. Medical groups and advocates say such restrictions are further marginalizing transgender youth and threatening their health.
One Nebraska lawmaker, Omaha state Sen. Megan Hunt, disclosed in March that her teenage son is transgender and said Friday that she now plans to leave the state.
Pillen said he didn't want Nebraska families considering gender-affirming medical care to be "duped into the silliness that if you do this, you're going to become happy."
___
Funk contributed to this story from Omaha, Neb.
Copyright 2023 The Associated Press. All rights reserved.