Typhoon Mawar closes in on Guam as residents shelter, military sends away ships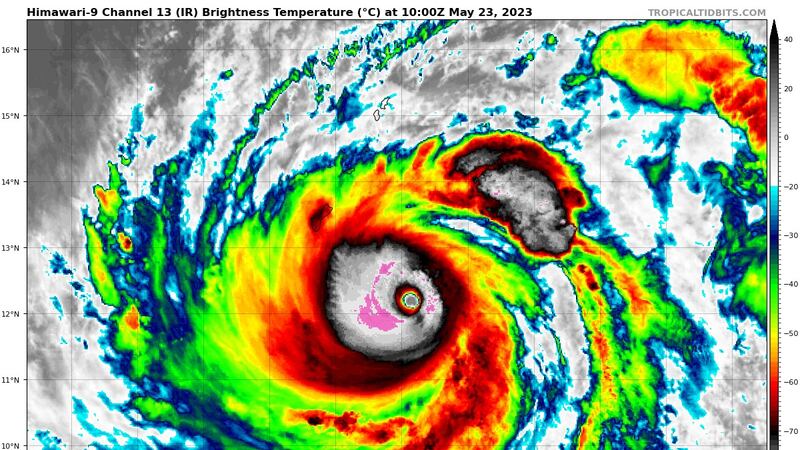 Published: May. 23, 2023 at 12:39 PM AKDT
|
Updated: May. 23, 2023 at 9:08 PM AKDT
HAGATNA, Guam (AP) — Residents stockpiled supplies, battened down windows and abandoned wood and tin homes for emergency shelters as Guam was buffeted by rains and winds Wednesday from Typhoon Mawar, the strongest storm to approach the U.S. Pacific territory in decades.
The U.S. military sent away ships, President Joe Biden approved an emergency declaration and anyone not living in a concrete house was urged to seek safety elsewhere ahead of the typhoon, which was forecast to arrive as a Category 4 storm with winds of around 140 mph (225 kph) but could possibly strengthen to a Category 5, the most powerful. The last time a Category 5 made a direct hit on Guam was 1962.
Forecasters at the National Weather Service office in Guam said they were hearing low rumblings and shaking shutters and doors as the storm intensified Wednesday afternoon.
"Stay inside. Trees are coming down; power lines are coming down," said Brandon Aydlett, a meteorologist with the service. "Everything is changing — it is too dangerous to be outside."
Many communities on the 212-square-mile (549-square-kilometer) island had lost power by the afternoon and some to the south had lost water service.
Ahead of the storm, Guam Gov. Lou Leon Guerrero ordered residents of coastal, low-lying and flood-prone areas of the territory of over 150,000 people to evacuate to higher elevations.
In low-lying Agat along the southern coast, resident Reuel Drilon began preparing Friday and spent the weekend tying down patio furniture and trash containers. Nearly every home in the village, he said, has a mango tree — which officials warned could be ripped from the ground and become roadblocks and deadly flying projectiles.
"A lot of folks are keeping their eyes on trees," he told The Associated Press before the storm hit. "Down south, we have a lot of coconut trees and mango trees."
Guam is a crucial hub for U.S. forces in the Pacific, and the Department of Defense controls about a third of the island. Rear Adm. Benjamin Nicholson, Joint Region Marianas commander, authorized the evacuation of defense personnel, dependents and employees in areas expected to be affected
All ships were moved out to sea as a standard precaution, according to the Navy, and any personnel remaining on the island were sheltering in place. About 6,800 U.S. service members are assigned to Guam, according to the Pentagon.
With rain from the storm's outer bands already falling over the island as of late Wednesday morning, the typhoon had maximum sustained winds of 140 mph (225 kph) with gusts peaking at 170 mph (274 kph), said Landon Aydlett, a meteorologist with the National Weather Service in Guam. Its center was about 75 miles (120 kilometers) southeast of the island and was moving to the north-northwest.
The weather service warned of "considerable damage" from a "triple threat" of winds, torrential rains and life-threatening storm surge of 4 to 6 feet (1.2 to 2 meters), with dangerous surf of 20 to 30 feet (6 to 9 meters). It said the storm could hit Wednesday afternoon in the southern part of Guam, which lies west of the International Date Line and is a day ahead of the U.S. mainland and Hawaii.
If Guam doesn't take a direct hit, it will be very close, said Patrick Doll, the lead weather service meteorologist in Guam. Mawar is a Malaysian word that means "rose," he noted.
School buses picked up residents at island community centers and transported them to 11 elementary schools outfitted as shelters. Civic workers in various villages warned residents to secure loose objects in their yards and seek shelter immediately. Some spread the word by megaphone, while others turned to social media. Power flickered off and on as the rain and wind intensified, and officials said nearly 900 people were in shelters.
Leon Guerrero urged residents in a YouTube message to remain calm and ordered the National Guard to help those in low-lying areas evacuate, saying, "We are at the crosshairs of Typhoon Mawar. Take action now."
Guerrero said the emergency declaration will support the mobilization of resources into Guam, which is "especially crucial given our distance from the continental U.S."
The storm was moving at 6 mph (10 kph) but had an eye 17 miles (27 kilometers) wide, meaning people at the typhoon's center could see calm conditions for over three hours and conclude, far too soon, that the worst is over, Doll said. As the eye leaves, the winds could rise to 150 mph (241 kph) in minutes, so people should remain sheltered until the government gives the all-clear.
"Folks may say, 'Hey it's over, we could go outside and start cleaning up,'" Doll said. "That is totally wrong.
Joshua Paulino, a client manager at Xerox Guam, was sheltering at home in the central village of Chalan Pago with his wife, two sons and mother after the family closed the shutters and secured outdoor objects. He worried that the storm could dump rain on the island for a long time, since it was forecast to pass by gradually.
"This storm is moving very slowly so that is making me really uneasy," Paulino said by text message.
And an ocean away in Los Angeles, Marichelle Tanag was fretting from afar after her parents, who are in their 70s and have survived many typhoons in their decades on the island. They boarded up windows, stocked up on a couple of weeks of food, prepared the generator and filled bathtubs with water. Their home in Tamuning, also in central Guam, is made of concrete, but she worried about it nevertheless.
"Will the house stand? ... If not, will they be able to go to another place of safety if needed, as fast as possible, and not get in the way of any of the flying debris?" Tanag said by phone.
Rota, an island in the U.S. Commonwealth of the Northern Mariana Islands, was also under a typhoon warning, Doll said. Tinian and Saipan, in the Northern Marianas, were under tropical storm warnings. Some people in those areas are still in temporary shelters or tents after Category 5 Super Typhoon Yutu in 2018, Doll noted.
___
Kelleher reported from Honolulu. AP Science Writer Seth Borenstein and Associated Press writers Audrey McAvoy in Honolulu, Stefanie Dazio in Los Angeles and Sarah Brumfield in Washington contributed.
Copyright 2023 The Associated Press. All rights reserved.