Alaska SeaLife Center takes in Pacific walrus pup found on North Slope
Published: Aug. 3, 2023 at 8:42 PM AKDT
|
Updated: Aug. 3, 2023 at 8:43 PM AKDT
SEWARD, Alaska (KTUU) - The Alaska SeaLife Center has welcomed a rare visitor to their facilities in Seward — a young Pacific walrus.
The male walrus pup — already weighing in at nearly 200 pounds — arrived in Seward on Aug. 1 after being located around four miles inland on the North Slope. Workers in the area just south of the Beaufort Sea coast spotted the small marine mammal some distance from the water and notified authorities.
The Alaska SeaLife Center says that in 25 years of operations, only ten walruses have been taken into their care. This pup is the first walrus patient in four years, and according to wildlife response curate Jane Belovarac, it's an opportunity to gain more information.
"It isn't often that we're able to admit a walrus calf, but every time we do, we learn more about the species and how to care for them," Belovarac said.
After landing safely in Seward on Tuesday afternoon, experts from the SeaLife Center's Wildlife Response Team conducted an examination and found the pup to be suffering from malnutrition, dehydration, a cloudy eye, and possibly an infection — but is otherwise doing fine.
"We are lucky that his first night went well," Belovarac said.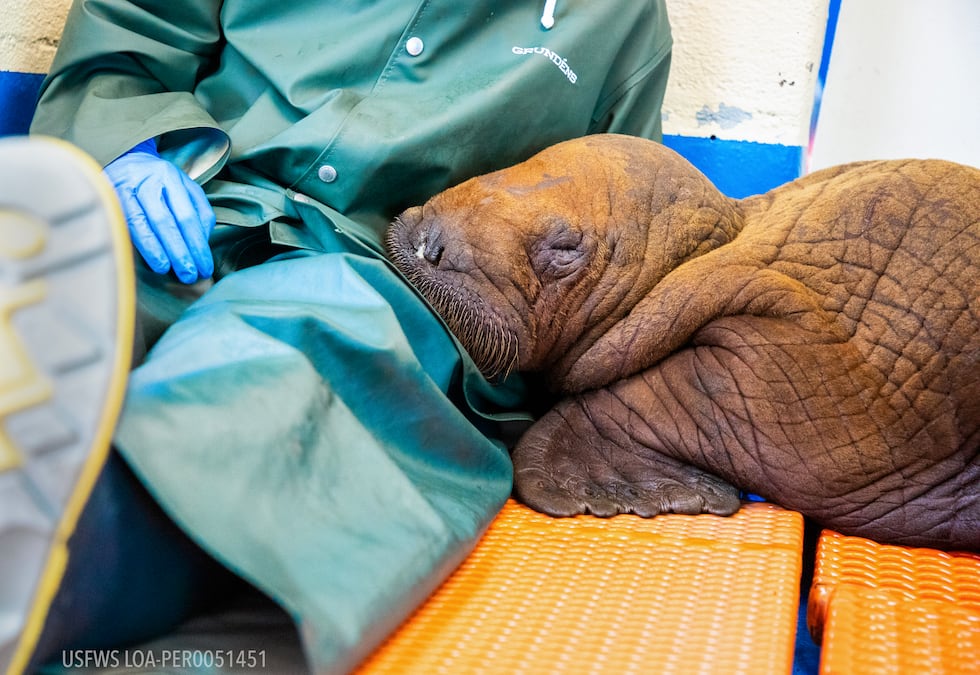 Transporting the animal roughly 700 air miles from the Slope to Seward was no easy task. After receiving approval of the U.S. Fish and Wildlife Service to assist the walrus — which are protected by the Marine Mammal Act — teams with the Alaska SeaLife Center, Alaska Clean Seas, and ConocoPhillips Alaska coordinated to shelter the animal temporarily and arrange a flight south to Seward. The walrus was accompanied on the journey to the SeaLife Center by representatives from both companies, and ConocoPhillips allowed use of one of their aircraft for the trip.
"ConocoPhillips is honored that we were able to assist with the rescue and transportation of the young walrus," ConocoPhillips Alaska president Erec Isaacson said. "This is an example of a network of caring neighbors who work together for the best possible outcomes. Alaska is fortunate to have an organization like the Alaska SeaLife Center where patients can be cared for by veterinary professionals. He is in great hands, and we look forward to following his story."
Walrus calves are especially dependent on their mothers for the first two years of their lives, who model feeding and socialization behaviors for their young. In place of a pinniped parent, staff at the Alaska SeaLife Center are now observing and caring for the pinniped around the clock — including mimicking the tactility of a real walrus mother by cuddling with the animal. They said in an email that the calf is adapting well to his new environment and eating formula from a bottle.
Although a tell-tale 'walrus trail' was observed in the tundra near where the pup was found, no one is certain how the animal made his way that far inland. The region is not known to be a popular area for walrus haulouts, which usually takes place on large ice floes or rocky islands.
The one-month-old pup is not currently on view to the public, but may be relocated to a viewing area after his condition improves.
Injured or stranded marine mammals in Alaska should be reported to the Stranded Marine Animal Hotline, which can be reached at 1-888-774-SEAL (7325).
Copyright 2023 KTUU. All rights reserved.