Anchorage's Mobile Medics International team helps in evolving aftermath of Maui wildfires
Published: Aug. 13, 2023 at 9:18 PM AKDT
|
Updated: Aug. 14, 2023 at 9:13 AM AKDT
ANCHORAGE, Alaska (KTUU) - The number of confirmed deaths from wildfires on the island of Maui has reached 96, according to the Associated Press. Officials say it's the deadliest U.S. wildfire in more than a century. The Maui wildfires destroyed much of Lahaina last week, with up to an estimated 4,500 people needing shelter.
A Mobile Medics International team from Anchorage deployed to Hawaii to aid those impacted by the disaster. The team is doing medical care in the streets in real-time and helping the Hawaii State Department of Health set up a local medic center, which established a central care point for the west side of the island.
The team arrived on Friday but was unable to go into Lahaina, which is now considered the "hot zone," until Sunday. Teresa Gray, who runs Mobile Medical International, emphasized that many individuals want to help people in Lahaina, but it's important to not just show up and to be prepared.
"I mean it's complete and utter devastation, so they are really restricting who can go in and who can help and so it took them a day to get permission for our team to go in. So this was the first day they were able to go into the hot zone," Gray said.
The organization sent a team of four medical professionals, including a doctor, nurse, paramedic and EMT. The medical personnel took time off from their jobs back home and volunteered their time to help organize medicine, equipment and patient flow.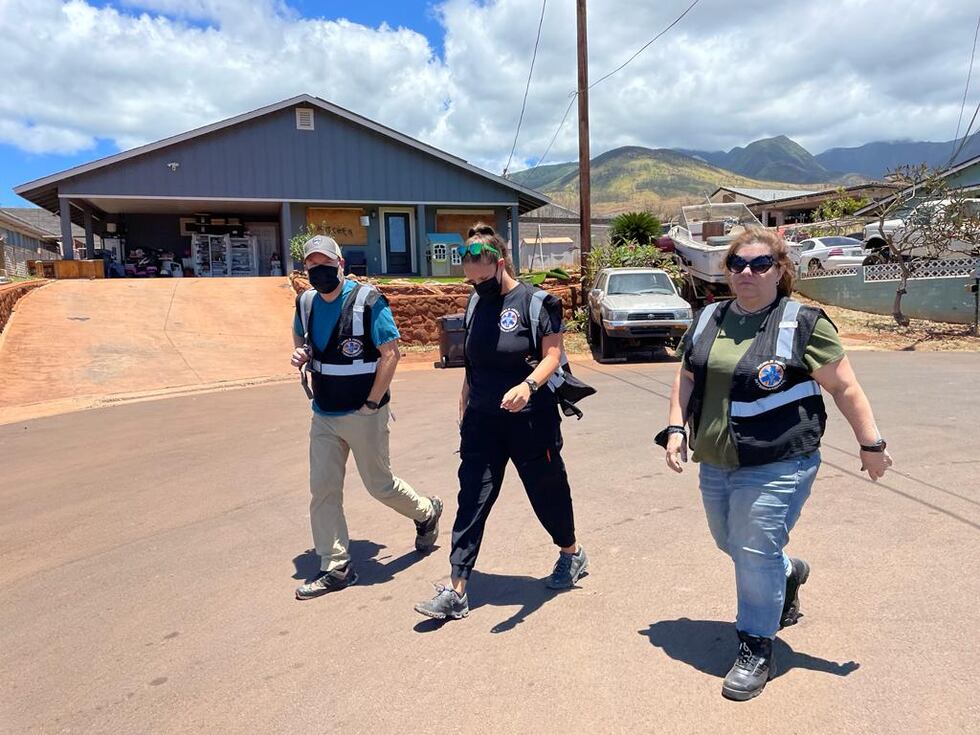 "This is how we give back to the people we serve, whether it's in the United States or internationally, but this is how we give back to the people of Maui and give back to them the best we can," Gray said. "What we really hope for is that we show up and let them know, we're here to help you, Alaska's here to help you... and that we don't want anything in return."
The organization is a nonprofit that provides medical care and education to underserved communities and disaster areas.
"We go in as quickly as we can after a natural disaster and we provide medicine to people who have been impacted by that," Gray said. "What we also do is we try to prevent people from flooding the medical infrastructure that is already under stress."
Gray said the organization responded to the disaster in Maui because, she said, people weren't getting adequate medical care.
"In Lahaina, specifically, and on that entire side the medical infrastructure was completely destroyed, the hospital was evacuated, the clinics were burnt down, people were caught unaware and caught in their homes and so for those reasons we sent a medical team to help them rebuild their infrastructure and to do emergency patient care for those who were unable to escape the fire," Gray said.
Gray described Lahaina as being similar to a warzone.
"They are overwhelmed, they are heartbroken, there's still bodies being pulled out of rubble, there's still bodies being pulled out of burnt wreckage so this disaster is not over, we don't even know what the death toll is so you can just imagine what it's like being in the middle of that and finding people who have lost everything but didn't have the ability to evacuate," Gray said.
A fundraiser was created by Teresa Gray of Mobile Medics International to help their efforts in helping the people of Maui.
Editor's note: Alaska's News Source makes no representations or warranties of any kind about the authenticity, accuracy, or reliability of any GoFundMe campaign. Any donations you make to such campaigns are strictly at your own risk. If you have any questions related to the authenticity, accuracy, or reliability of a GoFundMe campaign, please contact GoFundMe directly or consult the GoFundMe Guarantee Policy.
Copyright 2023 KTUU. All rights reserved.