Army chief of staff, sergeant major visit JBER's 11th Airborne Division
Inside the Gates
Published: Sep. 27, 2023 at 2:57 PM AKDT
ANCHORAGE, Alaska (KTUU) - In a planned visit to Joint Base Elmendorf Richardson, Chief of Staff Gen. Randy George and Sgt. Maj. Michael Weimer of the United States Army met with soldiers from the 11th Airborne Division last week.
The visit served as a chance for the army leaders to spend time with Alaska's servicemembers and observe their training.
The officials' arrival came at the same time the division was in the middle of test week for their Expert Infantryman (EIB) or Expert Soldier Badges (ESB), a recognition awarded to those who pass a number of occupational specialty tests on basic infantry or soldier skills.
"Warfighting is our mission, that's what we have to be good at," Gen. George said during his visit. "They're going out there and going through all their tasks and becoming experts in every single one of them, so we're really proud of what we were seeing here this morning."
Gen. George and Sgt. Maj. Weimer spent the Wednesday afternoon walking to each skill evaluation station, supervising as non-commissioned officers graded each individual performance.
While on the Anchorage base, both the General and Sergeant Major stressed the importance of Arctic training.
"[It's] critically important, I think, to our Army and to our nation to have troops who can go out and operate in [this environment]," George said. "You have to survive in this, first and foremost, and be able to thrive in this environment and they train for that year-round."
Sgt. Maj. Weimer, who was sworn into his position Aug. 4 of this year, said there were a few routes they could have taken to get to the United States Indo-Pacific Command (USPACOM), but making a stop at JBER was intentional.
"Coming up here to see the 11th [Airborne Divison] was important," Weimer said. "What we're doing up here in the far north — I think there's no secret, the investment we're doing here in Alaska. I think there's no secret to the importance of the 11th up here in the Arctic."
Both George and Weimer agree that soldiers based in Alaska are a different breed due to their ability to acclimate to the colder, harsher conditions of the climate.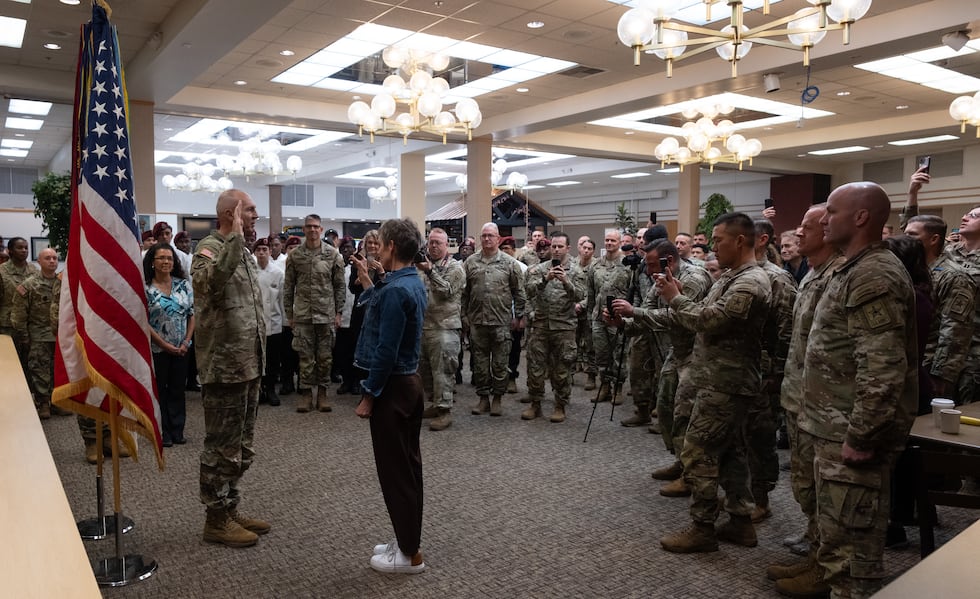 Upon his arrival to the state, Gen. George was serving as the Army's Vice Chief of Staff but was sworn in as the chief on Sept. 21 following confirmation by the U.S. Senate. The swearing-in ceremony was done telephonically and took place at the Gold Rush Inn on JBER, where the commanding general of the 11th Airborne Maj. Gen. Brian Eifler delivered the news to a room full of Arctic Angels.
The General told the soldiers that they were "the reason the Army is great."
"I couldn't be more honored to do it right here in JBER with the 11th Airborne Division," Gen. George said.
Copyright 2023 KTUU. All rights reserved.