Group advocates for suicide prevention among soldiers, families on JBER
Inside the Gates
Published: Oct. 11, 2023 at 2:17 PM AKDT
|
Updated: Oct. 11, 2023 at 4:39 PM AKDT
ANCHORAGE, Alaska (KTUU) - Last month was recognized as National Suicide Prevention Month, and the Integrated Prevention and Response team on Joint Base Elmendorf-Richardson promoted awareness on base throughout the month with a number of community-driven efforts.
Garry Berry II, director of integrated prevention and response for the installation, said the overall goal of his team is primary prevention.
"What we're doing is getting in front of issues or challenges or concerns that our service members and our civilian employees are having, before it becomes an intervention, where something has [already] happened," Berry said.
Part of those efforts include suicide awareness and prevention, which is why on Sept. 27 installation leaders stood at the Boniface gate in the early morning hours handing out gun locks and stickers promoting '988′ — the number to call to reach the National Suicide Prevention Lifeline — while service members checked into base for the day.
"What we're trying to do is culture change," Berry said. "A lot of installation personnel, certainly military [personnel] we have our own creeds and we say 'we're not going to fail,' 'we're invincible' and folks, we all go through challenges, stressors in life, a lot of things going on. So we want to be out here to be a face and then a lot of these agencies and sign wavers that will be out here are what we call our base helping agencies."
But efforts didn't end after the early morning rush, as volunteers returned in the late afternoon to hold uplifting signs — which read "you are enough" and "your story isn't over" among others — and wave to commuters exiting JBER.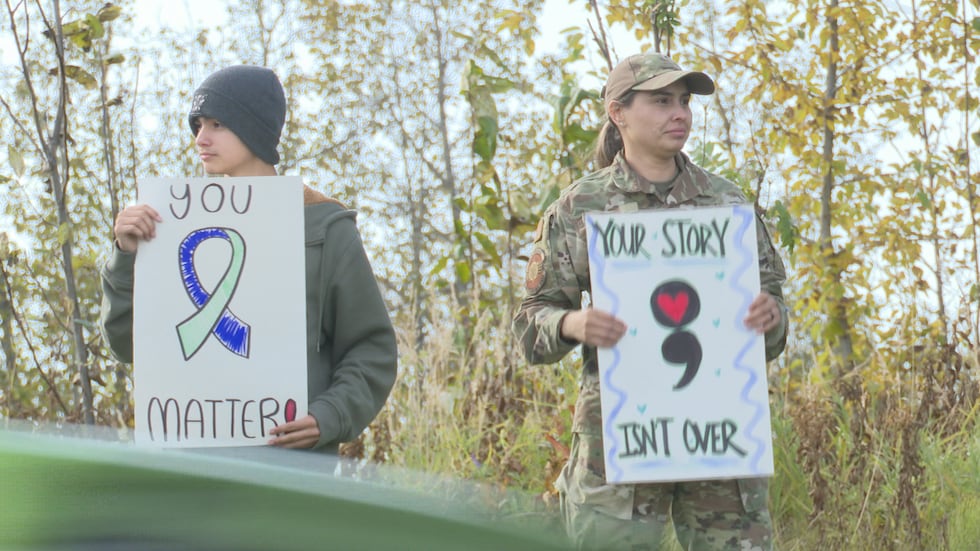 "Just greeting people kind of on their way out the gate to say, 'Hey, thanks for what you do, we're thinking of you,' and get them to think a little bit more about the month and what it really means," Berry said.
Over a dozen individuals participated in the afternoon sign-waving, as commuters waved back and honked in support of their efforts.
Leadership with the 11th Airborne Division as well as the 176th Wing held a similar event at the Government Hill and Fort Richardson gates on Sept. 6., and the 3rd Wing hosted the Muldoon gate on Sept. 20.
It's the second year JBER has hosted "988 at the Gate" and Berry said that it has been so well received by the community that they plan to continue doing it in the future.
Berry also encourages JBER personnel to download the JBER Connect app to access mental and physical health, sexual harassment, substance abuse, family, and community resources that are locally available on base.
A list of those resources can also be found on Joint Base Elmendorf-Richardson's website.
Editor's note: If you are someone struggling with depression and are seeking assistance, you are encouraged to call the National Suicide and Crisis Lifeline at 988.
Copyright 2023 KTUU. All rights reserved.