Alaska Native survivors of federal boarding schools share emotional testimonies with US Interior secretary
Anchorage stop part of The Road to Healing tour with Haaland and Assistant Secretary of Indian Affairs Bryan Newland
Published: Oct. 22, 2023 at 7:47 PM AKDT
ANCHORAGE, Alaska (KTUU) - A crowd of nearly a hundred people gathered at the Native Heritage Center in Anchorage on Sunday to hear the stories from Alaska Native survivors as well as the descendants and ancestors of those who've been impacted by the federal Indian boarding school system.
Sunday's listening session was part of the U.S. Department of Interior's Federal Indian Boarding School Initiative. As part of the initiative, Sec. Deb Haaland is leading The Road to Healing, a year-long tour across the states to provide Indigenous survivors and their descendants an opportunity to share their experiences.
"Deeply engrained in so many of us is the trauma that these policies and these places have inflicted. My ancestors and many of yours endured the horrors of the Indian Boarding school assimilation policies carried out by the department that I now lead," Haaland said to the audience. "This is the first time in history that a United States cabinet secretary comes to the table with the same trauma that all of you have. This is not lost on me, and I'm determined to use my position for the good of the people."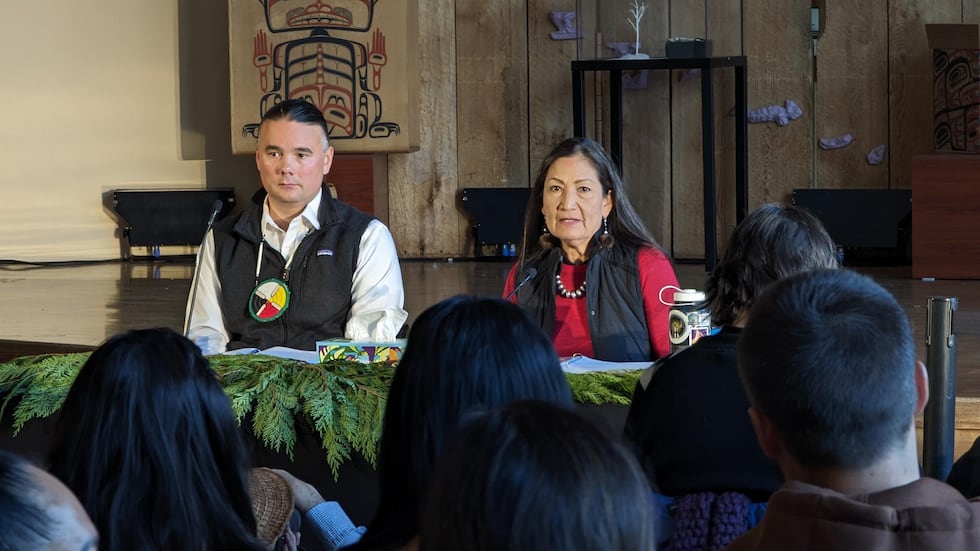 Haaland launched the initiative in June of 2021 to recognize the lingering impacts the boarding schools had on American Indian, Alaska Native, and Native Hawaiian communities and the trauma endured at those schools throughout the country.
There were 21 boarding schools in Alaska leaving intergenerational impacts on many living here.
"We know that whether it was by boat or train or airplane, that Alaska Native children were taken from their families and their homelands to lands and schools far away to be placed in these assimilationist boarding schools," said Bryan Newland, the Assistant Secretary of Indian Affairs.
For Alaska Natives, this was a rare opportunity to inform leaders in the federal government, face to face, about the intergenerational trauma they were subjected to.
According to Liz Medicine Crow, President and CEO of the First Alaskan Institute, this day was not meant to be easy — especially for those reliving their trauma — but instead bear witness to the truth.
Emotion ran high throughout the listening session as various survivors described physical, sexual, and verbal abuse they either endured or witnessed.
Jim LaBelle, the President of the National Native American Boarding School Healing Coalition, attended Native boarding schools for nearly a decade, even for a while after graduation. Born in Fairbanks, LaBelle began attending the Wrangell Institute at the age of 8.
"It was just a total prison system, I can't think of another way to express it," LaBelle said. He described the beatings students would receive with a paddle that had holes throughout it, eventually drawing blood.
LaBelle described seeing children simply disappear, who were never seen again.
Fred John Jr. was taken to the same boarding school in Wrangell at the age of 7. He spoke of his experience as No. 77 and described the way he longed to be anywhere else other than the school.
He said he hated the way the teachers treated them.
"They still talk their language, while I lost mine. I shouldn't say lost — mine was stolen, it was beaten out of me," said John, who is from Mentasta Lake Village.
As he has grown since the experience, he believes to overcome the trauma he had to forgive others, even though it took time.
Robin Sherry, from Minto, left home when she was 8 and also ended up at Wrangell Institute. She says she was always called by her assigned number, not her name.
"Every night you could just hear crying. First, it would start really slow, and then pretty soon you could hear the whole dorm crying, girls saying they want to go home," Sherry said.
Sherry described an instance where her cousins tried to escape the institute before realizing they were on an island.
"It just took one year to take my language, take our identity, take who we were away from us — everything," Sherry said.
Sherry says when she traveled back to Wrangell, it helped her to heal and she now has found peace in her own heart.
Newland says federal records don't paint a full picture of the history, so the federal government is using these personal accounts and lived experiences to bring that history and justice to fruition.
An oral history project will be created from the testimonies heard during the tour to continue to shed light on the troubling history.
Copyright 2023 KTUU. All rights reserved.