'Not easy to watch': Police respond to viral video of officer hitting woman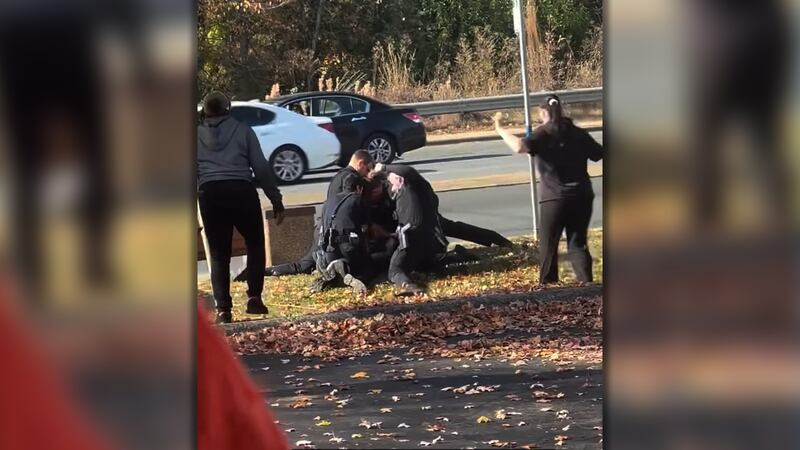 Published: Nov. 15, 2023 at 5:15 AM AKST
CHARLOTTE, N.C. (WBTV/Gray News) - The Charlotte-Mecklenburg Police Department responded to a viral video circulating on social media that appears to show an officer punching a woman's legs multiple times while she is on the ground.
The incident happened around 2 p.m. Monday after police said two people resisted arrest in the area of South Tryon Street and Arrowood Road in Steele Creek. A video was posted to Instagram shortly after the situation occurred.
In a statement released Tuesday, Charlotte-Mecklenburg Police Department said the individuals, a man and a woman, were smoking marijuana when officers approached them. As police got close to them, the woman allegedly punched an officer in the face. Police said the man was armed with a 9mm pistol.
GRAPHIC WARNING: Videos in this story may include content some may find disturbing.
After the man and woman refused arrest, a "struggle" ensued, which led to one officer striking the woman's thigh seven times with his knee before hitting the peroneal nerve in her leg 10 times with a closed fist.
Police said the strikes came after "several repeated verbal commands" and that "stop resisting" was ordered several times.
"These are tense situations that have the potential to escalate quickly," the police said in its statement. "Police use of force is never easy to watch. Officers are trained to strike large muscle groups in order to gain compliance during an arrest."
Police said the man, identified as Anthony Nathaniel Lee, was eventually arrested and charged with carrying a concealed weapon, resist/delay/obstruct and possession of marijuana.
The woman, identified as Christina Pierre, was charged with assault on a government official, resist/delay/obstruct and possession of marijuana.
"When individuals physically assault officers and refuse to comply with police, and when they resist arrest, officers must physically engage with them to safely take them into custody," said Chief Johnny Jennings, who issued a statement on the incident. "I watched the body-worn camera footage and believe that it tells more of the story than what is circulating."
The chief noted that state law does not allow him to release the bodycam video but said that he has asked the department's police attorney to file a court petition to share it with the public.
Bojangles confirmed the two individuals arrested were employees, issuing the following statement regarding the incident:
"Like many other Charlotteans, we were shocked and saddened by the video of an incident between Charlotte-Mecklenburg Police and a Bojangles employee. While we wait to learn more of the details of what led to the incident, we plan to cooperate fully with any investigation.
"We can confirm that the individual in the video and her partner had recently clocked out from their shifts at Bojangles and left the property. They both remain employed by Bojangles at this time."
Activists like Robert Dawkins gathered at the government center to share their concerns Tuesday.
"When somebody is on the ground and you have them in custody of four people, you have time to let the person then calm down," Dawkins said. "You don't have to be striking them and beating them unless you are getting them to turn over a weapon or something. We do not think that the amount of force used was justified for the stop."
WBTV security analyst Karl de la Guerra said while community members may view the video as shocking, it appeared to be standard police protocol from his perspective.
"It looks like he is striking her lower extremities, and it also looks like his punches are directed at a specific area," he said. "That peroneal area in the back of the leg is a muscle group that officers are trained to focus on to gain compliance."
He also said the use of other measures like pepper spray would not be appropriate because there were so many other people around.
"If they're going to be violent, if they are going to physically resist, you want several officers to be there to control them adequately and appropriately, so nobody is hurt on either side," de la Guerra said.
Charlotte-Mecklenburg Police Department said its internal affairs unit is investigating the incident.
Copyright 2023 WBTV via Gray Media Group, Inc. All rights reserved.