Multi-Media Journalist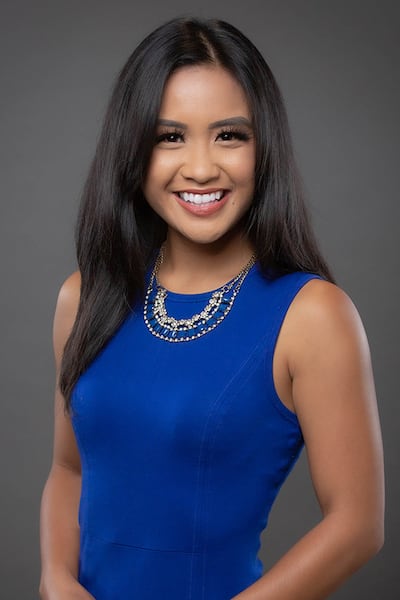 "Where's your photographer!?" is a question people often ask Jolanie Martinez whenever she's out reporting. It's rare to see her with one, because she's a multimedia journalist — or, as she likes to say, a one-woman band, where she shoots and edits most of her own stories before the newscast.
Jolanie was born in Honolulu and raised in Wahiawa. She started studying broadcast news at Leilehua High School, where she shared the morning bulletin on Mules News in the morning. Eager to explore the mainland, Jolanie attended Arizona State University's Walter Cronkite School of Journalism and graduated with a Bachelor of Arts in Journalism and Mass Communication, along with a minor in criminal justice.
Her passion for cheerleading carried on to college, where she was a member of the ASU Spirit Squad and cheered on the sidelines of football and basketball games (Go Devils!).
In her last semester of college, Jolanie moved to Los Angeles after she was selected to be one of the first reporters at Cronkite's Santa Monica Bureau. During her time in SoCal, she also interned for KNBC4's I-Team.
After graduating from ASU, Jolanie landed her first reporting position with KGBT4 in the Rio Grande Valley. It was a crucial time to be in the U.S. Mexico Border, just after Donald Trump had been elected president. Jolanie covered Vice President Mike Pence's visit to the border and toured the National Guard Troops' base camp when they were deployed to the border in 2018 following the surge of immigrants.
In addition, she also covered President Trump's Zero Tolerance Immigration Policy and the beginning of construction for the president's border wall.
One of her most memorable stories was her first ride-along with the U.S. Border Patrol, where they worked together with state and local law enforcement to stop a vehicle loaded with bundles of marijuana.
After nearly three years in south Texas, Jolanie is excited to be back home in the Aloha State sharing your stories!