Managing Editor/Anchor
Anchorage, Alaska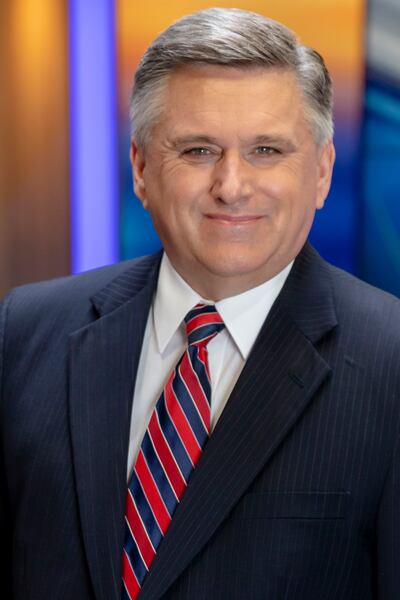 Mike grew up in the Great Lakes region. The son of a Coast Guard master chief petty officer, Mike's family moved about every two years from upstate New York to Cleveland, Ohio to Northern Michigan.
In 1968, Mike's family moved to New York City, and during their six years there, Mike got interested in broadcasting.
"The father of one of my seventh-grade friends had contacts at one of NYC's biggest radio stations and arranged a visit for me," he explained. "I got to meet some of the best-known DJs and radio newscasters in the area, and I was hooked."
Mike's family moved to New Orleans in 1974 when he was in high school. Mike majored in Communications/Broadcast News at Loyola University. He worked full-time as a staff announcer at a local radio station all during college, and served as the general manager of Loyola's campus radio station in his senior year. Mike returned to Loyola after graduation as an instructor in on-air techniques and radio production.
After earning his degree, Mike moved to Baton Rouge, working first in radio news at WJBO-AM, then as a reporter for WAFB-TV in 1981, Mike moved across town to WBRZ-TV as environmental reporter and weekend anchor.
Mike moved back to New Orleans to 1986 to join WWL-A.M., where he anchored a three-hour all news show in the afternoon. Mike moved to WWL-TV in 1988, covering city hall and the state legislature and numerous hurricanes, including Hurricane Andrew. In 1995, Mike moved behind the scenes for a year as assignment editor, directing news crews to their stories.
In 1996, Mike started a bureau in the Northshore region of south Louisiana, a bedroom community of New Orleans with a population about the size of Anchorage.
When Hurricane Katrina hit, WWL-TV was the only television station in New Orleans that stayed on the air. The station's coverage during and after the storm earned Mike and the WWL staff the George Foster Peabody Award, a national Edward R. Murrow Award and the Alfred I. duPont-Columbia University Award.
Mike has three children: 21-year old Jonathan and 18-year old Amanda, along with Mike's adult son, Michael, and two grandkids: Emma and John Michael.
(Photo Credit: Freeze Frame Photography)
Education
B.A Communications/Broadcast News: Loyola University, New Orleans
Awards
NATAS NW Emmy's Silver Circle Inductee: 2019
Alaska Broadcasters Assn. Broadcaster of the Year: 2019
National Murrow Award: WWL TV Hurricane Katrina coverage: 2005