Sports Reporter
Anchorage, AK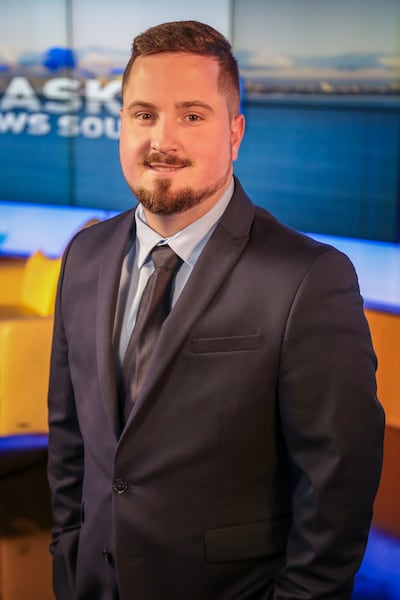 Born and raised in the Sunshine State, Tyler brought his passion for sports, a devotion to the Florida Gators, and his love for storytelling to Alaska's News Source in October of 2023.
A graduate of the Dan Patrick School of Sportscasting at Full Sail University in Orlando, Tyler was named the Valedictorian of the largest class in the program's history. He spent his time in the classroom learning from industry professionals whose backgrounds ranged from ESPN and FOX Sports to countless local stations. He also produced, directed, and anchored his own shows in the Full Sail broadcast studio.
While in school, Tyler worked and attended some of the biggest sporting events in the country, including March Madness and Super Bowl 57. He also interned with DII Rollins College as a Play-By-Play announcer and team reporter for "The Rollins Report."
Before Full Sail, Tyler spent four years as a Diesel Mechanic in the United States Marine Corp, serving overseas in Okinawa, Japan and stateside at Camp Pendleton, California. It's here where daily banter with other Marines about the latest sports news inspired him to pursue the broadcast business altogether.
"Becoming a Marine was a goal of mine from the beginning of my life. But when I saw the opportunity to not only work in sports, but to give back to something that has meant so much to me, I had to take the opportunity … and it's the greatest decision I ever made."
When he's not in the studio or out in the field, Tyler spends his free time producing sports edits across his social media pages, exploring the nature of America's Last Frontier, or catching up on the latest release in the video game world.
If you've got a story that needs to be told, feel free to reach out to Tyler at tlane@ktuu.com
Education
Full Sail University, Sportscasting, 2023
Updated: Nov. 30, 2023 at 6:15 PM AKST
|
Over a decade since her passing, Service High School continues to remember a former Jr. ROTC cadet who left a lasting legacy.
Updated: Nov. 11, 2023 at 8:09 PM AKST
|
After months of buildup since last season, the O'Bryan family found itself in the middle of yet another game of sibling rivalry on the ice.
Updated: Nov. 1, 2023 at 10:14 PM AKDT
|
For the final time as high school players, Alaska's 2024 senior football class came together to compete in a unique all-star game.