21 Alaska lawmakers gather for governor's Wasilla special session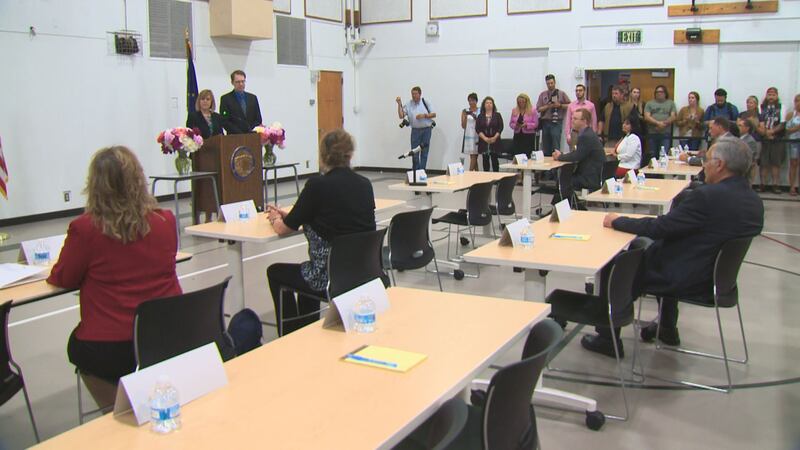 Published: Jul. 8, 2019 at 8:08 PM AKDT
Nearly two dozen Alaska legislators gathered at Wasilla Middle School Monday for the start of the second special session.
The 21 Republican lawmakers from the Alaska House of Representatives and the Senate met in the location chosen by Gov. Mike Dunleavy for the session, saying meeting there was required under the law.
Outside the school, dozens of people met near Wasilla Lake for a rally to encourage lawmakers to pass a full statutory Permanent Fund dividend.
"It's the people's money," said Mike Alexander who participated in the rally. "They have 75 percent of the state's oil and gas revenues, and they obviously haven't done a good job of using it."
The protesters walked the short distance from Wasilla Lake to Wasilla Middle School to be met by a group of counter-protesters, calling for lawmakers to override the governor's vetoes.
"They're going to send the university and the state into a hole with no clear path to get out of that hole," said Dave Musgrave, one of the protest's organizers.
The 21 lawmakers from the Matanuska-Susitna Borough, Anchorage and Eagle River walked into the school's gymnasium to thunderous applause.
The 15 members of the House minority were joined by Reps. Tammie Wilson, R-North Pole and Gabrielle LeDoux, R-Anchorage. Republican Sens. Mike Shower, Shelley Hughes, Lora Reinbold and Mia Costello were also in attendance.
Wilson, the only member of the House majority there, said she believed the law required her to come to Wasilla. She was, however, planning on going back to Juneau on Tuesday, saying that North Pole needed representation in the Capitol.
Costello told the crowd that the decision to meet in Wasilla "comes down to the constitution and our duty to obey it." She also said that Republican Sens. Peter Micciche and David Wilson wanted to come to Wasilla but were absent due to work commitments.
House minority leader Lance Pruitt, R-Anchorage, told the packed gymnasium that because there wasn't a majority of senators or representatives in Wasilla there was no quorum to do business.
The session ended a short while later with lawmakers mingling with members of the public before speaking to reporters.
Despite a five-day limit to consider veto overrides, Pruitt said that members would simply stay in Wasilla and wait for the legislators in Juneau to come to the Valley.
Copyright 2019 KTUU. All rights reserved.