2YH: Kicksledding, a winter outdoor activity for all ages and abilities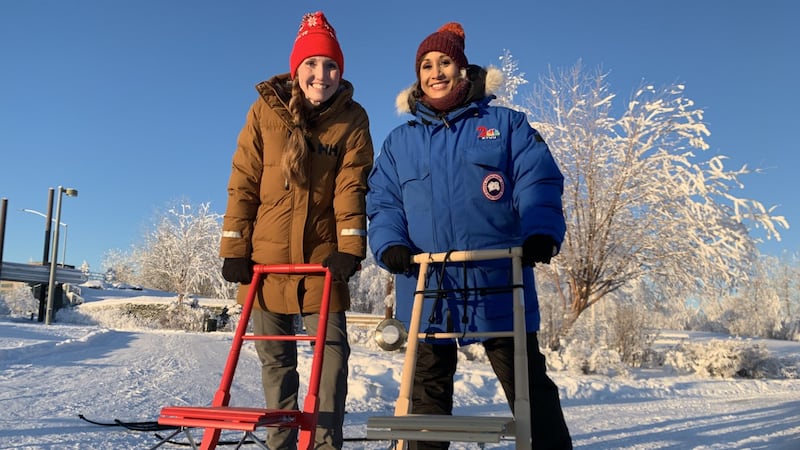 Published: Jan. 28, 2020 at 11:54 AM AKST
Let's just begin with, on the day this story was filmed, the temperature outside at Cuddy Family Park in Anchorage was minus 8 degrees. It was a cold, crisp and clear day. The sun was shining, but it served as a reminder that despite frigid temps, moving your body and getting your heart rate up is important.
It's the last thing you want to do sometimes, but it can also be the best, just ask Kicksled Alaska Owner, Valerie Walsh.
"A kicksled is basically the simplest terms a snow scooter," she said.
Walsh discovered its multi-use in 2019 after she said the stroller just wasn't cutting it through the snow. Kicksledding is just what it seems. You're kicking and sledding at the same time.
"You can use it to commute, go to the grocery store, a lot of people use them at cabins to haul in camping gear and firewood," said Walsh.
It's not only a means of transportation, but it's a good workout too. Walsh gave the Morning Edition's Ariane Aramburo a quick lesson before the two gave kicksledding a go around Cuddy Park. But, as with any outdoor activity, safety is key and on a day with below zero temperatures, layers are your friend.
"A lot of people go outside and they put a single layer on and they're not prepared for how cold it is," said Vince Perino, Physician Assistant at Providence Express Care.
You can also run the risk of injury.
"Slips, trips and falls you know twisting our ankles landing on our wrists and hands. There's always the possibility of head injuries with sledding activities. You don't know what's out there underneath the snow, could be a rock, boulder or piece of concrete," added Perino.
However, getting outside has its benefits. The sleds are low maintenance and almost any age and ability can use one.
"They handle conditions really well, so you can if you have some gravel not a big deal to hit that, snow and ice," said Walsh.
Walsh said there are about 9 different kicksled styles. She just started selling them in November 2019, but plans to possibly rent them.
to learn more about Kicksled Alaska.
Copyright 2020 KTUU. All rights reserved.