A day after budget passes, Senate says it will look at expenses and dividend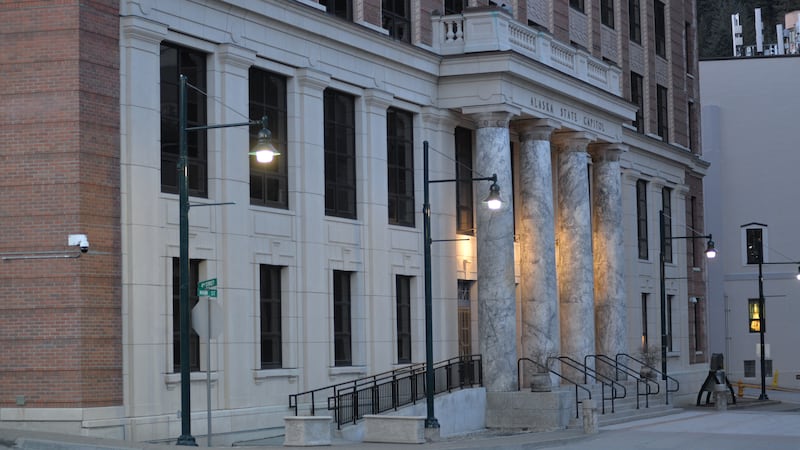 Published: Apr. 3, 2018 at 7:04 PM AKDT
A day after the House narrowly passed the state's operating budget, Tuesday was a day of three themes — what happens in the House now that it's no longer clogged by the budget, what will the Senate do with the budget and the proposed $1,600 Permanent Fund dividend, and how soon can legislators get out of town.
Meeting with reporters Tuesday morning, Gov. Bill Walker said he hoped lawmakers will start to move several packages of public safety and financial legislation he has proposed.
"With that out of the House, I think we're going to see some movement on the bills," Walker said.
The Senate, meanwhile, was ready for the budget, said its majority leader, Sen. Peter Micciche, R-Soldotna.
"I can't recall if it's ever taken a Day 77 for the budget to come over from the House, so we're prepared," Micciche told reporters Tuesday afternoon. "We've been prepared for weeks."
At Day 78 of the session, the House Speaker, Rep. Bryce Edgmon, D-Dillingham, conceded that it's unlikely to be a 90-day session, the length specified in a 12-year-old ballot initiative.
"The clear reality is we're going to go over," Edgmon said, "but I can say that the House, the Senate, the Governor — all of the leadership teams — have been laser-like focused on getting our work done as soon as possible relative to that 90-day mark."
The Alaska Constitution sets a firm session limit of 121 days, with options for extensions and special sessions.
With the Senate Finance Committee setting public hearings for the operating budget on Friday and Saturday — even before it officially has the budget bill — Micciche said it was still possible to get done in 90 days.
Micciche said the Senate hoped to trim the budget to fit into the $4.1 billion set in a spending limit bill the Senate has sent to the House. But neither he nor Walker would predict whether the $1,600 dividend authored by the House would remain.
"With a higher dividend, we'll find other cuts, and we'll make it work in a way that hopefully we'll reach resolution within 90 days or so," Micciche said.
Walker said the 5.25 percent Permanent Fund draw from its $64 billion balance that the House proposed in its budget — the money will pay dividends and state operations — is about the maximum that can be taken. The dividend itself is also on the high end of what can be sustained, Walker said.
But Walker declined to say whether he would veto any items.
"We'll look at the budget when it comes to my desk, when it's finally done," Walker said. "I don't particularly sort of pre-determine what I will or won't do on the budget."
The House vote to approve the budget was 21-19, just barely enough to pass. One member of the House majority coalition leadership, Rep. Gabrielle LeDoux, R-Anchorage, voted against the budget — historically an offense that leads to a member being ejected from a caucus. But Speaker Edgmon said the caucus is "non-binding" and that LeDoux will remain chair of the House Rules Committee.
"I was disappointed by her vote against the budget yesterday, but in her defense she's been very clear and open about her intentions — that did not catch us by surprise," Edgmon said. "We are, looking forward, working hard to keep our caucus together."
Another House Republican in the majority leadership, Rep. Paul Seaton of Homer, said at a Tuesday morning news conference that the House Finance Committee was about to introduce a new oil tax bill. The bill will contain taxes that the Senate stripped out of House Bill 111 last year when it kept a section that eliminated a tax credit system in Alaska, Seaton said.
"If you don't have revenues, it's really hard to balance your budget," Seaton said. The new taxes would ensure that major oil companies like ConocoPhillips pay higher taxes when oil prices are low.
"In 2017, their producer share at $65 a barrel was 37 percent and now it's 48 percent," Seaton said. "And that transfer of money to the producers is eating a hole in our budget."
Alaska should be getting 66 to 71 percent, a take that other oil-producing regions charge for "our kinds of oil fields," Seaton said.