Alaska Aviation Museum archivists assessing more than 150 artifacts damaged in the earthquake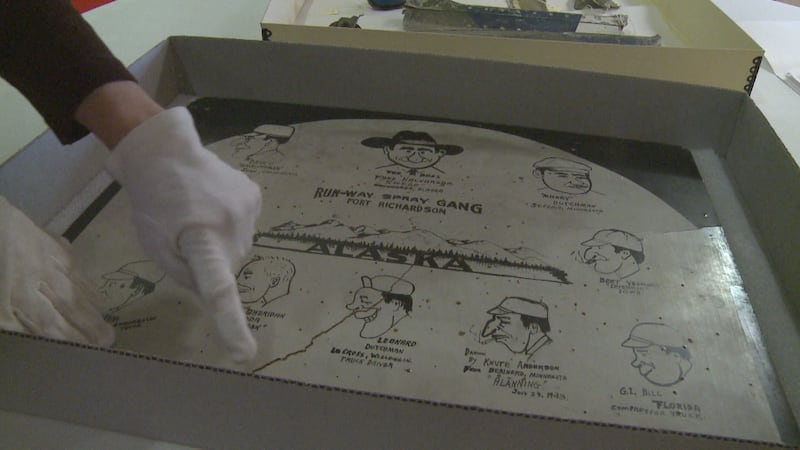 Published: Feb. 7, 2019 at 5:36 PM AKST
About $10,000 in damage was done to more than 150 artifacts at the Alaska Aviation Museum following the Nov. 30 earthquake. Staffed by volunteers and funded by donations, the museum is struggling to get the funds needed to continue telling Alaska's rich aviation history.
"It hit us hard for a couple of reasons. First of all, it hit us hard because we had a loss of revenue," said Mark Ransom with the Alaska Aviation Museum. "We had a big event planned at that time, and we lost that. It also hit us hard because we did have those artifacts that were broken, things that were in storage that fell, and we have to repair and restore those as well."
Objects imperative to telling Alaska's rich aviation history, like a piece of a Curtiss P-40E Aleutian Tiger that was shot down on Umnak Island in 1942 by Japanese fire. Now archivists are in the tedious process of documenting the damage to each artifact. They're also looking for possible grants to help preserve some of the objects. As they mostly rely on donations and admissions to operate, they're also looking to the public for help.
"Our collection really begins with our first flight in Alaska which was like 1913," said Museum Curator Darian LaTocha. "We have a pretty amazing photographic collection, even dating back to about 1898, when the first air balloon was in Alaska. We have such limited funds that we have to prioritize which objects can we save."
Besides direct donations, you can help by simply visiting the museum and paying the price of admission. You can also support the museum by buying tickets to the 20th annual Hall of Fame Gala happening March 9th. You can learn more and purchase tickets on the
.