Alaska Military Youth Academy cadets learn hands on skills to carry outside of the classroom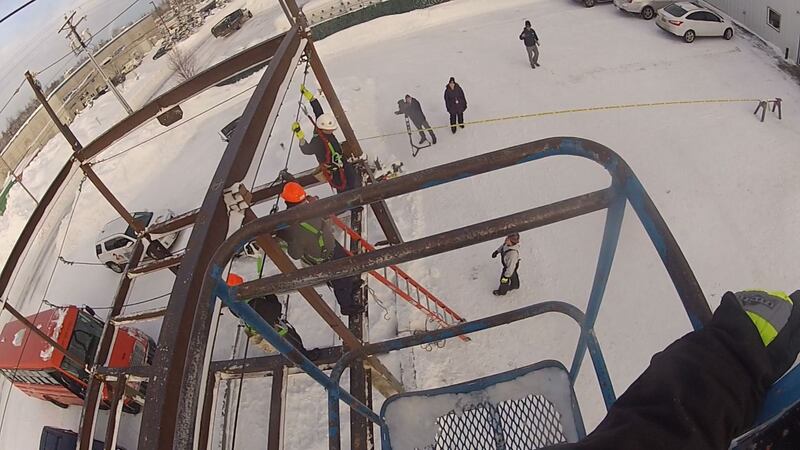 Published: Jan. 25, 2017 at 3:39 PM AKST
All week, cadets at Alaska Military Youth Academy are getting hands on lessons they can take with them outside of the classroom.
With instruction from Ironworkers at Ironworkers Local 751, cadets like 17 year old Joseph Walker are learning structural work, how to connect beams, welding and reinforcing concrete.
"It's very hard work," Walker said. "It's a small scale compared to what they really do, but it's good cause it gives you a taste of what they really do, it's a good program."
Colleene LaRue, lead instructor and an ironworker for the past 6 years said the goal is to help young people understand they have many options after high school.
"My goal everyday here is for them to have fun and walk away and to have learned something and there is always the option of the trades and not just college, that they have many opportunities out there and paths that they can take," LaRue said.
LaRue is taking on a unique path of her own, working in a field made up of mainly men.
"As of right now, I am the only one in the union iron workers," LaRue said. "The first couple of years, it was definitely hard and I definitely felt out of place."
While she's the only one in Alaska, LaRue said a women's conference gave her confidence about what she does.
"I realized across the country, there was thousands of women ironworkers so that got me motivated, when I came back I didn't feel so alone," LaRue said. "It motivated me to get more involved and get more women inot the trade."
LaRue had an opportunity to instruct some female cadets like 17 year old Dezarae Bekoalok.
"I think it's really cool that she is the only female I've seen here actually doing things like that," Bekoalok said.
Bekoalok said being the only female is something she's used to, as she grew up with her brothers until her sister was born.
"I was always a tom boy and I just grew up not like other girls," Bekoalok said.
LaRue's work she said can be challenging at times, balancing her family life with two children ages 12 and 16.
"The toughest part of it is definitely trying to balance family and work," LaRue said. "When you work a lot when you're working 50, 60 hours a week and you still have family at home and you still have to go home and do dinner and homework and all that stuff."
But in the end, LaRue said her goal is always the same.
"No pain, no gain," LaRue said. "If I'm not challenging myself, then it's really not worth it, I'm not having fun."