After weeks of battling Lower 48 blazes, Alaskan wildland firefighting crews return home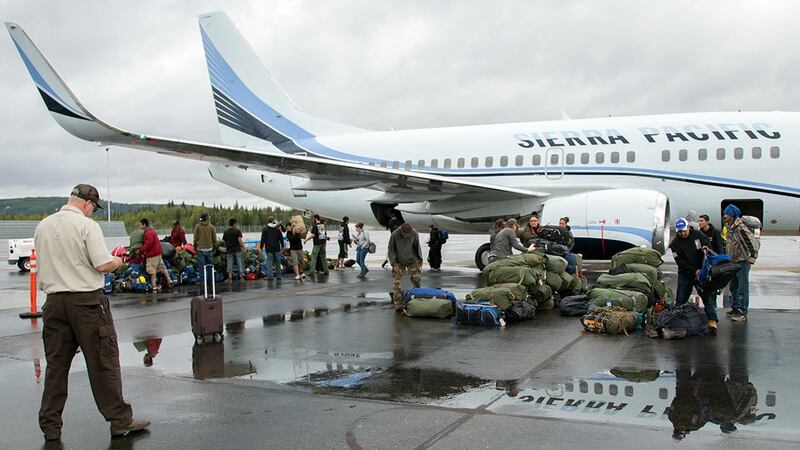 Published: Sep. 3, 2018 at 12:36 PM AKDT
The final large flight of Type 2 wildland firefighters sent to the Lower 48
of working on one of the largest wildfire complexes in California history.
The fourth of a series of flights in - this one arriving Sunday - was carrying the Bureau of Land Management Alaska Fire Service Mooseheart Mountain crew; a Kobuk Valley, No.1 crew; and Div. of Forestry Upper Tanana Nos. 1 and 2 crews, all of whom headed south on Aug. 18. Firefighters making the trip came from various communities across the state, including Noorvik, Selawik, Buckland, Tok, Northway, Tetlin, Tanacross, Ruby, Tanana and Minto.
The whole team worked on the
The blaze comprises two fires - the River Fire and Ranch Fire - both of which are being managed by the U.S. Forest Service.
The jet that landed Sunday was diverted to Fairbanks International Airport instead of Ladd Army Airfield, where the the previous three returning jets landed, but crews were either bussed or flown home from there.
At one point over the past month, more than 14,000 firefighters were dispatched to California to fight a set of massive blazes all happening at the same time.
One Alaskan Emergency Firefighting crew, Chevak No. 1, remains in the Lower 48. Conditions are said to have moderated, and the national preparedness level dropped from Preparedness Lever 5 to a less severe
but fire activity remains significant.