Alaska ports lead nation in seafood catches, new fishing report shows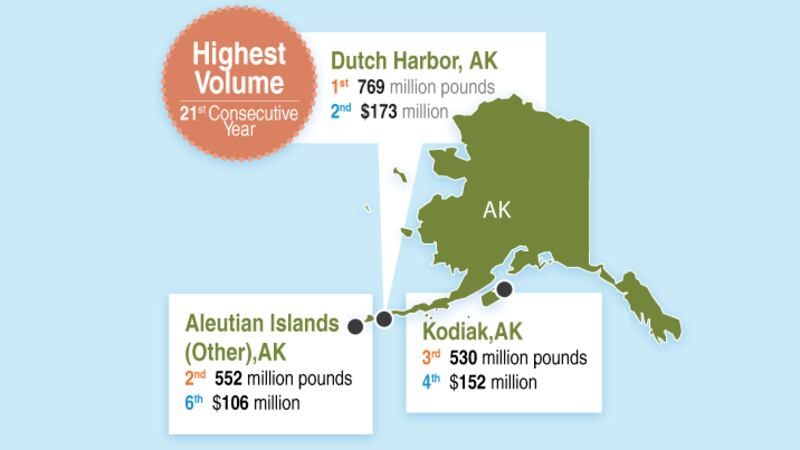 Published: Dec. 13, 2018 at 1:40 PM AKST
In two separate reports issued Thursday, government officials handling fishing trends, and their economic impacts, announced slight gains over the previous year in terms of catch, as well as importing from other countries.
In addition to the moderate rise in fish catch and the resulting benefits from it, Alaska ports were identified as having the highest amount of seafood caught for the year.
The reports are titled Fisheries of the United States, and Fisheries Economics of the United States, released today by NOAA. One measures the 2017 catch of fish, and the other shows the resulting impact on the economy that fish had during 2016.
According to the reports, across the nation, American fishermen landed 9.9 billion pounds of fish and shellfish in 2017, while the U.S. imported 5.9 billion pounds of seafood. That constitutes a gain of 1.6 percent from the previous year..
The catch that year translated to 1.7 million jobs nationally in 2016, according to NOAA.
Not only nationally, but here in Alaska, NOAA said that there was an increase in pink and chum salmon, as well as an increase in Alaskan pollock, which was named as the largest commercial fishery.
Officials said that, for the 21st consecutive year, the Alaska port of Dutch Harbor came in first in the U.S., with the highest amount of seafood landed. There, the final number for 2016 was a whopping 769 million pounds, which NOAA said translated to a value of $173 million. Of that volume, 92 percent was Alaska pollock.
Not only did Dutch Harbor harvest the most fish per pound, but two other Alaskan ports took the second and third most. Aleutian Islands came in second, with 552 million pounds, and Kodiak came in third, with 530 million pounds.
By volume, NOAA said, the entire largest commercial fishery in the U.S. remains Alaska pollock, which had near record landings of 3.4 billion pounds.
In addition to the prominence of Alaskan polluck, alternating strength of salmon was also addressed, as a marked increase was seen in pink salmon.
Jennie Lyons, the deputy director of public affairs for NOAA Fisheries, said that in Alaska, there is an increase in both pink and chum salmon, as well as an increase in pollock, but the salmon increase is cyclical, which all fishermen know.
"Part of that is attributable to the fact that pink salmon is an every other year harvest which means there is a general pattern of high and low catches in alternating years for this species," Lyons explained in an email. "So, next year, we'd expect pink salmon numbers to be a large decrease."