Dozens of prisoners riot at Spring Creek Correctional Center in Seward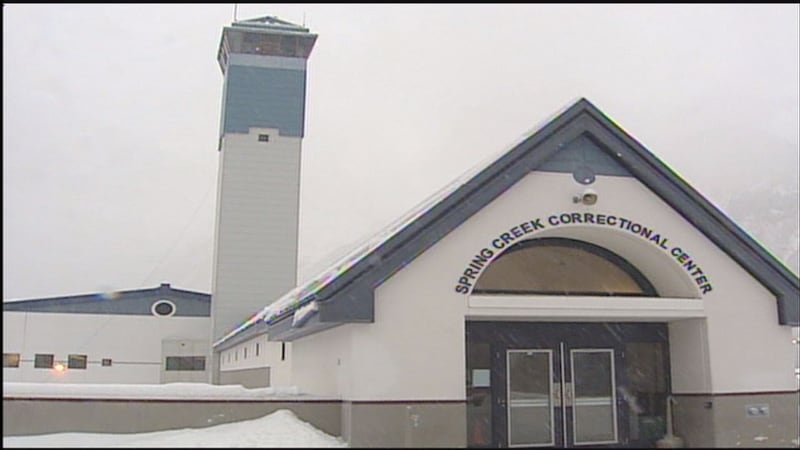 Published: May. 8, 2019 at 1:54 PM AKDT
Dozens of prisoners badly damaged a housing unit in a maximum security prison in Seward late Tuesday night. The inmates reportedly took control of the housing area, blocked the door, and rioted for roughly 10 hours, dealing extensive damage to the facility.
The Hotel Mod, a housing unit in Spring Creek Correctional Center, houses 62 prisoners, who barricaded the entry to their unit and began destroying property, officials with the Alaska Department of Corrections said in a statement
According to Sarah Gallagher, spokesperson for DOC, officials at the prison estimate the damage at roughly $100,000. "Fire suppressant systems, cameras, plumbing, computer lines, interior glass were all damaged," Gallagher said.
The riot began after 9 p.m. Tuesday, though what sparked the riot was not stated. According to Sgt. Randy McLellan, union president of the Alaska Correctional Officers Association, institutional gangs were involved.
Gallagher named multiple gang groups, including several white supremacist factions. Those named were the 1488's, Caucasian Kings, Family Over Everything, USO's and Native Brotherhood, Gallagher said.
Gallagher said that though some of the individuals are gang members, this was not strictly a gang-related activity.
"This was not a gang-related riot, so DOC does not anticipate any repercussions," Gallagher said. "DOC believes this was an isolated incident."
Following the initial altercation, the corrections officer stationed in Hotel Mod left the unit to call for help so as not to be used as a hostage. Multiple units were called, with crews driving down to Seward from as far as Wasilla. McLellan said it says a lot about the feeling of self-sacrifice in order to help fellow CO's.
"Other off-duty Officers, upon hearing about the incident, jumped into their cars to rush to the institution on their own to help, which says a lot about the dedication of Correctional Officers to their fellow Officers, and to keeping Alaskans safe," McLellan said.
The officers arrived at the complex at 3 a.m., and used "various forms of non-lethal force to include escort techniques such as restraints, less lethal munitions, as well as non-lethal chemical agents" to subdue rioters and eventually remove the barricades to the door.
DOC said that no officers or prisoners were hurt in the altercation, and the incident was contained by 6 a.m. Nurses and medical staff checked out injuries and cleared every inmate.
As far as punishment for those involved in the riot, and the tens of thousands of dollars in damage, Gallagher said prisoners will be subject to prison discipline as well as criminal charges.
"Prisoners involved in the incident are subject to the internal disciplinary process as well as criminal prosecution though the Alaska State Troopers. Those offenders involved have been placed in a more restrictive housing environment," Gallagher said. "No charges have been filed at this time as DOC is still conducting the investigation."