Alaska voters passing ballot measure on PFD voter registration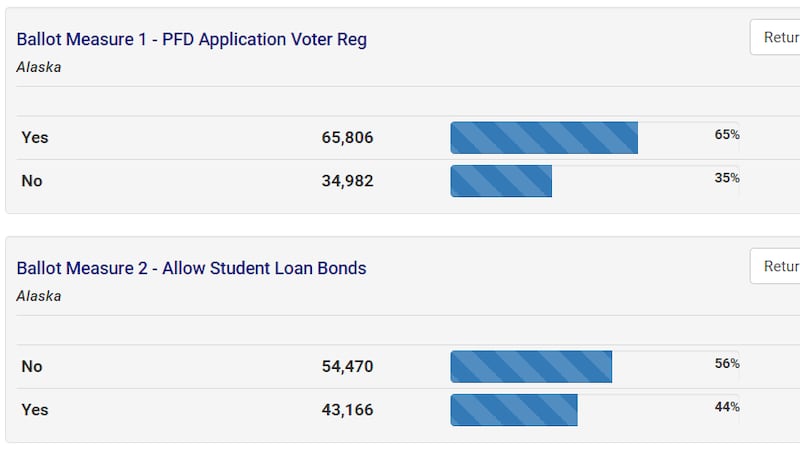 Published: Nov. 8, 2016 at 8:37 PM AKST
With 83 precincts reporting, "yes" votes for Ballot Measure 1 were outpacing "no" votes by a 30 percent margin, according to the early results.
Voters are rejecting Ballot Measure 2 by a 12 percent margin.
Alaskan voters statewide were faced with two ballot measures during the general election Tuesday. Ballot measure 1 would increase the number of registered voters in the state by automatically registering Alaskans when they apply for their PFDs. Ballot measure 2 asked voters to approve a bond bill that would reduce interest rates on student loans.
Ballott measure 1 secured its position in Tuesday's election in January, when the proposal's sponsors submitted a petition with more than 42,000 signatures to the Alaska Division of Elections. Supporters say it's a way to increase participation in elections, save time, and modernize state government.
, and
But the proposal has faced opposition from many Alaskans since its inception. Critics say the program's $942,885 price tag would be a waste of money at a time when the state is grappling with a multi-billion dollar budget deficit.
Ballot Measure 2 was first introduced to the state legislature in 2014, but the proposal only cleared the house in 2015 during the following legislative session, paving the way for its inclusion in the Nov. 8 ballot.
This story will be updated as results from the two ballot measures come through