Alaska wildfires surpass 1 Million acres burned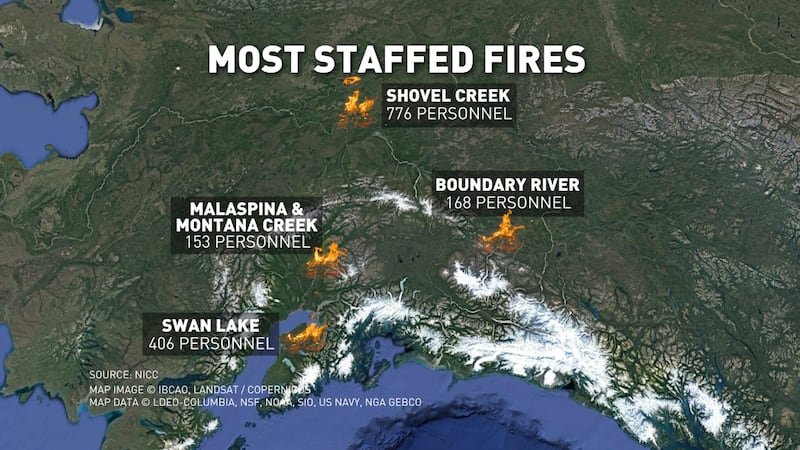 Published: Jul. 9, 2019 at 5:48 PM AKDT
Wildfires in Alaska have burned more than 1 million acres in 2019, according to the Alaska Interagency Coordination Center.
Although around 120 fires are burning around the state, 20 are staffed incidents while 90 others are being monitored.
Incident management crews from around the country have flown to Alaska to assist in fire management.
As of Tuesday morning, 4,055 personnel were actively engaged in wildfire management across the country. More than half of those personnel are in Alaska, according to the National Interagency Coordination Center.
The 20 fires that are being actively managed in Alaska have burned 552,686 acres, which is more than the acreage burned by all other active wildfires in the country combined.
Three of Alaska's fires are being managed with a full incident management team.
The Shovel Creek Fire north of Fairbanks is a Type 1 incident, meaning the incident commander and other leaders have the highest level of experience.
The Swan Lake Fire near Sterling is a Type 2 incident with 406 personnel on site.
The Montana Creek and Malaspina Fires in Sunshine near the Talkeenta Spur Road junction with the Parks Highway are both under the command of a Type 2 Incident Management Team. A total of 153 personnel are assigned to the fires.
The Hess Creek Fire, which is burning near the community of Livengood, is estimated at more than 172,000 acres and is the largest fire actively burning in the country.
Despite burning more than a million acres, only five structures have been reported burned in the 2019 wildfire season. The Hess Creek Fire claimed three structures, while the Malaspina Fire and McArthur Creek Fire burning near the Canadian border East of Tok have each burned one structure, according to the NICC.
Copyright 2019 KTUU. All rights reserved.