It's old, corroded and needs upgrades. But who should pay to fix the Port of Alaska?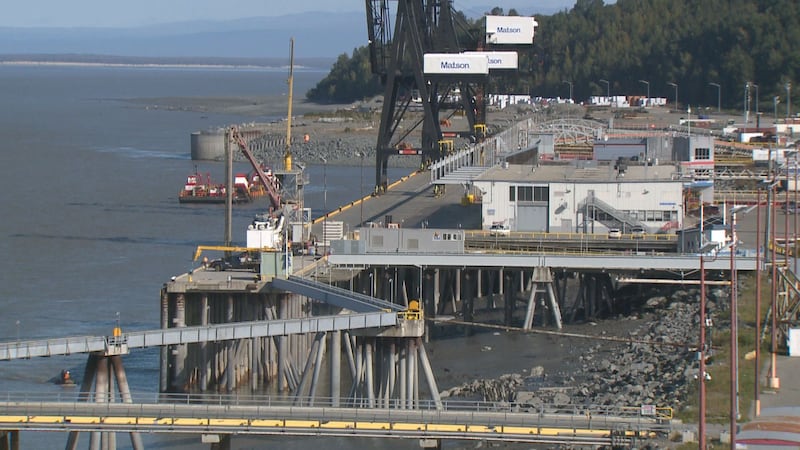 Published: Sep. 11, 2018 at 1:21 PM AKDT
On a recent Friday afternoon, a large bright pink and red container ship was docked at the Port of Alaska. In just a few hours, it would begin its long journey back to Asia after leaving behind its haul.
The Port — renamed the Port of Alaska from of the Port of Anchorage in October — is vital to the state. It handles more than 3.5 million tons of food, building supplies and all things that make life enjoyable and workable for Alaskans. It is also designated as a strategic seaport for the Department of Defense.
But what port officials want Alaskans to know is that the port is aging out of relevance quickly, perhaps to the point of obsolescence in the next 10 years. The question now is can port officials secure money needed to rebuild or replace key port infrastructure before major problems emerge?
"We're certainly optimistic that we can," said Port Director Stephen Ribuffo. "It's a little bit of a race, but the whole thing does not have to be finished in order to make that deadline."
So what's the biggest problem currently facing the port? Corrosion is the most constant threat, and the port is not up to the modern-day standards for ships, which are much larger today than when the port was first constructed.
Back in 2003, the port started installing pile jackets, which reinforce submerged structures, on port pilings to expand their life expectancy. So far, about 800 have been installed out of more than 1,400 pilings.
"Ideally we would have like to have gotten to the modernization program before we get in to spending that money, which is about a million and a half to $3 million a year, bandaging something that really does need to be replaced," Ribuffo said of the piling reinforcement project.
But, memories are still fresh after the failed port expansion that cost millions of dollars and ended up in litigation. The port expansion project started in 2003, but was quickly stopped after major problems were discovered. What that means today is that the expansion has to be removed, costing about $300 million, according to Ribuffo.
"We appreciate the skepticism and it's completely understandable," Ribuffo said. "We're very confident in our own behavior, that we've been going a lot slower, and a lot more deliberate than we have in the past, and applying a lot more attention to those lessons learned in order to get this thing to work right the first time."
The Port of Alaska is owned and operated by the Municipality of Anchorage, but it serves the entire state. One big question that still needs to be answered is who will pay to replace the dock and how much will it cost.
Ribuffo said the design is only about 65 percent complete. But he says it will most likely cost about $700 million, probably a lot more, when everything is finished.
"We'd love for the state to pick up the tab for the entire thing, but we know that that's an impractical request, so we probably would never make it," Ribuffo said. "And, there is an ability for us to contribute something to it and I think that's only fair."
Ribuffo said the project money will most likely come from a combination of federal, state and stakeholder contributions.
Meanwhile, business at the port is flat, but stable according to Ribuffo. Any plans to update and restart the expansion seem to have died, and now port officials are focusing on a leaner, newer port — one that could serve Alaskans for the next 75 years.
"At the end of the day, given the population of the state, and the geography of the state, it's a more practical solution to replace what you have," Ribuffo said.