Anchorage soccer standout goes pro, signs with Swedish soccer team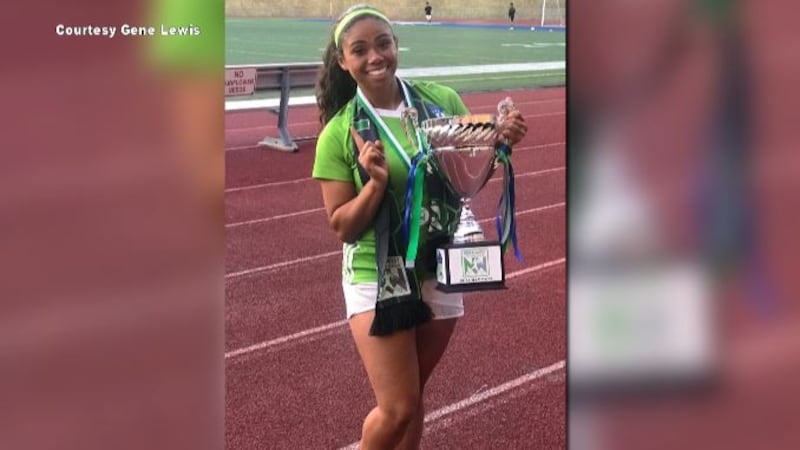 Published: Feb. 18, 2019 at 9:25 PM AKST
For many, the childhood dream of becoming a pro athlete remains a whimsical fantasy, becoming even more so after college if you weren't picked up by a professional team before or sometime near graduation.
Enter Ariela Lewis, who refused to let her dreams become anything but a reality.
Lewis, a born-and-raised Alaskan and graduate of Dimond High School, was a standout soccer player not only across the region, but around the state, just barely missing the title of Alaska Gatorade Player of the Year honors two years in a row.
But for all the near misses - and she didn't miss much, leading her college team
in goals and winning goals multiple seasons straight - her big score finally came in 2019: She will move to Sweden later this year for a test run with Skövde KIK, a Division 1 team in Sweden's Norra Götaland League.
"Honestly, it's such a surreal feeling to be able to sign this contract," Lewis said, "but not only that - to share it with so many great people that have inspired my life or just been a part of this journey, because they know how long I've worked for this.
"It's so nice to finally say, 'I did it,'" she added.
Technically, Lewis is also the first professional women's soccer player to hail from Alaska, according to one of her coaches.
Lewis' accomplishments can be found both on and off the pitch, ranging from academic honors to All-Conference awards in both high school and college, but her parents said those things aren't what stands out most to them.
"I'm very excited, over the top," said Gene Lewis, Ariela's father. "It's a log time in coming. She's goal-oriented, continued to push, and never took 'no' for an answer.
"Soccer was a third sport down the line," he said. "Coming from Alaska, you think the world is bigger and stronger and badder, so it was a challenge, but [she] took it on."
Ariela and her twin, Aaliyah, both received scholarships to play at Alabama State, but it's been a bit since graduation. That's meant that Ariela has had to train on her own most of the time.
"After Alabama State, it's been kind of hard, since you're not in a team environment anymore," she said. "But I sat down with my dad, and it's just a decision moment: If this is what you want, you have to give it 150 percent."
She credits her support system - including her sister, coaches, teammates, friends and family - for helping motivate her throughout her soccer career.
"Them motivating me every step of the way even when I had ACL tears or sprained ankles," she said. "They helped me keep the dream alive, and I'm happy to say that at this age, it's still my number one dream."
As for her fans, the community's love for Lewis was evident at a signing event held at the Dome on Monday afternoon: Family, friends, and players young and old packed a small room for her contract signing, posing for pictures and Snapchat videos immediately afterward.
"It really does mean a lot for [them] to be here and celebrate this occasion with me," said Lewis, whose first response when she received an email about an offer was one of disbelief. "I just kept repeating, 'Is this real?'
"My whole life, I grew up wanting to be a professional soccer player," she said. "It just shows that your dreams are a lot closer than you may realize, and if you have the heart, if you work hard and put in the effort, anything is possible."
Lewis heads overseas in April for a 90-day trial with the Swedish team. She'll return home, and then hopefully finish out the season from August through October.
"I'm super excited for it," she said. "I hope I make Alaska proud."