Archaeologists discover prehistoric fish trap near Kodiak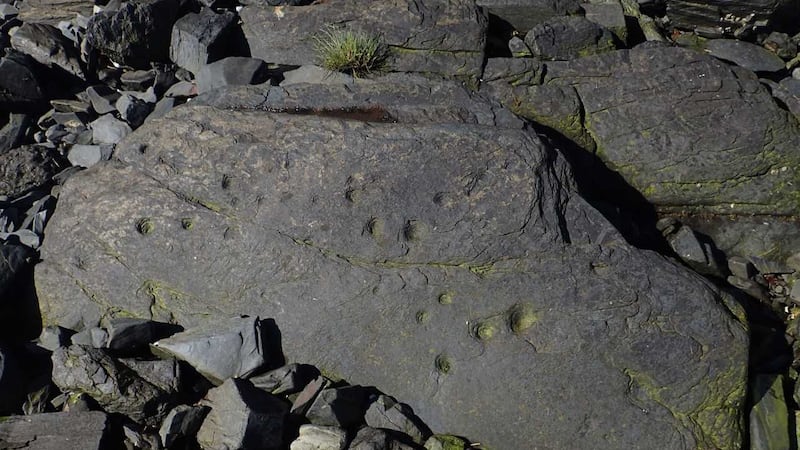 Published: Jun. 28, 2017 at 10:20 AM AKDT
Archaeologists based in Kodiak have discovered a fish trap that may date back to prehistoric times.
The stone trap was discovered earlier this month in the intertidal zone near the mouth of a salmon stream near Kodiak Island.
"We've never found anything (like it) in the intertidal zone," said Patrick Saltonstall, an archaeologist based at the Alutiiq Museum in Kodiak who initially found the trap. "I was on top looking down, and I said, 'Look! A weir!' It was sort of obvious once you saw it."
Saltonstall and University of Alaska Fairbanks student Justin Hays made the discovery while conducting reconnaissance work in the area for the Afognak Native Corporation. The research is part of a two-year effort by the corporation to map important cultural sites on its 387 square miles of land. The idea is to help the native corporation put place land management policies in place to help protect archaeological sites.
Saltonstall identified the rare intertidal fish trap as well as a set of previously undocumented petroglyphs, or rock carvings, near the shore, according to Amy Steffian, Alutiiq Museum Head Curator. Though the petroglyphs are a "well-known" feature of the area's cultural landscape, the fish trap is considered rare as it is the first intertidal fishing structure identified in the region.
"This recent find illustrates that people used this technology as far north as Kodiak," Saltonstall said. Somewhat similar fish traps have been found along the Pacific coast. "It's exciting learning about a whole other aspect of Alutiiq fishing."
Saltonstall said the trap's size is simply an estimate, as it currently remains underwater, but noted one of its walls is about 65 paces long, meaning it is likely at least 200 feet in length.
"If you're around New England and have walked around there, there used to be stone walls," he said. "These kind of look like that. They also would've probably been maintained yearly and would've taken a lot of work."
According to a museum release, the trap consists of one semi-rectangular corral and one u-shaped corral, the walls of which appear to be incomplete. The tide would come in, submerging the trap and allowing salmon to swim over it. Eventually, the tide would go back out, the water would fall below the corrals at that low tide point, and thus the fish would become stranded inside the trap.
"And they probably would've trapped more than salmon," Saltonstall said. "They probably were also catching saffron cod, maybe even herring."
The petroglyphs, described as "slate slabs about a meter across, features a series of pecked, circular holes and faintly incised lines," according to a museum statement. The petroglyphs are "different than the human faces and animals carved on boulders at Cape Alitak or along the shore of Afognak Bay, but they closely resemble petroglyphs found beside other salmon streams in the archipelago."
The carvings could be a territorial marker, however their meaning remains unknown at this time.
The survey itself, during which the trap and petroglyphs were discovered, is in its second year and has uncovered other historical sites, including fox farms and an abandoned gold mine located this spring on Whale Island.
Regarding who owns what, the petroglyphs fall on Afognak Native Corporation lands, according to the museum. The fish trap remains are situated below the mean high tide line and thus fall on adjacent State of Alaska lands.
To learn more about the trap and the Alutiiq Museum, click
alutiiqmuseum.org/press-releases/1366-prehistoric-fish-trap-and-petroglyphs-found-on-kodiak-island">here
.