Massive 7.0 earthquake causes significant damage in Southcentral Alaska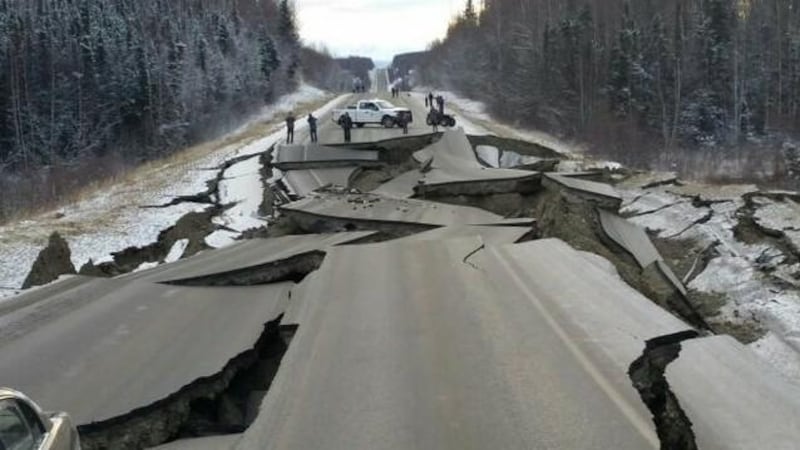 Published: Nov. 30, 2018 at 8:39 AM AKST
Alaskans felt a large earthquake that shook South Central at around 8:30 a.m. Friday morning, tearing up streets and shaking homes and businesses.
According to officials with the USGS and NWS, the earthquake was reported as a magnitude 7.0 quake.
Below are the timeline updates to the story since it broke, as well as our core story at the bottom, and a photo gallery beneath the story, showcasing the damage from the earthquake.
The Red Cross of Alaska has opened three overnight emergency shelters in Anchorage, Chugiak and Wasilla at the following locations:
—William A. Egan Civic & Convention Center: 555 W 5th Ave, Anchorage, AK 99501
—Chugiak Senior Center: 22424 Birchwood Loop Rd, Chugiak, AK 99567
—Curtis D. Menard Memorial Sports Center: 1001 S Clapp St, Wasilla, AK 99654
Food is being served at each location. Anyone in need of shelter is welcome.
Those in need of shelter are asked to consider bringing bedding, clothing, medications, children's toys, blankets, and emergency kits.
Donations are being accepted by the Red Cross of Alaska
.
Glenn Highway inbound lanes have been reopened, according to DOT, though there are still delays and detours that will continue through the weekend. DOT says to stay off the roads unless necessary.
Nine aftershocks have been measured by U.S. Geological Survey seismometers in the last hour.
The largest aftershock registered as a magnitude 4.5, about 8.5 miles SSW of Big Lake at a depth of 29 miles.
Just six minutes before that, a magnitude 4.2 was measured about four miles SSE of Big Lake at a depth of 13 miles.
As of 8:15 p.m., Municipal Light & Power says approximately 500 customers are still without power.
ML&P says crews will continue work overnight if necessary.
"We don't have an ETA on remaining outages so if you do not have power yet, please plan accordingly to make sure you're safe this evening," the latest update reads.
The closure of inbound traffic on the Glenn Highway has been extended to 9 p.m. according to Anchorage Police.
Gov. Walker's office has confirmed that President Trump declared an emergency exists int he State of Alaska and ordered federal assistance.
The full statement from the White House:
"Today, President Donald J. Trump declared that an emergency exists in the State of Alaska and ordered Federal assistance to supplement State, Tribal, and local response efforts due to the emergency conditions in the areas affected by an earthquake on November 30, 2018. The President's action authorizes the Department of Homeland Security, Federal Emergency Management Agency (FEMA), to coordinate all disaster relief efforts which have the purpose of alleviating the hardship and suffering caused by the emergency on the local population, and to provide appropriate assistance for required emergency measures, authorized under title V of the Stafford Act, to save lives and to protect property and public health and safety, and to lessen or avert the threat of a catastrophe. Specifically, FEMA is authorized to identify, mobilize, and provide, at its discretion, equipment and resources necessary to alleviate the emergency's impacts. Emergency protective measures, limited to direct Federal assistance, will be provided at 75 percent Federal funding in Anchorage Municipality, Kenai Peninsula Borough, and Matanuska-Susitna Borough. Brock Long, Administrator, Federal Emergency Management Agency (FEMA), Department of Homeland Security, named Willie G. Nunn as the Federal Coordinating Officer for Federal recovery operations in the affected areas."
The closure of inbound traffic lanes has been extended until 8:00 p.m. to allow outbound traffic to occupy all available lanes of the Glenn Highway.
Inbound traffic will remain closed until 8:00 p.m.
The following detours are in place:
—Glenn Highway: Tractor Trailers or Semi-Tractor Trailers with doubles headed into Anchorage will be stopped prior to Mirror Lake.
—Eagle River Bridge @ Glenn Highway: Closed, follow detours
—Minnesota Blvd @ International Airport Road; Southbound off ramp: Closed
—Mirror Lake Exit @ Glenn Highway; Southbound off ramp: Closed
—Dimond Blvd @ Minnesota Drive: Closed
—Knik River Bridge: Periodic closures; follow detours
—Dowling Road @ C Street: Detours due to large crack in roadway
—Eagle River Loop Rd @ Mills Bay Dr: Detours due to sinkhole
—Glenn Highway@ Palmer Interchange Exit: Northbound closed
—36th Avenue @ Seward Highway: One lane, follow detours
The People Mover is expected to reopen Saturday. All rides are free Saturday and Sunday, which will follow a regular weekend schedule.
Anyone in need of shelter in Anchorage can go to:
—Egan Center (555 West 5th Avenue): Main Exhibition Hall.
—Girdwood Fire Department (186 Egloff Drive)
—Chugiak Senior Center (22424 Birchwood Loop Rd)
Another update from the Municipality of Anchorage is scheduled for Saturday at 10:30 a.m.
Municipal Light & Power continues work on around 1,000 power outages. According to ML&P, there are no remaining issues with substations and feeders, and outages are a result of equipment damage on the ground.
Julie Harris, PR Director for ML&P told Channel 2 by text message that power for most customers will be back on by the early evening, but some isolated pockets will take longer as a result of extensive ground damage.
Those without power are advised to use or assemble an outage kit, including flashlights, batteries, a battery operated radio, emergency blankets and clothing, food and water.
Anyone without power can shelter at the Egan Center in downtown Anchorage.
Inbound Glenn Highway traffic is now closed to provide relief to outbound Glenn Highway traffic according to Anchorage Police Chief Justin Doll.
The closure is expected to last for between 30 and 60 minutes.
Outbound traffic may be diverted through medians and off the highway to the Old Glenn Highway.
Anchorage Mayor Ethan Berkowitz says the city's infrastructure helped prevent much more significant damage.
Around 1,000 ML&P customers remain without power in the downtown area.
Around 250 Chugach Electric customers remain without power, while 22,000 MEA customers are without power -- nearly a third of MEA's system.
28 mainline water breaks have been reported.
Anchorage Water and Wastewater Utility recommends precautionary water boiling, though city officials say there is no evidence of contamination.
Phone systems are largely intact. Areas with outages are likely a result of power issues or overuse issues. The city urges people to use text messages and internet for communications to stay off voice communication lines.
The southbound Seward Highway is now open after crews have cleared rock slides between Indian and Beluga.
The Trans Alaska Pipeline system has been restarted as of 3:30 p.m. Friday after operations were shutdown at 8:34 a.m. as a precautionary measure following Friday morning's earthquake.
In Washington D.C., Alaska's congressional delegation delivered statements after receiving a briefing from FEMA administrator Brock Long.
A tsunami warning was lifted as of 3:18 p.m. according to the Alaska Department of Transportation.
Anchorage Mayor Ethan Berkowitz, Anchorage Police Chief Justin Doll, and Anchorage Fire Chief Jodie Hettrick will be delivering a briefing at 4:30 p.m. on all aspects of the city's response.
Anchorage businesses continue to rebuild, and major damage was discovered at the Port of Anchorage on Friday afternoon. Officials with Chugach Electric say damage to electrical conduits has prompted repair crews to begin working on a fix.
Additionally, Chugach says of the 21,000 outages initially reported, only 1,000 customers appear to be without power now.
In the Mat-Su, several leaks have been detected in Wasilla infrastructure, according to the city's mayor.
Mayor Bert Cottle told KTUU that a water leak, as well as a sewage leak, were found following the quake, and officials are working on the water leak first before they plan to turn their attention to the sewage leak.
Cottle said that in the mean time, the Menard Center will be open tonight for those who can't get home and need a place to sleep. Meanwhile, businesses trashed by the quake are cleaning up the messes, but Cottle said it could take time.
"It's going to take days to get this mess cleaned up," he said.
Following massive damage to Alaska highways, the APD says that detours have been established so that areas both to the north and the south are accessible once again.
Major detour areas include South Eagle River bridge on the Glenn Highway, the Mirror Lake exit on the Glenn Highway, Minnesota Blvd., and Indian along the Seward Highway.
A full list of those road (as well as schools, businesses, and state organizations) closures
While roads are opening back up, schools in the Anchorage School District are shutting down for an extended weekend. ASD said in an email to parents that on both Monday and Tuesday, Dec. 3 and 4, all ASD schools will be closed due to the response.
The Mat-Su Borough School District says that, like ASD, all MSBSD schools are closed Monday and Tuesday, with the exception of Glacier View, Trapper Creek Elementary, Talkeetna Elementary, Su Valley High School, Willow Elementary and Beryozova.
In addition, the statewide volley ball tournament is being postponed for the day, while organizers attempt to find another a facility to be able to host a revised formatted tournament tomorrow. If that happens, games would begin at 9:00 a.m. in a best of three format.
An aftershock forecast has been issued by the United States Geological Survey, which states there is a relatively low likelihood of another earthquake in similar magnitude as the 7.0 that rocked Anchorage and the surrounding areas early Friday morning.
Michelle Torres with the Department of Homeland Security, said there is no reason to believe there will be an other quake near a 7.0 magnitude.
"You can't predict aftershocks of course, but we have no reason to think there will be a quake larger than this morning," Torres said. As the aftershocks continue, Torres emphasized the importance of continuing to practice good safety.
According to the USGS, there's only a 4 percent chance of another earthquake equal or greater than magnitude 7.0.
The USGS said in its entire aftershock forecast:
Low (4%) probability of another earthquake equal or greater than magnitude 7.0
27% chance of a magnitude 6+ aftershock, and it is most likely that 0-3 of these will occur
78% chance of magnitude 5 or greater aftershocks, but likely no more than around 20 of these
Up to 2,200 aftershocks greater than magnitude 3 are possible
A state of emergency has been declared for the Anchorage metropolitan area, according to city officials, due to the massive damage caused by Friday's earthquake.
The Anchorage Police Department will be shifting to an emergency deployment plan, partnering with the National Guard and other agencies to conduct damage assessments.
The Seward Highway is closed down as of 11 a.m. due to slides and damage. Officials say to shelter in place and stay off the roads if possible.
Mayor Ethan Berkowitz said at a news conference this morning that, despite the earthquake chaos this morning, "Anchorage is a very well prepared community."
The Anchorage International Airport was temporarily evacuated, but planes are once again taking off and landing as normal. Airport officials recommend calling individual carriers to check on delays before flying today.
A house caught fire on C Street north of Dimond Blvd. and is being called a total loss. AFD says the cause is not known, but that the earthquake this morning "likely contributed" to the origin.
The father of the household told KTUU he saw the fire start in a floor heating element and it spread throughout the house. The home, located off Branch Drive near 76th Avenue is reportedly a landmark property.
AFD said they will remain on scene and attempt to salvage the garage, but the home is completely destroyed. Watch the video of the fire in the carousel at the top of this story.
Additionally, Anchorage Water & Wastewater Utility said it is responding to multiple water main breaks following today's major earthquake, and is advising the public to boil water before consuming.
"There is no reason to believe the water is not currently safe, but err on the side of caution," AWWU said in a tweet. "Please be proactive and boil you water if you have the means to do so."
Alaska Gov. Bill Walker spoke with KTUU live, ahead of a news conference, saying federal aid is headed to Alaska.
Gov. Walker said that the White House called Alaska asking if the state would require some assistance, and Walker accepted. He said crews from the Lower 48 are en route.
So far no injuries have been reported, but we will continue to check for that information.
You can watch KTUU's Live Newscast as the story continues to develop
Alaskans felt a large earthquake that shook South Central at around 8:30 a.m. this morning, tearing up streets and shaking homes and businesses.
According to officials with the USGS, the earthquake initially was a 6.6 magnitude but later adjusted the magnitude to a 7.0, and was centered north of Anchorage. The National Weather Service said it was a 7.0 magnitude quake as well.
Several aftershocks of diminishing strength, but still significant, were felt.
Directly following the massive quake, an emergency alert was issued for a tsunami warning, saying that there was danger on the coast for a tsunami, and instructing people to go to high ground. That tsunami warning has now been cancelled.
Several reports of damage have been made around Anchorage and the surrounding area, including possible damage to highways and roads.
Department of Transportation officials told Channel 2 a possible landslide occurred on the Seward Highway by McHugh Creek.
Shannon McCarthy with DOT said all available employees who can do inspections are being called in to perform checks. A short list of the damage includes a slide on the Seward Highway, damage to the Northbound Eagle River Bridge, the Minnesota International Airport Road off ramp, and damage News Seward and 36th Avenue.
The Alaska Regional Hospital js reporting damage, but the ER is still open. They have cancelled appointments after a water pipe break due to the quake.
The Anchorage School District said it is still accessing earthquake damages. "When you feel it is safe to pick up your children at your school, please do so," an emailed statement read.
ASD said Begich Middle School students are moving to East High School and parents should pick their children up at East High School.
Kirstin Olmstead with UAA said the Anchorage campus and Chugiak-Eagle River campuses are closed. They said all non-essential personnel should go home. "Please do not come to campus," UAA said in an email.
Right now, multiple parts of down are showing their power being down according to Chugach Electric. A map for that outage, and if power is restored in your area,
ML&P said it is operational after the earthquake, assessing damages and responding to power outages as a result of the quake. The company warned people to watch out for downed power lines.
The Anchorage Police Department said it is is operational after the earthquake, asking the public to call 911 only for emergencies.
"Our officers have been dispatched throughout the area and are handling multiple situations. We are working with our public safety partners to keep you safe. For parents, we are working with our partners at the Anchorage School District to check on your children and make sure they are safe," APD said in a statement.
"There is major infrastructure damage across Anchorage. Many homes and buildings are damaged. Many roads and bridges are closed. Stay off the roads if you don't need to drive. Seek a safe shelter. Check on your surroundings and loved ones," APD stated.
Several spots along the Seward Highway between Bird Creek and Potter Marsh are hazardous to drive after this morning's earthquake, with several spots where rocks and boulders came tumbling down during the first quake and the aftershocks.
A DOT truck was seen this morning around mile marker 104 scrapping the rock debris off the road. One Bird resident, trying to make his way into Anchorage, said he had to turn around because the roadway wasn't safe.
Nationally, Pres. Trump's press secretary said he is monitoring the situation in a Tweet.
KTUU's Daniel Kirby contributed to this report.