Large, new oil field discovered on Alaska's North Slope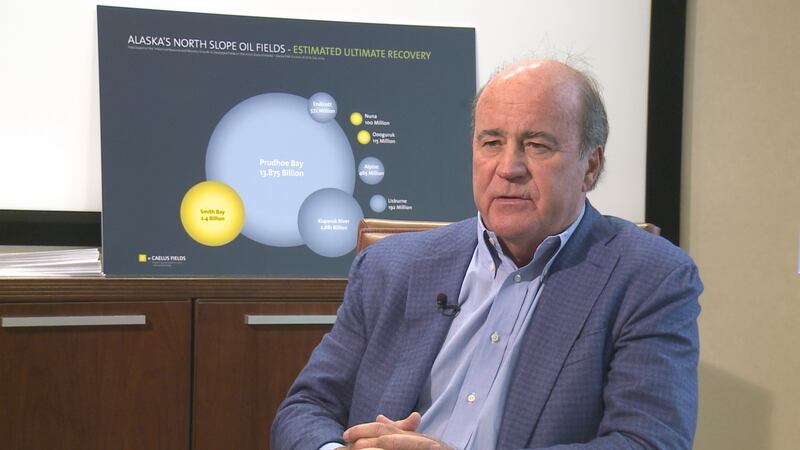 Published: Oct. 4, 2016 at 9:19 AM AKDT
A Texas-based energy company announced on Tuesday that it has found a large, new oil field on Alaska's North Slope.
Caelus Energy says it has discovered an estimated 6 billion barrels of oil under its current state leaseholds in Smith Bay, an area southeast of Barrow. The company says the wider Smith Bay area could contain as much as 10 billion barrels of oil.
"We drilled two wells this past winter and we're happy to announce today that we discovered some 6 billion barrels of oil in place and we think 2.5 billion barrels of oil are recoverable," Caelus chief executive and chairman Jim Musselman told KTUU.
Musselman described it as the largest oil find in Alaska over 40 years. The last big discovery was at Kuparuk River in 1969, he said. If all goes according to plan -- including raising between $8 billion and $10 billion in capital -- the field could start producing oil in late 2022, Musselman said.
"This is going to be expensive," he said. "It's a pretty tall order with regards to capital."
But if financing is secured and environmental permits are issued, thousands of jobs could be created for engineers, field hands, truck drivers, camp managers and so on, Musselman said.
Both Caelus and the Alaska Oil and Gas Association (AOGA) say the discovery could represent a major game-changer for Alaska's declining oil economy.
"The Smith Bay development has the potential to provide 200,000 barrels per day of light, highly mobile oil which would both increase Trans-Alaska Pipeline System (TAPS) throughput volumes and reduce the average viscosity of oil in the pipeline, extending its long term viability," Caelus said in a press release.
Kara Moriarty, head of AOGA, described Tuesday's announcement as "huge, exciting news for an industry and state eager to receive it."
"Alaska needs the revenue such a huge field would provide," Moriarty said.
Governor Bill Walker issued a statement applauding the discovery.
"With an oil pipeline that is three-quarters empty, this is good news for the state of Alaska," Walker said.
"I applaud Caelus for this major discovery, and for the company's commitment to do business in our state. My administration will continue to work with the industry to identify new development opportunities in Alaska's oil and gas sector, and provide appropriate investment incentives given our current fiscal climate," he added
Musselman said his company came to Alaska because of SB 21, a tax reform bill aimed at spurring oil and gas exploration and development.
He's not sure if the Smith Bay discovery will go forward unless the Alaska Legislature resolves the state's fiscal problem and puts a stable tax regime in place for companies like his.
Gov. Walker has attempted to close Alaska's multi-billion dollar budget deficit , driven by low oil prices,with bills like HB 247, which would cut hundreds of millions of dollars in tax subsidies to oil and gas drillers. The bill is a cornerstone of Walker's economic plan and will be the subject of debate once again when the Legislature reconvenes in January.