Chester Valley teacher receives Milken Award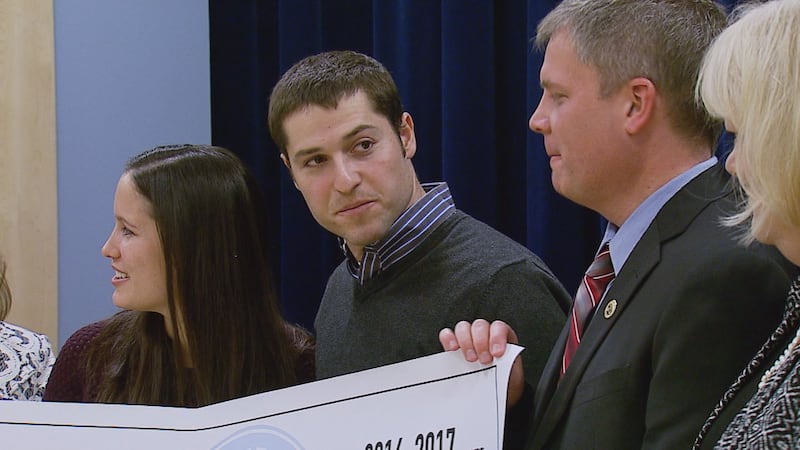 Published: Nov. 22, 2016 at 3:36 PM AKST
The students and teachers at Chester Valley Elementary knew this assembly was going to be special, because of the dignitaries present, but they didn't realize just how special.
After a quick presentation from students about being thankful for their teachers a visitor from California was introduced to announce a national honor.
The Senior Vice President of the Milken Awards, Dr. Jane Foley, told the students she traveled twenty five hundred miles to tell one of their teachers, Paul Campbell, that he was Alaska's 2016 recipient of the prestigious Milken Family Foundation National Educator Award .
The Milken Award is based on several factors dealing with educational excellence including accomplishments beyond the classroom along with an engaging and inspiring presence.
"Paul Campbell creates a nurturing, engaging environment where students are enthusiastic to learn," said Dr. Foley. She went on to say, "Paul instills crucial skills of reflection, critical thinking and social-emotional awareness in his students, paving the way for them to succeed academically and in life."
Campbell's reaction to the announcement was certainly one of surprise. He described his emotions as, " overwhelmed, shocked and very honored. This is a pretty unbelievable experience that I didn't expect to happen on a Tuesday morning".
One of his techniques that stands out, according to fellow educators, the use of song to keep students engaged.
"It's a multi-purpose tool. One it's fun for the kids, second it helps us transition to a different task and different things and it creates a bond and sense of community in our classroom."
The award also comes with a check for $25,000 and in the true educator spirit Campbell says some of it will likely go toward his baby's college fund.