Controversial magazine cover sparks outrage on social media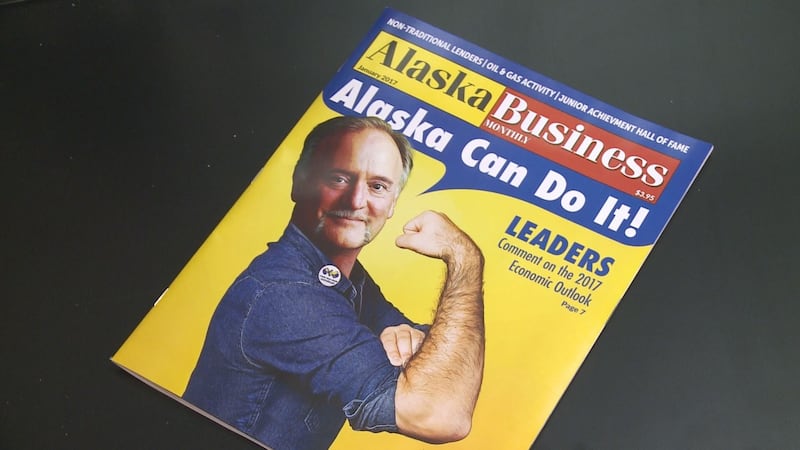 Published: Jan. 10, 2017 at 5:42 PM AKST
The cover of January's Alaska Business Monthly is getting attention for all the wrong reasons.
This month's cover depicts Greg Wolf, the Executive Director of World Trade Center Anchorage, as 'Rosie the Riveter.' The result, dozens of messages posted to Alaska Business Monthly's Facebook page calling the cover "super repulsive," "offensive," and one person wrote, "this seems to spin the face of equal rights."
Rosie the Riveter is a culturally iconic poster dating back to 1942. At the time, it represented women who worked in factories and shipyards during World War II, serving as a rallying cry for America to come together. Roughly four decades later, that image transformed into a symbol of feminism.
"I really don't think it sets the right tone," said Lindsay Nielsen. "To take Rosie the Riveter, which overtime has become a sort of a feminist icon, and when it was created to celebrate women in the workplace and women doing their part for the war, and then paste a man's face, a man's body over that image. It does sting when an image that you've grown up with and aspired to, gets sort of taken back, gets taken away from you."
Alaska Business Monthly General Manager and Vice President Jason Martin says they had no intention of offending anyone. He said the cover, which goes along with an article looking at Alaska's 2017 economic outlook, was meant to be positive, foster optimism and bring Alaskans together.
'The idea of it being a feminist or even an anti-feminist message was never even at the front of our minds because of this bigger battle, this bigger war that we're fighting against this idea of Alaska's economic downturn," said Martin. "I was really surprised when the first few comments rolled in. This wasn't our intention behind this cover. It certainly wasn't anything anti-feminism, just the opposite. It's embracing all workers in the workforce. It's embracing all of Alaska in saying that we, working together, can overcome this diversity that we're facing."
Martin went on to say the reason they swapped out a female face for a males was to make it their own, both unique to the magazine and Alaska. He also stressed altering the image to avoid any legal trouble.
Alaska Business Monthly typically decides on the cover for each edition about three months before it's published. Martin says each cover is debated by several staff members, including both men and women, before one is chosen.