Court documents reveal details, timeline of Palmer teen's death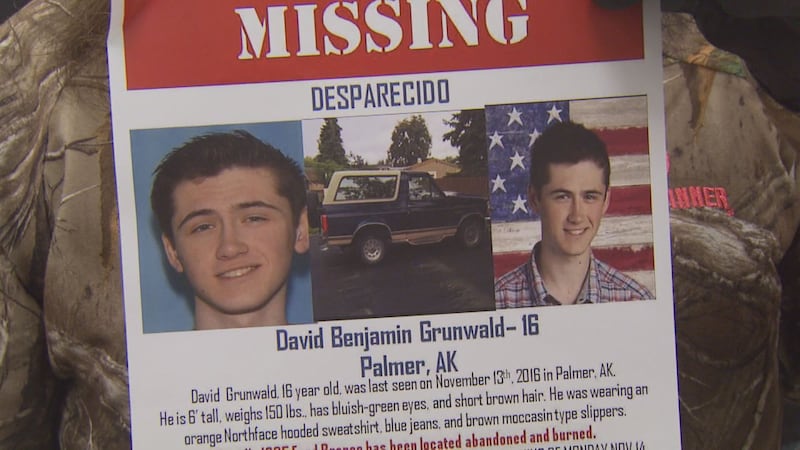 Published: Dec. 5, 2016 at 10:19 AM AKST
A 16-year-old now faces charges for the beating, kidnapping and fatal shooting of another teenager, with charging documents alleging marijuana may have been a motive for the killing.
Court documents filed over the weekend list gruesome details in the case, which prompted multiple, extensive searches for 16-year-old David Grunwald over the past few weeks. Grunwald's remains were found Dec. 2 in his hometown of Palmer.
Erick Almandinger, 16, faces kidnapping and first-degree murder charges in the case and is currently the only person being charged, though other teenagers may have played a role in Grunwald's abduction and murder, according to the charging documents. Almandinger is being tried as an adult.
Records submitted by Alaska State Troopers establish what investigators believe happened in the hours leading up to Grunwald's death, and describe the apparent motivation for the slaying as a dispute over drugs.
"The only motive that Almandinger indicated was present during the event was that (David) had smoked all his weed," Sgt. Tony Wegrzyn wrote in an affidavit filed with the Palmer Superior Court. "Almandinger showed very little if any remorse for his actions, and only shed tears when advised his 'friends' had talked to the police."
It all started in a 1971 camper trailer behind Almandinger's home on Nov. 13, where Almandinger, Grunwald, and another teen were reportedly drinking alcohol and smoking marijuana.
The other teen, who has not been charged and is unnamed in court documents, asked Almandinger to bring a .40-caliber semi-automatic handgun to the trailer, which was allegedly used to bludgeon Grunwald.
Ben Grunwald, father of the deceased, called the Alaska State Troopers on Nov. 13 to report that his son had not returned after taking his 17-year-old girlfriend home. The elder Grunwald was reportedly "very concerned," and said "this was totally unlike him," and that David should have been home by around 9 p.m.
In speaking with David's father, a trooper learned Grunwald may have also taken Almandinger to Anchorage. He and other law enforcement officials tried to locate Grunwald's Bronco, even staking out along the Parks and Glenn Hwys. interchange, to no avail.
The next day, Nov. 14, someone called troopers to report they found a burned Ford Bronco matching the description of Grunwald's vehicle. The car was turned over to David's father.
Troopers then tried for two to three days to get in touch with Almandinger about his alleged trip to Anchorage with Grunwald, succeeding at arranging an interview on Nov. 16.
Almandinger initially denied knowing anything about what happened to Grunwald, according to a sergeant's affidavit. Almandinger had allegedly told him he had not seen Grunwald in two or three weeks, but that Grunwald did drop off a mutual friend at Almandinger's the evening he disappeared.
Almandinger also maintained that he went to a party in Anchorage that night, but claimed he took a cab and went by himself. AST contends that story is false based on camera footage and additional interviews.
Troopers then obtained search warrants to access electronic evidence, including a Samsung tablet owned by Almandinger that, via cellular location records, put him in close proximity of where Grunwald's Bronco was found at the time it was burned.
An investigator also found surveillance video from a location in Palmer showing three young males who took a partial ride to a home "behind a charter school in the Valley," near Almandinger's residence. When Sgt. Wegrzyn interviewed Almandinger again, he said he initially lied about his whereabouts on the night Grunwald went missing, according to the sergeant's report.
Courts then approved search warrants for Almandinger's residence and property. At his home, a camper trailer with "an overwhelming odor of bleach" was found. Investigators processed the the trailer and found multiple areas that tested positive for blood.
Following further investigation and more interviews with other individuals, investigators determined that Almandinger had reportedly confessed to a peer that he had killed Grunwald, and that another teen was in Grunwald's car the night he went missing. On Dec. 2, that same teen, also 16 years old but unnamed in court documents, led authorities to a wooded area in Palmer. Grunwald's body was discovered at the location.
Grunwald, who was bludgeoned, beaten and "going in and out of consciousness, unable to defend himself" on the night of his death, was apparently loaded by Almandinger and the other teen into his own Ford Bronco before being taken against his will to the wooded area, where he was found with one gunshot wound. While Almandinger had reportedly previously confessed to the shooting, his story changed multiple times.
"Almandinger said that when they got a ways into the woods, [the other teen] shot Grunwald one time with a 9mm," according to the documents. "Almandinger then went through the scenario again, but this time stated that another teen... had pulled the trigger."
The defendant, Almandinger, said he and the other teen who was with him and Grunwald throughout the night intentionally burned the Bronco and tried to clean up the trailer by wiping it down with bleach and burning the carpet.
Almandinger was arraigned on Saturday and remained jailed Monday at the Mat-Su Pretrial Facility.
The investigation is ongoing, and troopers ask anyone with information or footage depicting Grunwald or his Bronco between Nov. 13 at 6 p.m. and Nov. 14 at 11 a.m. is asked to called AST at (907) 352-5401.