UPDATE: Minnick home resting, Team 8 back on clock after Iron Dog crash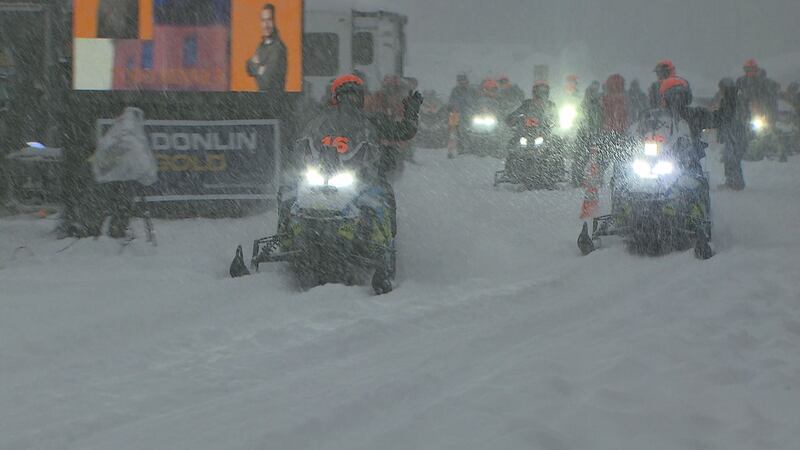 Published: Feb. 17, 2019 at 9:17 PM AKST
Updated 11:05 a.m. Monday:
Team 8, Tyler Aklestad and Tyson Johnson, are still in the race, according to the Iron Dog web site. The 2016 champions "checked out" of McGrath at 10:15 a.m., their eligible time to leave.
A Channel 2 crew in McGrath says that while the team is on the clock, and therefore "checked out" of McGrath, they are still working on their damaged snowmachine as of 11 a.m.
Updated 9:30 a.m. Monday:
Todd Minnick is back home resting Monday morning, according to Ken Lee, a race insider close to Team 16.
Team 8, the other team involved in the crash, is officially on its 14-hour layover in McGrath, according to the race's web site. The team is set to depart at 10:15 a.m., but has not yet made a decision on whether they'll be able to continue in the race due to the damage to racer Tyler Aklestad's snowmachine.
A wreck on the Iron Dog trail has left a rider with serious injuries and two sleds totaled Sunday night.
Just outside of the McGrath checkpoint, Team 16's Todd Minnick injured his leg Sunday after crashing into Team 8's Tyler Aklestad on the trail, Aklestad told Channel 2. According to a post on Team 16's Facebook page posted late Sunday night, Minnick is being airlifted to Providence Hospital.
"Todd Minnick didn't see me, and rear-ended me at about 50-60 miles per hour, totaled both sleds," Aklestad said at the McGrath checkpoint.
Both teams were on their way from Nikolai to McGrath.
"We ended up getting the sleds pulled apart, it was wedged, and locked underneath mine it took us probably 20 minutes to get us separated," Aklestad said.
Both teams were able to help each other to the checkpoint; it appears unlikely that either team will be able to finish this year's race.
Monday morning this story erroneously reported that Team 8 had "left McGrath" at 10:15 a.m. when they had only gotten back on the clock after their layover. Channel 2's Kortnie Horazdovsky contributed to this report.