DOC making improvements to stop smuggling of drugs into facilities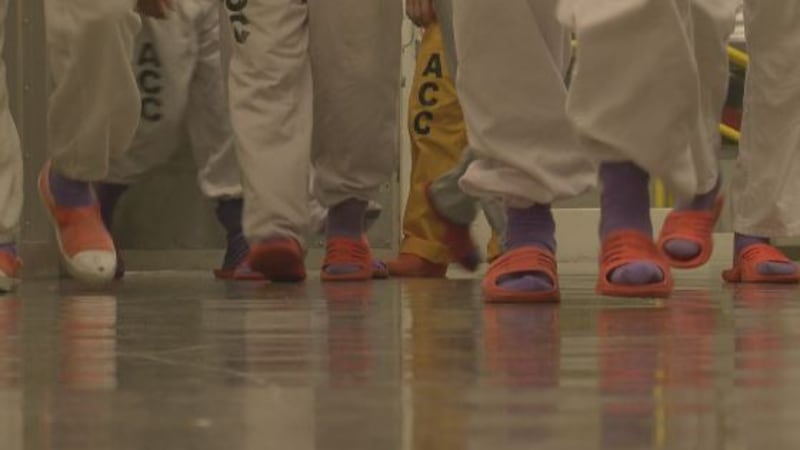 Published: Dec. 26, 2017 at 8:06 PM AKST
In the span of a year - a few months, even - events in and around Alaska Dept. of Corrections facilities have prompted serious changes within the system in hopes of deterring inmates and others from smuggling drugs into corrections facilities.
"We really have intelligence gathering capabilities that we didn't have before," said Dept. of Corrections Commissioner Dean Williams. "And while we don't talk about the method and means by which we're doing that right now, because we don't want to advance the bad guys' understanding of what we're doing, we're much more sophisticated."
In November, Channel 2 reporter Mike Ross and photojournalist Albert Lutan introduced us to Terria Walters, one of many who suffered through withdrawal while behind bars.
"When I was in there, there [were] drugs going in and out," she said in a November interview. "I mean, it's not surprising."
"They go in, do their time, get out," she said. "And they get out with more connections. I mean, it's just a revolving door."
After her release, Walters founded Fallen Up Ministries, a faith-based organization to help drug addicts.
But what about those in charge of Alaska's correctional system? Indeed, they recognize a problem exists, especially when it comes to drug smuggling.
"We know that far more drugs are getting through than we're catching," Williams said. "That's a nationwide problem. We're on the lookout for it."
And it's at both the state and federal levels. In the latter, 48 percent of inmates have been convicted of drug-related offenses.
Additionally, drugs can be hidden nearly anywhere, including n body cavities, food, greeting cards and packages, to name a few. The mailed items are what keeps the Dept. of Corrections mail room busy most of the year: The addiction treatment drug Suboxone, which can also provide a high to its user, is often the toughest to track down.
"It's difficult, especially with Suboxone," Williams said. "The drug can be taken off that paper. It's micro.
"This drug's on a very small piece of paper," he continued, "so the ability for that to get into the mail in very sophisticated ways can sometimes make it in."
And if an inmate wants drugs, they'll do anything to try to get their hands on them.
"I've heard stories of drugs being found in baby's diapers, that's how severe addiction affects people," said Serena Espinoza, a former inmate now in recovery with the help of Fallen Up Ministries.
So how big of an issue is drug smuggling within the State of Alaska DOC? Just recently, five inmates at Hiland Mountain Correctional Center overdosed within 24 hours of each other. Three people were indicted for an alleged conspiracy, in which they plotted to distribute heroin to inmates of Goose Creek Correctional Center. And earlier this year, an Anchorage defense attorney was charged and a former corrections officer convicted for involvement in smuggling drugs into Alaska prisons.
"I think you take this one step at a time," Williams said, "and I think you have to be strategic and thoughtful all the way through."
Along with a self-check system called the Professional Conduct Unit, which Williams said serves as somewhat of an internal affairs group, the DOC is also trying to offer more and better treatment options. Recently, the group announced a $2 million deal with the Salvation Army.
"I think everybody knows we have some pretty staggering statistics when it comes to substance abuse in Alaska," said Laura Brooks, DOC Dir. of Health and Rehabilitation.
The department - along with the Drug Enforcement Agency, Federal Bureau of Investigation, Alaska State Troopers and other agencies - is also on high alert for drug-related activity.
However, Williams said, there's certainly still much more work to be done.
"I think we have a long ways to go," he said, "but I feel better every day with where we're at."