Dallas Seavey takes third place in Norway's Finnmarksløpet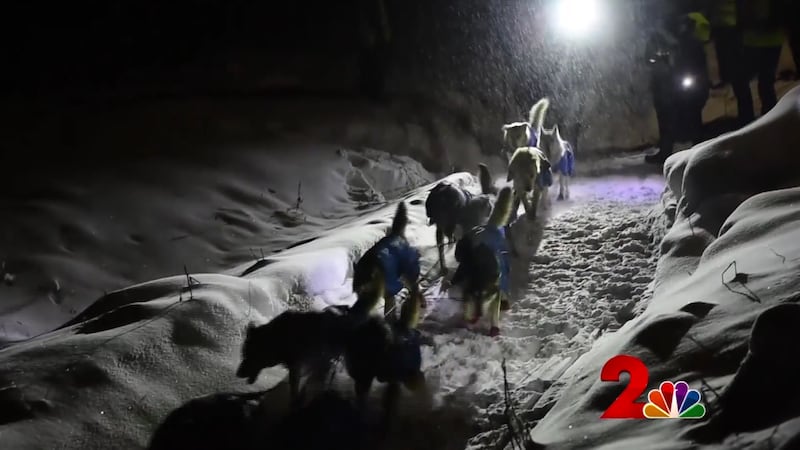 Published: Mar. 15, 2018 at 8:05 PM AKDT
Four-time Iditarod champion Dallas Seavey has finished in third place in the Finnmarkslopet race in Norway, his first attempt at the race, which falls at the same time as Alaska's Iditarod.
Seavey finished the 1209 kilometer race early Saturday morning at 12:57 a.m. in Alta, where the race also began.
Seavey was in third for much of the end of the race, including cruising through the twelfth and final checkpoint in Jotka at 8:36 p.m. local time on Friday.
or you can
He held the position throughout the day, including being in third place leaving the Karasjok checkpoint - which is second to last - at 10:56 a.m. local time Friday.
Seavey trailed Birgitte Næss of Norway - who left Karasjok at 9:58 a.m., arrived to Jotka at 6:34 p.m., and left Jotka at 6:35 - and Swedish musher Petter Karlsson. Karlsson held the lead and blew through the twelfth and final checkpoint, making it first to Alta to win this year's race. He previously checked out of Karasjok at 8:45 a.m., checked in to Jotka at 4:40 p.m. and checked out of Jotka almost within minutes, at 4:43. He made it to Alta at 11:03 p.m. local time Friday. Næss also crossed the finish line Friday night.
Karlsson took over the lead between the Varangerbotn and Levajok checkpoints - only a couple of stops back - after Seavey had been in front for approximately 125 miles.
Norwegian Kristian Walseth, in fourth, departed Karasjok at 12:30 p.m. Seven other teams have also now either made it to or gotten through Karasjok.
About 80 miles of trail separate Karasjok and Jotka, the final checkpoint, with another 30 miles or so left until the finish in Alta.
Norway is nine hours ahead of Alaska. Check out video below to learn more about the race and how Dallas has been doing, or scroll down for the full text of this article.
Said to be the one of the world's most grueling sled dog races - with a trail cutting through massive wilderness of woods, mountains and the arctic plateau - Finnmarksløpet competitors follow paths mostly untouched by man, testing their physical strength and mental fortitude for up to 1,200 kilometers over the course of more than a week.
At approximately 750 miles long in the lengthiest of its race categories, the Finnmarksløpet course doesn't quite reach the lengths of Iditarod's, but is the longest sled dog race in Europe and boasts the same types of challenging conditions as its Alaskan counterpart, taking place even further north.
As for four-time Iditarod champion Dallas Seavey, years of preparation have gone into the stamina and training for another run in the Last Great Race, but this year, it just wasn't in the cards.
"This is definitely something we've been thinking about for some amount of time," Seavey said of Finnmarksløpet in November. "We were signed up for the Iditarod - obviously that was our 'A' option earlier this year - but we are not going that direction.
"It opened up the opportunity that not just someday we are going to go race this," he said, "but we are going to do it now."
Temporarily escaping the controversy surrounding the drugging of his dogs, and rather than taking on his 12th Iditarod, Seavey instead took his talents across the pond to Norway for his first shot at Finnmarksløpet.
"He's got his work cut out for him," said Mark Nordman, Iditarod Race Marshal. "It's a very well run race, a lot of good competition."
Seavey brought 16 dogs to Norway and appeared excited about the race, and where it was being held, shortly before it started March 9.
"Just getting over here and experiencing the culture has been a big change and big experience already," Seavey said.
In the 1,200km category in which Seavey is competing, teams start in Alta and cruise a bit south before hugging the Finnish border on the way toward Russia. They then do a small loop, hitting the easternmost checkpoint of Kirkenes, before following much of the same route back on the way to the finish line.
"Actually, I think it was the most fun I've had on this race so far," Seavey said of getting to Kirkenes, where his team was first to arrive. "It was not too cold, lots of snow, beautiful scenery.
"And these guys are doing well," he said, gesturing toward his dogs, "and that's kind of the main thing."
Leading the pack when they checked in to Tana - an early stop in fiercely competitive race which includes 12 different checkpoints scattered above the Arctic Circle in Norway - Seavey has used interesting means such as resting his dogs on the move to keep his team rolling.
They even held the lead for at least five of the checkpoints by the time they made it to No. 11, Karasjok, about 80 miles from the finish in Alta.
A couple of checkpoints before that, though, Seavey's dogs reportedly got off their food. As such, he apparently "backed way off on the pace... running short and camping extra to help the dogs regain their energy and appetite," according to a post on his Facebook page.
Yet, while at least 20 other teams have scratched from this year's 1,200km Finnmarksløpet, the Seavey squad is very clearly not giving up anytime soon.
"Obviously, I think everybody's out here, you know, challenging themselves and their teams," he said. "And the whole sport is about training the team and accomplishing something with that team."
What will happen this time next year remains a big question mark, but no matter what, Finnmarksløpet fans now know at least one Alaskan musher's name.
Watch the start of the 2018 Finnmarksløpet in the video below. Dallas, wearing bib no. 33, first appears at around the three-and-a-half-minute mark.